Demand for elevators, escalators and moving walkways in India is growing the fastest in the world.
With an annual market size of about 58,000 units, India is the world´s second-largest elevator market after China and the fastest growing, expanding at ´approximately 11.2 per cent annually (CAGR),´ according to Bharat Vishnani, Managing Director, Thyssenkrupp Elevator India. ´India´s escalator market is pegged at about 1,800 units per annum,´ he adds.
´Together, the elevator and escalator market is expected to be growing at about 7-8 per cent owing to rapid urbanisation, driven mainly by the residential segment and real-estate activity in Tier-II and Tier-III cities,´ says, Antony Parokaran, CEO, Schindler India.
Other drivers of elevator demand are rising disposable income, rise in aged population, and FDI in construction. High-density commercial real estate and transportation terminals are propelling escalator demand.
Future drivers
´Residential real estate, especially mid and high-rise buildings, is an important part of our business and will continue to be, given urbanisation trends across India,´ says Sebi Joseph, President, Otis India. ´Mid-rise residential buildings are fast becoming a common feature across Tier-I and Tier-II cities in the country, for which we launched the Otis Gen2 Infinity last year, an India-manufactured, high-speed (1.75 m per second) passenger elevator. Commercial real estate is also significant. If realised, the smart cities project, ports, metros and airports could provide immense growth to the elevator segment.´
Technavio, a market research agency, expects the escalators segment to show the highest market growth as high-quality infrastructure is developed. Upgrades at railway stations will drive growth – for instance, 11 escalators, six elevators and three moving walks are part of a major upgrade planned at Habibganj station in Bhopal, while Hubballi station is set to inaugurate new escalators between platforms two and three, and four and five. And, Mysuru station is getting escalators at the main concourse, platform one at the booking concourse and platform six. Further, plans to make India the third-largest aviation market by 2020 and the largest by 2030 include reviving and operationalising 50 airports over the next decade to improve regional and remote air connectivity, which will drive the moving walkways market, predicts Vishnani.
Western and northern India see the highest uptake of elevators. Vishnani reckons that about 60 per cent of elevators are sold in the major Tier-I cities, spanning high-rise and high-speed elevators, while demand for entry-level elevators is growing in Tier-II and Tier-III cities such as Visakhapatnam, Indore, Coimbatore, Bhubaneswar and Kochi.
Preferred elevators
Real-estate developers increasingly prefer gearless and machine-room-less elevators over traditional elevators. ´Eliminating the need for a machine room on top of the building offers more flexibility in building design and delivers cost and timing savings,´ explains Parokaran. Customers have widely accepted the Schindler 3100IN and Schindler 3300IN machine-room-less elevators.
´Demand for manual door elevators, which once dominated the elevator market in India, is on the decline,´ adds Parokaran. Behind this shift is growing awareness about safety and energy-efficiency. Schindler has consciously stayed away from offering manual door elevator products, instead furthering this positive shift by offering auto-door elevators with standard safety features such as infrared door protection, automatic rescue device and two-hour fire-rated doors.
Smart elevators
Of late, the elevator has evolved from being a luxury product serving a small proportion of the urban population to a functional and efficient means of moving people. ´Safety, energy-efficiency, high-speed, high-capacity and smart features are in demand,´ says Vishnani. The conveniences smart elevators offer over traditional ones include improved energy-efficiency, shorter wait times, access control, better control of elevator traffic, touchless summoning, multi-carriage systems for time management, performance analysis, service alerts, remote monitoring, and more. ´A popular smart elevator feature is destination selection control, to increase passenger handling capacity by up to 30 per cent and reduce crowding in lift lobbies,´ says Vishnani. This prompts passengers to select their destination floor on input terminals in the lift lobby. Passengers are then assigned to the lift that will service them the fastest with the fewest intermediate stops. It also allows more flexibility in elevator grouping, lift core layouts and overall building design. Compass™ Destination Management System, a technology by Otis, constantly evaluates real-time passenger traffic to improve flow and travel time in busy mid and high-rise buildings. In commercial buildings, smart elevators can detect company employees based on their IDs and assign them to appropriate elevators to cut the wait and travel time.
Energy-efficiency
To the extent that energy-efficient elevators are green, ´demand for green elevators has been increasing from green real-estate projects,´ says Joseph. ´As of July 2016, the Indian Green Building Council had 3.82 billion sq ft over 3,708 real estate projects registered as green development.´
Otis´s green elevators include the Gen2 range, which combines a coated steel belt, the ReGen™ drive that can cut energy consumption by up to 75 per cent under normal operating conditions, the permanent magnet machine and the Otis´ PULSE™ system for long life, efficiency, safety and reliability.
To increase energy-efficiency up to 30 per cent against conventional machines, Vishnani suggests the use of permanent magnet synchronous gearless traction machines. ´Additionally, high-rise and high-speed elevators can be equipped with a regenerative drive to cut the energy consumed by up to half.´ With this, energy is fed back to the building´s power grid during the motor´s generative mode, such as when a lightly loaded car is moving up or a heavily loaded car is moving down.
To improve energy-efficiency, Schindler elevators use lightweight components like aluminum escalator steps. Schindler Ecoline power management technology can programme escalators to run at full speed during peak times and automatically slow down or even stop when there are no passengers.
Innovations galore
The focus on innovations extends beyond energy-efficiency. Thyssenkrupp Elevator offers the twin elevator system consisting of two cabs operating in the same shaft independent of each other, the Max elevator system that uses Microsoft Azure Internet of Things technology to increase current availability levels, the Accel high-capacity, high-speed, low-cost system for short distances, and a multi cable-free, multi-level brake system.
Customised solutions are also a possibility. Thyssenkrupp Elevator customised the cabins of an elevator for a large gold and jewellery merchant to match the nature of the client´s business. The result: Gold-coloured stainless steel cabins!
Quick Bytes
India´s elevator market: Fastest growing at approx 11.2% annually (CAGR).
Potential demand drivers: Smart cities, ports, metros and airports.
Must-have safety systems: Fire alarms, seismic sensors, Automatic Rescue
Devices, high speed governors, buffers, electrical safety contractors, IR sensors, among others.
´Destination selection control can increase passenger handling capacity up to 30 per cent.´
– Bharat Vishnani, Managing Director, Thyssenkrupp Elevator India
´The elevator and escalator market is expected to be growing at about 7-8 per cent.´
– Antony Parokaran, CEO, Schindler India
´Demand for green elevators has been increasing from green real-estate projects.´
– Sebi Joseph, President, Otis India
User´s preferred elevator feature: Safety
Safety is paramount in an elevator. So much so that Suresh Gogia, Managing Director, Ascent Group, would like ´A government agency to certify elevator safety, which is circumspect for some domestic companies. A model of mandatory certification would help ensure quality services and maintenance on a par with overseas companies.´ ´Although some Indian companies are good, we prefer multinational brands like Otis and Thyssenrupp for offering better safety features like overloading alarms and automatic rescue devices, and improved service, finishing, maintenance and overall product features,´ he adds.
´We prioritise safety features above all in an elevator,´ says Dimple Bhardwaj, General Manager, Marketing & Communication, Raheja Developers. ´Specifically, we look for a good brake system, door sensors that detect movement so as not to close on passengers entering or exiting the cabin, switches in the elevator shaft to detect where the elevator is located in case of an emergency, buffers in the pit to protect passengers and the cabin in case of a fall, an emergency evacuation latch, and a manually operable emergency alarm switch and emergency telephone connecting directly with the lobby security or the fire department.´
Escalator installation best practices 
Dimple Bhardwaj, General Manager, Marketing & Communication, Raheja Developers, shares a few escalator installation best practices:
Escalators can carry a much heavier passenger load than elevators, which is why they are usually installed to carry more people to the first floor and, sometimes, to a few higher levels. Escalator use is especially indicated where the landing floor is not large enough to contain the traffic passing through. As the passenger load reduces, elevators can cope.
Overall, traffic loads, elevator speeds and the size of the landing floor (ability to contain the traffic passing through) will determine the combined usage of escalators and elevators.
Install escalators judiciously because they are high maintenance compared to elevators and must be repaired on the spot.
Locate escalators so they are visible from the building entrance and near the areas they serve. In Raheja Mall, the escalator is strategically located at the entrance from the Gurugram-Sohna Road side.
Transport at Terminal 3, Delhi International Airport 
Delhi International Airport Ltd (DIAL) is India´s first airport with as many as 197 vertical horizontal transport (VHT) units installed in one terminal, as well as travellators and inclined travellators. One of the travellators on the domestic side of Terminal 3 is Asia´s longest, at 118 m.
All the VHT units across Terminal 3 are EN and Indian standards-compatible. According to I Prabhakara Rao, CEO, DIAL, ´Control (start or stop) and monitoring happens through a central monitoring system, with the operator connected to passengers in case of an emergency. Passenger and staff movement through the VHTs is also monitored through CCTV to address safety and security concerns including un-serviceability and stoppage of units. Entry to the elevators is also controlled by biometric access.´
´Must-have VHT safety and security systems include fire alarms, seismic sensors, automatic rescue devices, high-speed governors, buffers, electrical safety contactors, IR sensors, etc,´ he adds.
Visual signage and voice announcements guide travellator users.
Elevator provider services
As buildings grow taller, designing and installing elevators becomes more challenging. An emerging trend is to work with elevator companies to choose the right number and specifications of elevators, considering the building type, its tenancy, population, etc. ´Consulting experts helps because adding or changing elevators post-installation, without making substantial changes to the building structure, is extremely difficult,´ says Antony Parokaran, CEO, Schindler India.
Schindler experts from the ´Top Range Division´ use aids like advanced traffic analysis tools based on real-time simulation. Dedicated project managers work closely with developers to plan, deliver, and install high-speed elevator solutions, customised to the building´s needs. Trained Schindler fitter and service technicians are involved in the installation. Landmark buildings like Shreepati Arcade, Antilia, Imperial Towers and The World Towers, and infrastructure like the new Mumbai International Airport, Terminal 2, Chennai International Airport, the Bengaluru, Delhi, Mumbai metros, etc, have availed these services.
A seamless SAP platform facilitates dynamic, real-time adjustments to project configurations, and facilitates maintenance because all the trained technicians stay connected to the platform through hand devices (iPhones).
More fire doors exposed as inadequate
A mass programme of replacing fire doors in public housing is set to begin after the discovery of a widespread industry failure to meet standards
Five suppliers have now been identified as failing to meet the requisite fire performance standard, despite the manufacturers' claims.
The Ministry of Housing, Communities & Local Government (MHCLG) began investigating the fire door industry after it was found that a glazed, composite fire door in Grenfell Tower manufactured by Manse Masterdor failed a 30 minute fire resistance test after approximately 15 minutes.
Issues were subsequently identified with doors produced by Masterdor Limited (the successor business to Manse Masterdor).
Investigations have continued and in the last few days doors from three more manufacturers have failed fire resistance testing when tested on both sides.
The products which have failed government tests to date were glazed and unglazed doors supplied by Manse Masterdor and Masterdor Limited and glazed composite doors supplied by Specialist Building Products Limited, trading as Permadoor; Solar Windows Limited; and Birtley Group Limited, trading as Bowater by Birtley. All doors that are known to have failed to meet the necessary standards have been withdrawn from the market and the department has informed local trading standards of its findings. Each manufacturer has co-operated fully with the government's investigations, which are continuing.
MHCLG is writing to all building control bodies highlighting the need to check that existing building regulations guidance on new fire door installations is followed. The guidance sets out the tests to be performed – including testing doors on both sides –to meet building regulations requirements.
Housing secretary James Brokenshire has called a meeting of major fire door suppliers to work out a plan of action.
National Trading Standards will oversee local investigations which are taking place. MHCLG will also work with third party certification bodies to develop minimum standards of assurance to provide building owners with more confidence in the fire doors they purchase.
The government's Independent Expert Panel and the National Fire Chiefs Council have advised that the additional risk to public safety is low, as even when not meeting full resistance standards fire doors will provide some protection from the spread of fire and are part of layered fire protection systems within buildings.
James Brokenshire said: "While the department's investigations are on-going, I now have enough evidence to suggest that there is a broader issue across the fire door market. That is why I am calling on suppliers to meet this week and provide reassurance that they are gripping this issue properly.
"I want to see a clear plan of action to rectify existing problems and ensure such failures are not repeated in the future. Whilst our Expert Panel assures me the risk remains low I want to assure the public that the government is doing everything it can to ensure construction products are of the highest safety standards and accurately tested and marketed."
Cost doubts put Ipswich bridges in jeopardy
The leader of Suffolk County Council has commissioned engineers from Jacobs to review the construction costs of its planned Upper Orwell Crossings in Ipswich.
Based on earlier work done by Kier and WSP, among others, Suffolk county councillors had been advised that the bridges project, which is still in its planning stages, would cost £97m in total.
But a recent internal review of costs has forecast that the total amount needed to complete the project could increase significantly. The project has therefore been put on hold pending a review by Jacobs, which is expected to report in September 2018.
The original plan was that around three quarters of the £97m required would come from central government and the rest from Suffolk taxpayers. Unless additional funding from government can be secured, the additional money would have to come either from Suffolk businesses or council taxpayers.
Suffolk County Council leader Matthew Hicks said: "Since becoming leader, I have asked my senior team to review the major infrastructure projects Suffolk County Council is working on. The Upper Orwell Crossings is one of the biggest and most complex.
"It's clear to me that whilst the significant project is being managed well, there is currently some uncertainty around the costs. If we're going to proceed and build these bridges, that uncertainty needs to be addressed right now.
"We're going to pause work temporarily, pending the outcome of this review. Then, based on sound and independent advice and considering everything we know about the project, Suffolk County Council will make a decision on the future of the Upper Orwell Crossings."
The Upper Orwell Crossings project includes construction of two new bridges and refurbishment of a third.
Crossing A is a new road crossing to the south of the Wet Dock Island to connect the east and west banks. Crossing B is a new road crossing to connect the west bank to the Wet Dock Island. Crossing C is an existing swing bridge over the Prince Philip Lock, which would be refurbished for cyclists and pedestrians only.
The previous timetable envisaged contract award in January 2019, construction starting in 2020.
Auditor gives Queensferry Crossing clean bill of health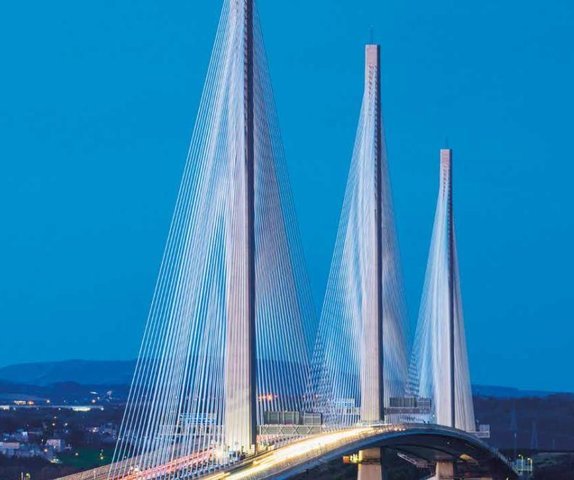 Transport Scotland's management of the Forth Replacement Crossing project delivered value for money but a clearer plan is needed to measure its wider benefits, says Audit Scotland.
The official audit of the project found that construction of the £1.34bn Queensferry Crossing was managed effectively.
The bridge was built by Forth Crossing Bridge Constructors (FCBC), a consortium of Hochtief, Dragados, American Bridge and Morrison Construction (Galliford Try). It opened to traffic on 7th September 2017.
Overall the project took around 10 years to complete. The Queensferry  Crossing is the tallest bridge in the UK and the longest three-tower cable-stayed bridge in the world. It is intended to have a useful life of at least 120 years.
The audit report praises Transport Scotland's budgeting, governance, quality assurance and risk management – as well as the competitive tendering which helped deliver the project under budget. The final cost of the project was £1.34bn was in the range of 8% to 16% less than the £1.45bn to £1.6bn estimated at the start of construction
A key factor behind the project's success was that the delivery team had the right mix of skills and experience, the report says. They demonstrated strong, consistent leadership, and communicated well with contractors and stakeholders.
The client identified a need for the bridge, and demonstrated that the preferred design, a cable-stayed bridge, had advantages over other options.
It is too early for some of the project's wider benefits to be proven, such as improving public transport across the Forth, cutting journey times and boosting economic growth. But Audit Scotland says more detail is needed on how success will be measured.
Auditor General Caroline Gardner said: "There is much the public sector can learn from the way Transport Scotland managed the project and it's important that the good practice is shared more widely.
"The management of the project delivered value for money and achieved its overall aim of maintaining a reliable road link between Fife and the Lothians.
"Transport Scotland now needs to produce a clearer plan about how it will measure the success of the project's wider benefits, including its contribution to economic growth and improved public transport links."
The full report can be found at www.audit-scotland.gov.uk