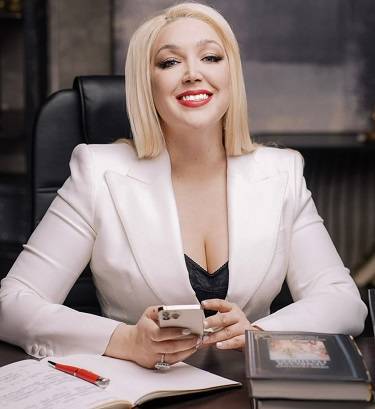 Lectera.com: Better Life through Fast Education  Mila Smart Semeshkina, Founder & CEO, Lectera.com
Lectera.com: Better Life through Fast Education
"Whether I am studying, managing a project or creating an #edtech #startup, I always do something that make me happy." A passionate learner and an entrepreneur, Mila Smart Semeshkina's tweet speaks a lot about her personality. Being a visionary by nature, Mila played by her own rules and was destined to be a leader since childhood. "My leadership skills have probably been instilled in me since childhood. I know I am capable of leading people, and I like the results of my leadership," she shares.
From the highly-energetic little girl that she was, Mila grew to be the top ten finalist in a prestigious international EdTech Awards in 2021 with immense dedication, willpower, and belief in who she is and what she can achieve. "Growth and success is a journey and without passion for what you do, you cannot make others passionate about it." Mila was absolutely certain of her purpose to help people find themselves, forge their own path, and create positive changes in their lives. By developing Lectera, an international online learning platform, her goal was to allow people to acquire knowledge and skills, practice them, and learn to apply them in their lives, as her tweet continued to say, "…this is how @lectera_courses came about: I loved technologies and learning, and I wanted to share this love with everyone."
An education detached from reality  
With over two decades of development and training, the focus of Mila's career has always been on the education industry. She has taught at university, studied, completed her dissertation, and also worked while she was studying. It is then she had an epiphany about how her academic career had no bearing on her professional career. She was constantly distracted and detached from her career by science, and vice versa. "This wasn't how things should be. Your education should provide you with useful knowledge, it should be applicable, and help you develop your career." She asked herself, "Is it really worth spending so much time on education?" It is important to note that she is talking about a classical education, which is essentially detached from reality.
Although there are schools and universities in today's world that emphasize practical knowledge, according to Mila, they are still rare and therefore in high demand. Therefore, the idea of creating an educational platform that would be as practice-oriented as possible came about. This is how Lectera was born, and it is precisely this need that Lectera fulfills. "We follow a simple principle: acquire skills fast, apply them fast, and achieve results fast." Lectera's training methodology is straightforward and simple. What happens in everyday life? "When you learn, you gain knowledge; when you work, you acquire and develop skills. You don't see the big picture, however, when you acquire a skill while working," says Mila.
Knowledge, skills and results
Today, the market for educational products is flooded with products for which there is insufficient demand. A major goal for all market players should be to cultivate a culture of continuous learning. People are also not taught in systematic ways. The vast majority of people do not know how and where to continue to develop.
However, Lectera's Fast Education method is based on three principles: knowledge, skills, and results. As people receive new knowledge, they immediately put it into practice in real life, and this is how you develop a skill. At the end, you see the results of your efforts. Time is wasted when someone studies but doesn't develop a skill. Time is also wasted if a skill does not produce results. Lectera closes this gap, and their teaching method is the fastest way to effectively acquire new knowledge. "Our fast education methodology involves cyclic learning: gaining knowledge – putting knowledge into practice – turning knowledge into a practical skill – revision," briefs Mila.
Scaling Lectera's methodology to the B2B market makes it stand out. "Our team has learned how to prepare and implement online business education programs quickly and efficiently. It is a unique product created for each client, and we know how to make it faster and better than anyone else." For instance, the company was contacted by a woman whose career had ground to a halt while working as a senior manager in a bank. She believed that if she wanted to further her development, she had to give up her corporate career and start her own business. As Lectera analyzed the career product, they discovered her aspirations and capabilities. She did not realize that her salary was much lower than the market salary, and that her career prospects were seriously limited. As she was about to start her own business, she realized she was unprepared and would lose considerably in income. She left for a rival bank, where her salary tripled and she got a much more important position. "From the outside, this may seem obvious, but if you put yourself in the shoes of this woman, this might not be apparent. This has resulted in her career and life improving significantly."
Tech and efficiency
Not to forget, Lectera is a powerful technological platform that ensures efficiency and ease of learning. "Our own software and mobile applications, for instance, took quite some time to develop. None of the solutions on the market met our needs. For example, we have a fully automated homework checker, something no one else provides. In order to stay on the leading edge of technology at all times, we are examining existing and emerging technologies, such as artificial intelligence, blockchain, and many others." The technology components of the pandemic- affected world are well understood and used by all. In this regard, Lectera stands out as they have virtually eliminated human involvement in the educational process. There are no mentors and they evaluate course effectiveness, popularity and adaptation proposals using AI.
Additionally, the platform creates localized versions of their educational programs quickly, efficiently, and inexpensively. Presently, the platform supports five foreign languages, and is planning to increase this number to 15 by the end of the year. The platform has a potential audience of 5,000,000.
Education for better life
Throughout her life, Mila's key desire has been to be useful and productive. Having an achievable and understandable result is more important than the process. This is vital. "I believe knowledge should necessarily help us live better lives." With EdTech developing, more and more lives should improve. Ultimately, Mila wants to make learning to be as accessible as possible to everyone. "I would like billions of people to have access to quality and affordable education that will improve their lives in the future." In society, there is still an educational chasm separating privileged and less privileged classes. Lectera aims to bridge this divide.
Moreover, Lectera's global vision directs her to achieve this. "Our goal is to make a really cool big product tomorrow. Our market was originally the entire world. We never considered the national market. As long as the first four languages are covered by a system, we can scale without limits." It is with this confidence and boldness, Mila goes forward to make the impossible possible. "The word 'impossible' triggers her. Whenever someone tells me something is impossible, my first reaction is: let's make it happen. It is this belief that anything is possible that has led to my success in life and in business," she ends.