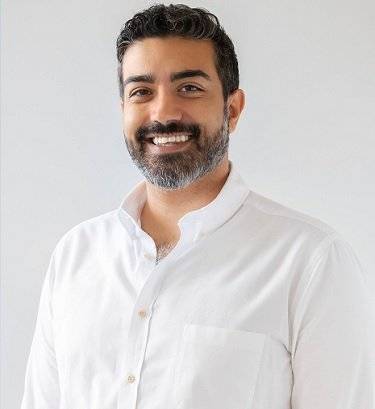 Dapper Labs: Best Blockchain-based Consumer Experience  Roham Gharegozlou, CEO, Dapper Labs
Dapper Labs: Best Blockchain-based Consumer Experience
A relentless optimist by nature, Roham Gharegozlou, CEO of Dapper Labs, is focused on making the world a more open place by driving adoption of blockchain technology. To do this, he uses the "power of play" and delivers blockchain-based experiences, creating new digital economies and empowering creators in the process. "We create products for real people. If something doesn't matter to you, it doesn't matter to us," says Roham.
The Next-gen Products
Taking blockchain gaming to the next level, Roham and his team designed innovative and fun products like Flow, NBA Top Shot, Dapper, and CryptoKitties. Flow is a new blockchain built for the next generation of apps, games, and the digital assets that power them. It is designed from the ground up as a foundation for internet-scale protocols and applications that also require exceptional user experience. It provides a developer first experience and consumer-friendly onboarding for developers and product people everywhere to build their next project.
NBA Top Shot, on the other hand, allows one to own NBA's greatest highlights. With NBA Top Shot, one can collect their favorite moments and build the best collection. "You can become a top collector by snagging in-demand packs when they drop and refine your roster by finding diamond-in-the-rough moments on the marketplace," notes Roham. Additionally, Dapper Labs' blockchain wallet enables one to hold their digital goods in a secure wallet. It helps them experience decentralized apps and collectibles with Dapper; it's the best way to blockchain.
"CryptoKitties is one of the world's first blockchain games, which is centered around breedable, collectible, and adorable creatures called CryptoKitties! Each cat is one-of-a-kind and 100 percent owned by you; it cannot be replicated, taken away, or destroyed. One can create collections of their favorite cats, chase fancy cats, and share their CryptoKitties with the breeding community," he adds.
An Open Ecosystem
As someone who grew up on the internet, Roham says, "Blockchain is the most exciting thing since websites. It enables truly community-driven ecosystems and user-centric economies." As opposed to traditional platforms, blockchain-enabled ecosystems will have to gradually relinquish control as the size of their communities grow, offering an alternative that puts the user in charge.
Moreover, he feels, in an open ecosystem, true digital ownership, portability and composability can finally be achievable. For the first time, users can have control over their assets as well as
their data, and can have the option of leaving a particular application without leaving the network that gives it value. "And most importantly, developers can build freely without worrying about platform risk and anti-competitive behavior by internet monopolists."
Breaking the Barriers
Apart from the tremendous benefits, the blockchain market faces major challenges. Roham believes that the market is striving to address issues with regards to scalability, user experience, and apps that add immediate value to users. "Our new product, Flow is the solution to all three. Firstly, scalability takes into account speed and throughput as well as cost. Flow aims to provide the speed and throughput needed by modern consumer applications at low enough cost to let developers provide free products to their customers," he claims. Unlike other new networks, Flow does not rely on reducing decentralization or sharding (breaking up the network) to achieve scalability improvements. Instead, it has a novel four-node architecture that means the network can have full composability and decentralization at massive consumer scale.
On the user experience side, Flow was designed from ground up to be consumer-friendly, offering easy on-ramp options with custodial accounts, progressive awareness of underlying blockchain native features or even total abstraction until users feel comfortable enough, all without sacrificing the empowering features that come from true digital ownership. "On a different but more important note, Flow has real applications with mainstream appeal designed to demonstrate the potential. As an example, NBA Top Shot is already running live on Flow mainnet and is only one of many high quality contents to attract mainstream users to the benefits blockchain has to offer," he ends.
Today, being a serial entrepreneur, Roham strives to achieve excellence in the blockchain market through innovative products and an open mind.