Layla Wellness – Providing Personalized, Fertility Monitoring Lynnette Dillen, CEO, Layla Wellness
Layla Wellness - Providing Personalized, Fertility Monitoring
With more than 20 years of experience in executive leadership roles, Lynnette Dillen has carved a niche for herself in the med tech industry. She has been at the helm of affairs at a slew of companies ranging from start-ups to mid-size to Fortune 500. A hands-on, results-driven leader, Lynnette joined Layla Wellness, a platform to create a stress-free method for ovulation prediction and cycle tracking for women. She speaks on array of topics. Excerpts from an interview:
Pandemic's Effect on Medtech Industry
Says Lynnette that COVID-19 has spurred the movement of the healthcare industry towards med tech innovation. "We were quickly placed in a position that created a need for telehealth and other innovative solutions that were out of the normal doctor office visit scenario. Additionally, it has spurred interest in seeking ways to become more informed and take control of your own health and wellness journey."
Conception of Layla Wellness
Layla was created for women and by women to create better women's health resources. "We realized that our own struggles and heartbreak with pregnancy, the inability to conceive, and the unknown abyss of menopause symptoms connected us." Observes the entrepreneur that the concept was created through a competition at the University of Utah, the Bench to Bedside program." Layla won the competition and has since been the recipient of several Engineering and Innovation Awards and Grants, including the ASU innovation Open and Bench to Bedside during which the concept was validated by medical, business, and engineering experts. "We learned that our experiences are not uncommon and we are moving forward with the mission of empowering women by giving them critical education, personal health information and a community to understand their own body and help them on their journey from initial menstruation through menopause."
Sensor Transmission Technology – Sensorsend
"Combining the most important biomarkers using sensor technology with real time data results to allow us a more accurate and personal picture of a woman's cycle.  Current methods, including new technology, still require manual insertion of device or outside lab testing which are then measured against broad range averages.  As we moved through the iterations of our initial device our testing showed that 2.4GHz radios (including Bluetooth) have difficulty transmitting through muscle like substance."
Notes Lynnette that continuing with a Bluetooth product would not provide the customers the truly hands-free experience that they envisioned, and would require either retrieval of the device or other accommodations for the device to connect to our app. "Through additional development iterations we were able to develop a true innovation using a safe low frequency transmission, which enables our device to transmit information from sensors within the body to a device outside the body in real time without retrieving the device. We can adapt our technology to just about any sensor in many other indications aside from women's health."  Layla's Sensorsend™ platform technology will be an important disruptor in the wearable device market.
The Medtech Journey
Lynnette adds that Med Tech innovation truly combines the challenges of both- the executive world and the nuances of technology and life sciences. "Both industries have changing regulatory requirements that need to be addressed consistently. Keeping abreast of your regulatory landscape several years into the future will help to mitigate development risks." Layla Wellness was conceptualized to provide a convenient and accurate way for women to understand ovulation and beyond. The firm's hands-free device collects health data and transmits to a personal device such as a cellphone. "In today's environment this carries the added risk of security of personal health information. Maintaining a well-established data security plan is a must."
Leadership Traits
Focus, positivity, and the ability to value personal relationships, remain the most important traits for this entrepreneur. "It is truly the people that you engage with that drive your success. Surround yourself with people that share your vision and passion and lead with conviction and kindness."
A true visionary, Lynnette says that from very early on in her career, she always admired the leaders that can see the value inside the business. "One of my favorite stories is Patrick Doyle of Dominos realizing they are a Tech company not just pizza delivery. If your plan is well vetted and forward thinking, stick to it and do not get distracted by new market entrants. There will always be a new device or new technology, stay focused."
"Have true clarity about what you are trying to achieve, stay focused and put extra effort into building the personal relationships of people who truly support you" she advises young leaders.
Layla – The Way Forward
"Although our first product is focused on fertility, we will be moving on to other indications in women's health" asserts Lynnette. "Our Sensorsend™ platform will allow us to work with research partners gathering real time information without human intervention variables such as timing or environment, in a way that has not been done before. We are currently exploring supporting women's metabolic health as well as women's sports. Our goal is to provide important data using specific biomarkers in women's health to move the needle in research from a point in time, guess and treat approach to real time personalized results" she signs off.
Disrupting Surgical Imaging with Robotic-enabled 3D Digital Technology Aidan Foley, CEO and Chairman of the Board, True Digital Surgery
Disrupting Surgical Imaging with Robotic-enabled 3D Digital Technology
Aidan Foley believes in advancing the capabilities of AI-enabled robotics and the evolution of digital technologies in MedTech. He has created a niche for himself in the industry. As the CEO of True Digital Surgery, the 3D digital surgery visualization platform that helps in enhancing the surgical experience and advancing patient results, he is at the helm of affairs at his firm.
He speaks on an array of topics. Excerpts from an interview:
The Conception of True Digital Surgery
True Digital Surgery's rich history started with TrueVision Systems, the developer of the first 3D digital microscope. It's work in ophthalmology was so successful, that it resulted in its acquisition by a prominent international medical firm. "It's work covering the other sectors resulted in a 'spinout' company which became True Digital Surgery. True Digital Surgery was formed in early 2019 and continues the development legacy of TrueVision Systems, designing cutting-edge technology for the microsurgical field" states Aidan.
A Platform of New Technologies
The platforms that True Digital Surgery has developed, and continues to develop, are building upon the original 3D digital core technology. "We have enhanced that core technology with AI-enabled robotics for surgical workflow efficiency and digital capabilities that enable surgeons to see critical structures before they even begin a surgical procedure. When we entered the market, most surgeries were utilizing the analog microscope much as they had been since its introduction in the 1950s" says Aidan. Through the advancements, True Digital Surgery, along with a handful of other companies made their DRM's (Digital Robotic Microscopes) an evolutionary leap that enables surgeons to no longer be tethered to a microscope, and to be able to perform complex microsurgical procedures in a much more ergonomic position, with a more detailed image of the surgical field and with unparalleled clarity and color distinction.
The Medtech Journey
Noting that the majority of his professional experience has been in digital imaging, Aidan says that he had the benefit of experiencing the speed and impact of the digital revolution before its inception in MedTech. "I know through my first-hand experience that multibillion dollar companies will lose market share if they do not maintain their technology leadership. I also know the speed of development increases exponentially with digital technologies." Development companies like True Digital Surgery are setting the pace of digital innovation in MedTech, and large medtech companies need innovations from companies like True Digital Surgical to maintain their market share leadership. "The key to creating and realizing substantive change is by bringing on the brightest and most experienced entrepreneurial talent out there." Aidan urges organizations to build a foundation of great people, establish a working environment that empowers the group to aim high and think boldly while providing the resources that enable them to develop the software and hardware to power their vision.
Leadership Traits
This technology enthusiast believes in driving both his personal and organizational success. "My key leadership traits are focus and drive. I believe that success is achieved through a clear unified vision and a passionate commitment. I'm a firm believer in empowering my team to do their jobs and to communicate freely throughout the organization."
Aidan says that team building and resilience are critical components of success. "I've always been laser-focused on the task at hand, and humble enough to know that I need smart people around me.  My team and I do the research to understand the marketplace, the need, and the opportunity to create something that will benefit the end user."
He believes that the best way to overcome fear of failure is by knowing the customer closely and being confident and secure that the product or service you're providing fills that need. "As managers we take risks in our careers and learn from the good ones and the bad ones. We learn from each of them and take that with us to the next opportunity."  The insights learned from those experiences develops and hones the skills required to accurately access risk later in your career, according to him. "If you understand the marketplace and your end users, the requisite financials, and the required talent skill sets, you'll be able to withstand the ups and downs until you reach ultimate success" he states.
The Success Mantra
"Picking talent that understands your vision, has the passion required for startup timelines and works well as a unified team will ultimately determine the success of the company."
"Time is our enemy is one of my favorite mantras because it is universally true.  Time is a constant and it is critical to understand the value of time in a startup. Another is to Dream big, keep learning, respect your colleagues, and never settle" Aidan signs off.
The Technology Unlocking at-Home Diagnostics and Monitoring Dr Dean Freestone, CEO & Co-founder, Seer
The Technology Unlocking at-Home Diagnostics and Monitoring
With a background in machine learning, medical research, neural modelling, and electronic engineering, Dr Dean Freestone is a highly accomplished individual. As the CEO and co-founder of Seer – creators of leading epilepsy diagnostic and monitoring technology – Dr Freestone is a passionate technology enthusiast with a deep belief in its power to solve critical healthcare delivery issues at scale.
Seer has been awarded millions of dollars in research grants and funding and is today Australia's leading epilepsy diagnostic service. With humble beginnings from a small office in St. Vincent's Hospital in Melbourne, Australia, Dr Freestone co-founded Seer alongside Professor Mark Cook and Ms George Kenley in 2017. Now poised to expand internationally, Dr Freestone spoke to us about Seer, its technology, and their ambitions to make healthcare and diagnostics more accessible:
The conception of Seer
Seer's origins link back to Dr Freestone's initial PhD and research goals, which focused on understanding epilepsy,the discovery of new treatment methods, and seizure risk forecasting. "We started Seer in 2017 when the research had developed to the point where it was ready to go to market in product form. We were eager to maximize the potential impact of this research."
"Epilepsy is common, with chronic epilepsy affecting 1-2% of the global population – or upwards of 65 million people. It requires a clinical diagnosis, which typically involves a long-term, uncomfortable and costly hospital stay. Long hospital waitlists mean extended periods where patients face unnecessary, anxious periods before they even reach a conclusive diagnosis."
Dr Freestone reminisces how he and the co-founders saw the opportunity to create a new version of diagnostic monitoring – one that was more accessible, scalable through technology, and driven by a keen focus on the patient.
As a result, Seer has reimagined how and where people undergo long-term monitoring for faster paths to diagnoses and better patient outcomes.
Seer – Breaking Down Complexities
Through its patented neurodiagnostic technology, Seer is able to improve the lives of patients and contribute to smarter decision-making in therapeutic treatments on the part of medical professionals.
As Dr Freestone explains, "We've transplanted week-long epilepsy diagnostics out of the hospital and into the home. Through our proprietary medical technology – a state-of-the-art portable video-EEG-ECG equipment diagnostic system that captures brain and heart activity – patients receive gold-standard monitoring that captures accurate data over a number of days.''
Dr Freestone and the team at Seer fundamentally believe that technology can be used to support people in actively managing their health. "There are a lot of tests that are traditionally done in hospitals because of technology limitations, rather than people really needing hospitalisation. Now more than ever, we want to break the bottlenecks in the system so people can have greater access to services." Through its IP, Seer provides access to essential (and lifesaving) monitoring and diagnostics in ways that don't burden  critical infrastructure – ensuring hospitals are used for the people who need them the most.
The Flagship Mechanisms
Seer harnesses a variety of innovations to improve the diagnosis and longer-term management of epilepsy.
Seer Home™, the complete solution for home video-EEG breaks diagnostic monitoring free from hospitals, making it more affordable, more accurate and providing a better patient experience.
"Used for our long-term monitoring and diagnostics (between 3-10 days), the Seer Home solution combines state-of-the-art technology and the best in consumer design to create a system that is both easy to wear and produces trustworthy results."
"Seer Sense® is the revolutionary wireless brain and heart monitoring wearable at the centre of the Seer Home solution. The device – a flexible, lightweight product rests over the shoulders like a collar or necklace – delivers a step change in patient comfort and freedom while empowering doctors with the data they need to make a conclusive diagnosis."
The mobile nature of the Seer Home system allows improved patient comfort while desperately needed hospital beds are freed up for in-person care. It also delivers accurate, high-quality data which is essential for patient diagnosis. Data is collected and evaluated using Seer Cloud, which helps neurologists and clinicians manage, review, and report on their patients faster – and from anywhere.
"With Seer Cloud, neurologists can navigate to points of interest in the data and watch events simultaneously with EEG and ECG traces," explains Dr Freestone. "In terms of patient data review, what could typically take up to 40 hours in labour time costs for a neurophysiologist to review can now be fast-tracked through Seer's technology, allowing Seer and its clinicians to support more patients and help them to reach a diagnosis faster, and with accuracy.''
For longer-term monitoring and disease management, Seer has created Seer Health, digital health tools that can be used by patients over months and years.
"Seer Health is designed to support the 30% of people living with drug-resistant epilepsy to manage their health and live fuller lives with less uncertainty." The Seer app is one of these digital tools simplifying day-to-day management for people living with epilepsy. "The app helps to track and record seizure events – in a format that can be easily shared with doctors at consultation – while medication reminders keep patients on track with their treatment plans."
The digital tool closest to Dr Freestone's heart is Seer's soon to be released seizure risk forecasting capability. "The ability to predict seizures is cited by most patients as something that would have the biggest effect on their life. In collaboration with our globally leading network of medical researchers, Seer has made critical scientific breakthroughs related to sensing modalities and seizure forecasting, and will soon have a feature available in market to help people living with uncontrolled epilepsy accurately forecast their risk of seizure. This will deliver exponential benefits in terms of both peace of mind and quality of life."
The MedTech Journey
"My pathway to becoming a founder is primarily about an evolution from academia to industry – or more specifically, from pure research to translational research. It was a purposefully targeted approach for me to do research that would have commercial or real-world application."
"My early research also incorporated implantable devices for brain stimulation and recording large data sets. The evolution of these early research interests to the scientific breakthroughs we're now able to fast track to market as technological solutions at Seer is very satisfying."
Challenges Galore
Dr Freestone explains how the company took a calculated risk approach in addressing the challenges faced in the medtech sector.
"Firstly, we relied on the enabling technologies maturing. Our offering centred on the ability to acquire, transmit and process data from the home environment. To do this we needed to develop exceptional devices that work for long periods of time without any human or expert intervention, and we needed the ability to take the data from our device and to connect it via the internet." Luckily for Dr Freestone and Seer, their investments paid off.
Dr Freestone is enthusiastic about the possibilities in the healthcare sector today. "It's an incredibly exciting time for medtech innovation and development. The industry has witnessed a number of macro changes that have primed the sector for rapid technological advancement – and superior patient experience and patient outcomes flow through from there," he adds. "COVID has also accelerated the widespread adoption of telehealth – for example through trends away from in-person health consultations to telephone and video consultations."
He notes that a number of challenges still remain, such as the widespread adoption of digital health tools by medical practitioners. "We know that the medical industry is slow to change, and we completely understand why this is the case, given the amount of risk that medical professionals undertake. This is still a factor in our future success, but one that we completely understand and are working towards mitigating.''
Leadership Traits
Leaders should be able to ask people to do things that they haven't yet realised were possible. "You have to convince them of the possibility of the task. This is something that I realised I needed to do right from the start," explains Dr Freestone. "Having a clear vision and making it tangible for everybody is critical. It's not something that necessarily comes naturally to everyone, but it's certainly something I'm constantly working at."
Finding the right people and bringing them together is also key to startup success. "In addition to being a team builder and collaborative in nature, the strongest trait I have is my competitive nature and grit," he adds, "these particular traits have translated well from my scientific research to the more recent roles of entrepreneur and CEO."
Word of Success
Overcoming fear of failure comes back to belief, says Dr Freestone. "You have to absolutely believe that what you're creating adds value to the world. If you really believe that, and you can show it from first principles, then it becomes a matter of time – when, rather than if, you will succeed."
Dr Freestone also urges industry experts to trust the data and use it to solve the challenges before them. "From our early days it's been about putting one foot in front of the other and solving the most pressing problems first. Now that we're moving into another growth phase, the process may get more sophisticated, but the concepts are essentially the same.''
Start-ups in MedTech Industry
The big opportunity for medtech lies in the ability to use the Internet in healthcare, believes Dr Freestone. "There's a real momentum for change driven by the combination of devices that can be used in the home, enabled by superior mobile networks, cloud computing, and machine learning technologies. Only recently have we been able to pull these technologies together. More integration, more bandwidth and lower costs of moving data present real opportunities in healthcare and medtech.'' Noting that AI, when combined with human expertise, will be incredibly transformative for healthcare, he observes that the challenge for companies will now be about organisation. "How can companies harness all the information  and data available and leverage it for insight through machine learning and AI? It's an engineering and technological challenge, certainly."
The Success Mantra
Dr Freestone draws inspiration from reading the stories of successful founders. "I find it empowering to see that those in successful positions do not differ greatly from us. Understanding what sets people apart is not often particularly revealing, but rather, it's what unites them that is special- it's the belief they have in themselves and in what they create.''
This medtech founder believes in putting the patient and their experience at the centre of the solution, exploring ways that technology can be used to support them through diagnosis and monitoring. "We believe in a new user-centric, home-based approach to healthcare. We think deeply about how we can redesign the end-to-end healthcare experience, with the goal of making the monitoring experience easier and more comfortable for our patients. In doing so, we're able to deliver care in a way that provides patients with more autonomy and medical experts with more accurate data to inform their clinical decisions." But it still comes back to patient experience, Dr Freestone insists. "Even if we create the world's best technology, if it's not easy and comfortable for our patients to use, we've lost them."
Seer – Moving Ahead
Seer's research and development is driving forward the global understanding of epilepsy. Regularly presenting at leading epilepsy conferences and symposia, Seer has registered three seizure forecasting patents and published over 20 seizure forecasting papers in top-tier medical and scientific journals. The firm has also received the necessary regulatory approvals in Europe and is expecting US Food and Drug Administration approval by the end of 2021. It has also secured significant commercial and research partnerships with leading organisations including Fitbit, the Mayo Clinic and King's College Hospital and has strong links with Epilepsy Foundations in America and Australia.
While its immediate focus is on epilepsy, Seer's roadmap also includes home-based solutions for diagnosing cardiac and sleep conditions," explains Dr Freestone.
"Addressing epilepsy first means we have drawn on our natural networks and deep expertise in the field, while developing intellectual property that can be repurposed and extended for other conditions,'' he signs off. "We're deeply committed to leading this radical shift in healthcare which will take clinical-grade monitoring out of the hospital and into the home, making it more accessible to all."
Breakthrough in Critical Care Ronja Müller-Bruhn, CEO, STIMIT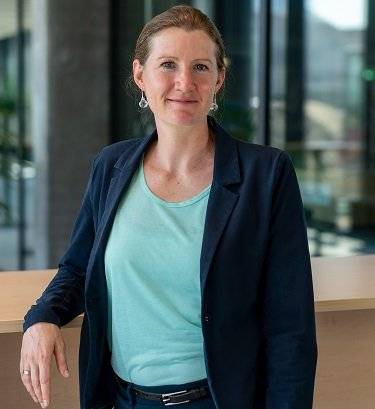 Breakthrough in Critical Care
Ronja Müller-Bruhn co-founded STIMIT, a MedTech startup founded to establish a breakthrough in critical care by empowering patients to breathe. The entrepreneur says that STIMIT's vision is a breakthrough in critical care: From mechanical ventilation to breathing, STIMIT Therapies will empower patients to breathe. Ronja believes in building an impactful business. She speaks on an array of topics in an interview. Excerpts from the interview:
Conception of STIMIT – The Journey
"The core idea was born by observing a strong clinical need. STIMIT's co-founder Oliver Müller, a professional caregiver in intensive care, experienced the life-threatening complications induced by excessively applied mechanical ventilation," sais Ronja. She adds that patients can lose their ability to breathe within days when they must undergo conventional mechanical ventilation processes. The possible consequences range from long recovery processes to mechanical ventilator dependencies to death. "Oliver realized that heart stimulation and stimulation of various body parts had been established, but nobody stimulates the diaphragm to keep our "breathing pump" strong." To address this need, the STIMIT team developed important technological solutions with 15 patents filed to date, and the firm's first medical device is part of ongoing clinical trials. "We are the first company to focus on keeping the diaphragm active and intact via non-invasive stimulation technology." "Critical care of the future will allow the patients to breathe instead of just passively being ventilated. Patients are going to recover way faster." Thus, in 2018 I ended my job as entrepreneurship manager and founded STIMIT."
The Solution
Different courses of disease may require artificial respiration. The coronavirus is just one of them. If the body is no longer able to breathe on its own to a sufficient extent, mechanical ventilation can save lives. However, after just a few days of ventilation, there is a risk of weakening the respiratory muscles and diaphragm. For patients to be able to breathe on their own again, the diaphragm, as the most important respiratory muscle, must be maintained and built elaborates Ronja. "This is where STIMIT comes in. STIMIT technology aims to achieve keeping the diaphragm intact by stimulating the diaphragm by means of non-invasive technology. The future potentials of diaphragm stimulation technologies go far beyond our current focus application: a breakthrough in critical care is unstoppable where patients are empowered to breathe. The mobilized actively breathing patient is the critical care patient of the future."
The MedTech Journey
"I discovered the MedTech area as one of the most fascinating areas of all with great potential for innovation at the interface between living body and technology. This is the driving force for innovation" adds Ronja. She urges the organizations to be open minded and think global to identify markets where successful market approval and product launch is likely. "As a MedTech start-up one must more and more be prepared to get strong financial investors on board. I did not mind sharing the company with great minded people – I believe in the "small piece of a big cake" philosophy to boost global impact and exponential growth."
Pandemic's Effect
Undermining the importance of innovations in the MedTech industry, the entrepreneur says that they are extremely important, today, and especially in the future. "The pandemic has clearly shown that medical technology is in great demand due to patient needs. Innovation in MedTech needs more and more hard work, documentation, persistence, network, investments, patience than almost any other segment I know. Countries that focus on lean yet content-rich risk-benefit analysis for market approval will be able to offer their patients best-in-class solutions."
Leadership Traits
"Full speed on all levels with tangible results"- that's how Ronja loves to work. She also believes in being assertive – which means to her trusting in the inner "compass" based on experience and continuous real-world feedback, which helps navigate in a complex world full of opportunities. She is at all times grateful for the contribution of others. "Resilience, to me, means just taking steps in the right direction against all odds and everything else will derive from there. I am more result-oriented than visionary, but I love to work with my visionary co-entrepreneurs and break down those visions into concrete steps to climb up the visionary staircase – make bold visions happen step by step."
The Success Formula
"The world is complex and there is no one formula that fits all- different business require different skills. Just move on and improve and grow – every day. The effects of persistence become evident, when people who watched the endeavor carefully, suddenly become enthusiastic supporters, because they become convinced by results. Persistence comes naturally when you are truly convinced and excited by the purpose of your business."