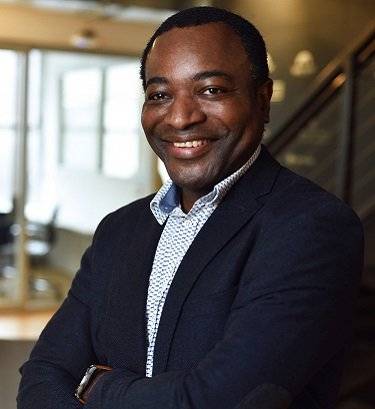 Paiblock : Towards a More Digital Lifestyle  Mark Arthur, Founder & CEO, Paiblock

Towards a More Digital Lifestyle
Labelled as a disruptive integration, AI and blockchain can solve different tasks in the financial services industry, from customer service to payment processing. While blockchain offers visibility and data aggregation, AI automates decision-making and improves internal bank processes. Mark Arthur, a seasoned keynote speaker, author and serial entrepreneur, tested and found this powerful intersection to be a smart way for consumers to gather and connect all the dots of the digital life in a single secure place. He thus designed Paiblock, a blockchain-based and AI-powered payment and digital lifestyle platform.
With over ten years of experience in the democratisation of data and the role of blockchain and AI in improving and augmenting social, environmental, and economic outcomes, Mark has been successful in making Paiblock a virtual shopping mall with banks, stores and safe deposit boxes for valuables and identity credentials.
A Bank-agnostic Digital Banking
"Paiblock's unique value proposition cuts across the increasing need to understand and manage debt, investments and savings in ways that are effective," says Mark, the winner of CEO Today Global Award 2021. The platform lets users access their checking, savings and mortgage accounts, view and share balance and transaction history, and send money to friends and families around the world. Additionally, its automated end-to-end processes help unlock new insights that allow consumers to understand their options.
"We also offer retail banking customers a bank-agnostic digital banking platform that has been designed to supercharge retail banking experience by providing consumers with various benefits like a better overview of their finances, a seamless way to access accounts, tools to understand and manage loans, and many more." The comprehensiveness and user-friendliness of Paiblock have helped the platform stand tall among its contemporaries, substantiates CEO TODAY GLOBAL AWARD 2021.
Managing Identity Credentials with Ease
Stolen credentials and identity breaches always bring nightmares to companies across industries; and the number one cause could be poor management of identity credentials. This is where Paiblock brings the native feature of identity credential manger. "With identity credentials and digital banking becoming inextricably linked, Paiblock identity credentials manager has the benefit of streamlining Know-Your-Customer procedures and allows users to share a read-only view of their government identity with a new service provider," shares Mark.
Paiblock also enables governmental and non-governmental organizations to push government IDs and credentials into users' wallets using the OpenWallet API. This is including but not limited to government-issued e-invoices, ID cards, biometric passports, social security cards, vaccination cards, etc.
Global Coin Economy for All 
Continuing its growth extensively, Paiblock has been launching innovative new services which are contributing to the development of the banking, securities and payment/settlement verticals.
With a core mission to create and maintain a global coin economy that is accessible to all, to minimize coin volatility and return to CPU-based and energy-efficient mining, the company established Paiblock coin or PBC—a cryptocurrency that provides payments, exchanges and remittance.
Moreover, PBC is the general-purpose base coin of the Paiblock Blockchain Network and is seamlessly making its way into the Paiblock services that their users around the globe can access and use in their everyday lives. "The network is integrated into Paiblock to serve as a platform for a wide range of services and to accelerate the Paiblock Coin Economy," states Mark.
The Four Pillars
Today, Paiblock is a global FinTech company with new features that allow users to add their national social security card and driving license into Paiblock, supporting the global shift into a more digital lifestyle. "Letting users add ID credentials into Paiblock reflects what the company has always stood for," points out Mark. "We also want to make sure that Paiblock remains family friendly."
Leveraging AI and Blockchain, Paiblock continues its mission to provide a highly personalised customer experience, a robust and secure digital environment, an easy to use app, and an engaging user journey from start to finish.