Digital Wallets and Mobile Payments: The Evolution of Payments Technology
Digital wallets and mobile payments have indeed revolutionized the way we make payments, offering convenience, security, and speed. Here's how digital wallets and mobile payments have evolved and transformed the payments technology landscape:
Mobile Wallets: Mobile wallets are applications on smartphones that securely store payment card information and enable users to make purchases using their mobile devices. Users can add their debit or credit card details to the mobile wallet and use it to make contactless payments in physical stores or online. Examples of popular mobile wallets include Apple Pay, Google Pay, Samsung Pay, and PayPal.
Contactless Payments: Mobile wallets facilitate contactless payments, which have gained significant popularity. Contactless payments use near field communication (NFC) technology to enable secure and quick transactions by simply tapping or waving the mobile device near a contactless-enabled payment terminal. This eliminates the need to carry physical cards or cash and speeds up the payment process.
Peer-to-Peer Payments: Digital wallets have also enabled seamless peer-to-peer (P2P) payments. Users can transfer funds directly to friends, family, or acquaintances using their mobile wallets, eliminating the need for cash or traditional bank transfers. P2P payment apps such as Venmo, Zelle, and Cash App have gained widespread adoption for their convenience in splitting bills, sharing expenses, and sending money instantly.
In-App and Online Payments: Digital wallets have simplified the checkout process for online and in-app purchases. Users can securely store their payment information in their mobile wallets and make purchases with just a few taps, eliminating the need to manually enter card details for each transaction. This streamlines the payment experience, reduces friction, and enhances conversion rates for e-commerce businesses.
Loyalty and Rewards Integration: Many digital wallets integrate loyalty programs and rewards, allowing users to collect and redeem points or discounts directly through their mobile devices. This integration eliminates the need for physical loyalty cards and simplifies the redemption process, making it more convenient for users to engage with loyalty programs.
Enhanced Security: Digital wallets prioritize security through various measures. They use tokenization, which replaces sensitive card information with unique tokens, reducing the risk of card data theft. Biometric authentication methods such as fingerprint or facial recognition add an extra layer of security to authorize transactions. Additionally, mobile wallets offer the ability to remotely disable or lock the wallet in case of loss or theft, ensuring the safety of funds and personal information.
with Additional Services: Digital wallets are expanding beyond payments, integrating additional services to enhance user experiences. For example, some mobile wallets offer budgeting and expense tracking features, allowing users to monitor their spending habits and manage their finances. Integration with transportation services enables users to make contactless payments for public transit or ride-hailing services.
The ongoing advancement in digital wallet technology, coupled with increased adoption and acceptance by merchants, is driving the transformation of payment methods. As more consumers embrace the convenience and security of mobile payments, the adoption of digital wallets is expected to continue growing, shaping the future of payment technology.
Adopting AI and Machine Learning in BFSI: CIOs' Dilemma
"Adopting AI and Machine Learning in BFSI: CIOs' Dilemma" is a hypothetical exploration of the challenges and considerations that Chief Information Officers (CIOs) in the Banking, Financial Services, and Insurance (BFSI) sector might face when considering the integration of Artificial Intelligence (AI) and Machine Learning (ML) technologies into their operations.
The guidebook might cover various aspects of this dilemma:
Introduction to AI and ML in BFSI: Explaining the basics of AI and ML and how they can be applied to various functions within the BFSI sector, including customer service, risk management, fraud detection, personalized marketing, and process automation.
Potential Benefits: Highlighting the potential advantages of adopting AI and ML, such as improved customer experiences, enhanced data analysis, cost savings, and more accurate decision-making.
Cultural Shift and Change Management: Addressing the cultural challenges that may arise when introducing AI and ML, including resistance to change among employees and the need for upskilling.
Data Quality and Governance: Discussing the importance of clean and reliable data for successful AI and ML implementations, along with strategies for data governance and management.
Regulatory and Compliance Considerations: Exploring the regulatory landscape of the BFSI sector and how AI and ML solutions must align with industry regulations and standards.
Ethical and Bias Concerns: Covering the ethical considerations associated with AI and ML, including potential biases in algorithms and the responsibility of ensuring fairness in decision-making.
Integration with Legacy Systems: Providing insights into the challenges of integrating AI and ML technologies with existing legacy systems and strategies for a smooth transition.
Vendor Selection and Partnerships: Offering guidance on evaluating AI and ML solution providers, assessing their capabilities, and establishing productive partnerships.
Security and Privacy: Discussing the security risks and data privacy concerns that come with AI and ML adoption, and strategies to mitigate these risks.
ROI and Cost Management: Exploring the factors that contribute to the return on investment (ROI) of AI and ML projects, as well as strategies for managing costs and measuring success.
Talent Acquisition and Skill Development: Addressing the shortage of AI and ML talent in the industry and suggesting ways to attract, retain, and develop skilled professionals.
Start Small or Go Big: Analyzing the pros and cons of starting with small-scale AI and ML pilots versus launching large-scale transformative projects.
Customer Trust and Communication: Discussing how to maintain and build customer trust while implementing AI and ML technologies that may impact customer interactions.
Stakeholder Alignment: Advising CIOs on the importance of aligning AI and ML initiatives with broader organizational goals and securing buy-in from key stakeholders.
Case Studies: Providing real-world examples of BFSI companies that have successfully integrated AI and ML, showcasing the challenges they faced and the outcomes achieved.
Future Trends and Adaptability: Highlighting emerging trends in AI and ML within the BFSI sector and the need for adaptable strategies to stay ahead in a rapidly evolving landscape.
The guidebook would aim to assist CIOs in navigating the complex decision-making process of integrating AI and ML technologies into their organizations. It would offer insights, best practices, and practical advice to help them make informed choices that align with their organization's goals and resources while addressing the unique challenges of the BFSI sector.
Blockchain Beyond Cryptocurrencies: CIOs' Guide to Distributed Ledger Technology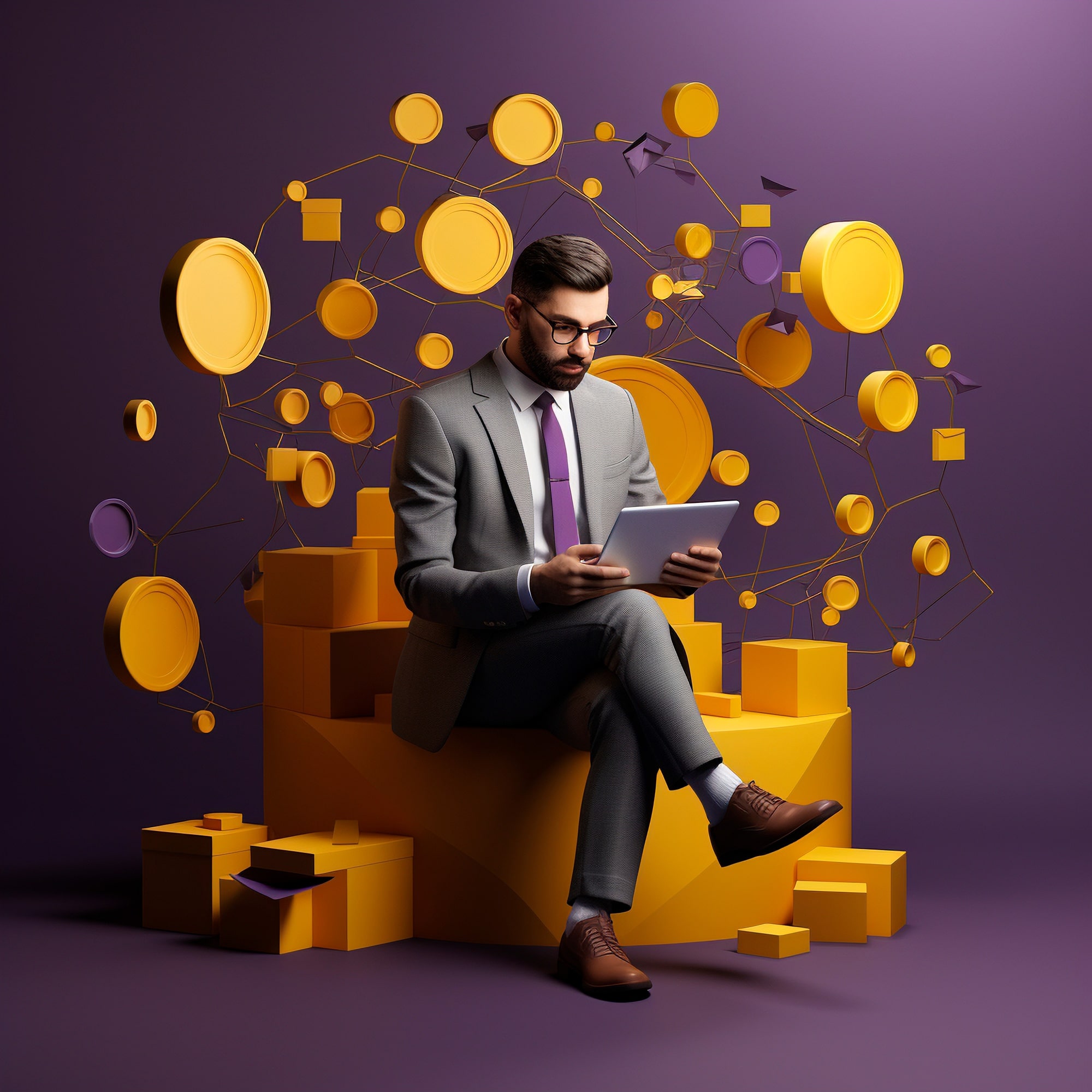 "Blockchain Beyond Cryptocurrencies: CIOs' Guide to Distributed Ledger Technology" is a hypothetical guidebook that could provide Chief Information Officers (CIOs) and other technology leaders with insights into the applications and potential of distributed ledger technology (DLT), commonly referred to as blockchain, beyond its association with cryptocurrencies like Bitcoin.
The guidebook might cover various aspects of DLT, such as:
Introduction to Distributed Ledger Technology: Explaining what DLT is, its underlying principles, and how it differs from traditional centralized databases.
Key Concepts: Detailing essential concepts like consensus mechanisms, cryptographic hashing, smart contracts, and immutability.
Blockchain vs. Traditional Databases: Comparing the advantages and disadvantages of using DLT over traditional databases for various use cases.
Beyond Cryptocurrencies: Applications of DLT: Highlighting real-world applications of blockchain technology beyond cryptocurrencies, such as supply chain management, healthcare data sharing, identity verification, digital voting, provenance tracking, and more.
Security and Privacy: Discussing how DLT can enhance security and privacy by design, mitigating risks and addressing potential vulnerabilities.
Smart Contracts: Explaining what smart contracts are, how they work, and how they can automate and streamline various business processes.
Interoperability: Addressing the challenges and solutions related to making different blockchain platforms and systems work together seamlessly.
Regulatory and Legal Considerations: Exploring the regulatory landscape surrounding blockchain technology in different industries and jurisdictions.
Implementing DLT Solutions: Offering guidance on how to evaluate the feasibility of adopting DLT solutions within an organization, including factors like costs, benefits, and technical considerations.
Case Studies: Providing real-life examples of companies and organizations that have successfully integrated DLT into their operations for improved efficiency, transparency, and collaboration.
Challenges and Future Trends: Discussing the current challenges faced by DLT adoption and predicting potential future trends in the technology's development.
Integration with Existing Systems: Advising on strategies to integrate blockchain solutions with an organization's existing IT infrastructure and legacy systems.
Building In-House vs. Outsourcing: Exploring the decision-making process between building DLT solutions in-house or partnering with external vendors.
Scalability and Energy Efficiency: Addressing the scalability issues of certain blockchain networks and exploring potential solutions to improve energy efficiency.
Education and Skill Development: Suggesting ways for CIOs and their teams to keep up with the rapidly evolving landscape of DLT through training, conferences, and collaboration.
Considerations for Pilot Projects: Providing insights into running pilot projects to test the feasibility and impact of DLT within the organization.
The guidebook would be designed to help CIOs and technology leaders understand the potential of DLT in various industries and guide them in making informed decisions about incorporating blockchain technology into their business strategies. It would emphasize not only the benefits but also the challenges and considerations involved in adopting this transformative technology.
Insurtech: Innovations in Insurance Technology and Customer Experience
Insurtech, a term combining "insurance" and "technology," refers to the use of technology and digital innovations to transform the insurance industry. Insurtech companies are leveraging advanced technologies to enhance customer experience, streamline operations, and introduce new insurance products and services. Here are some key innovations in insurtech:
Digital Distribution Channels: Insurtech companies are utilizing digital platforms and online channels to reach customers directly, bypassing traditional intermediaries. They offer user-friendly websites and mobile apps that enable customers to compare insurance products, obtain quotes, and purchase policies conveniently. Digital distribution channels provide a seamless and efficient customer experience, reducing paperwork and saving time.
Data Analytics and Underwriting: Insurtech leverages big data analytics and machine learning algorithms to assess risks and improve underwriting processes. By analyzing large volumes of data from multiple sources, including social media, IoT devices, and historical claims data, insurtech companies can make more accurate risk assessments and pricing decisions. This enables personalized policies and more efficient underwriting processes.
Usage-Based and On-Demand Insurance: Insurtech has facilitated the development of usage-based and on-demand insurance models. Using telematics devices, mobile apps, or connected devices, insurers can collect real-time data on customer behavior or usage patterns. This data is used to tailor insurance coverage and pricing to individual needs. For example, pay-as-you-go car insurance based on mileage driven or on-demand travel insurance for specific trips.
Claims Management and Automation: Insurtech companies are improving claims management processes through automation and digitization. AI-powered claims platforms can automate claims processing, reducing the time and paperwork involved. Insurtech solutions can also leverage technologies like image recognition and drones to assess damages remotely, accelerating the claims settlement process.
Smart Contracts and Blockchain: Insurtech explores blockchain technology to enhance transparency, efficiency, and security in insurance operations. Smart contracts on a blockchain can automate policy administration, claims settlement, and premium payments, reducing administrative costs and eliminating the need for intermediaries. Blockchain-based platforms also provide a secure and tamper-proof record of insurance transactions and policyholder information.
Customer Engagement and Personalization: Insurtech focuses on improving customer engagement and personalization. By leveraging customer data and AI-powered chatbots, insurtech companies can provide personalized recommendations, answer customer queries, and deliver a more interactive and responsive customer experience. They can also leverage data analytics to offer personalized risk management advice and proactive risk prevention strategies.
Collaboration with Traditional Insurers: Insurtech startups often collaborate with traditional insurance companies to combine their technological expertise with established market presence. These partnerships can lead to the development of innovative insurance products and services that leverage the strengths of both parties. Traditional insurers benefit from the agility and technology-driven solutions offered by insurtech startups, while insurtech companies gain access to established distribution channels and regulatory expertise.
Insurtech innovations have the potential to transform the insurance industry by improving customer experience, increasing efficiency, and expanding the range of insurance offerings. However, challenges such as data privacy, regulatory compliance, and customer trust need to be addressed for widespread adoption of insurtech solutions. Nonetheless, insurtech is driving significant changes in the insurance sector, shaping a future that is more customer-centric, data-driven, and technologically advanced.