Top 20 Retail Tech CEOs of 2021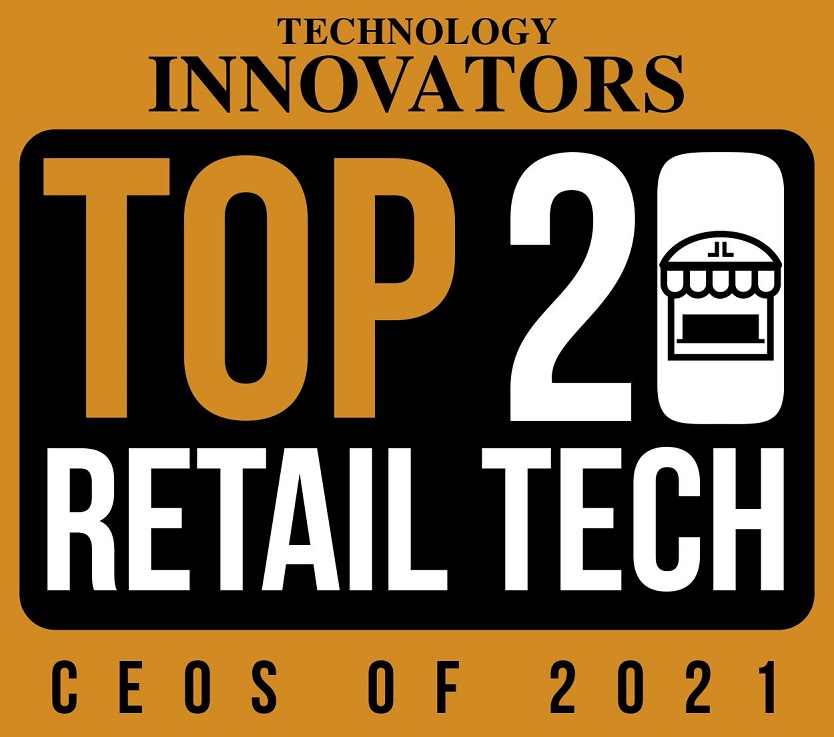 With COVID-19 outbreak, innovative retailers are steering the marketplace from fragmentation, complexity and confusion toward an increasingly integrated future. These smart, agile businesses are collaborating with partners to use the latest technologies and supply chain optimization tools to streamline processes and really get inside the heads of their omni-channel customers. Moreover, consumer demand for the convenience of not leaving one's house grew rapidly in 2020, boosting conversations around delivery and e-commerce fulfilment. The result is competitive advantage at the first mile, the last mile and everywhere in between an essential weapon on the customer experience.
While that means many businesses – both B2C and B2B – are still catching up to new customer demands, it also means that brands that can quickly adapt will be able to capitalize on this rapid acceleration. However, this calls for implementation of technology tools and the expertise to rollout new features and solutions to accommodate retailers and their customers. Keeping this in mind, in this edition of Technology Innovators, we present to you Top 20 Retail Tech CEOs of 2021 who share their entrepreneurial experience and how businesses should re-evaluate the very concept of retail to stay afloat in this dynamic environment.
Since the pandemic hit the world, almost all business sectors have gone through a noticeable change and the retail sector is not even untouched if this effect. One of the most surprising changes which have transformed the entire retail industry is the way consumers started interacting with the retailers. With the increase in a pandemic situation, the rate of interaction was continuously crawling down and by the end of the year, 2020 17% of customers got shifted from their regular retail stores and opted for other online solutions to satisfy their requirements. Since the past year, a rapid surge in online grocery stores with home delivery options has been noticed.
The regular offline transactions have been decreased by 30% as compared to the year 2019 and the transactions over online channels have been taken a spike of 57%. Several engagement models emerged in the current year with various online shopping features, and these models are going to have a long-lasting existence in the market.
E-commerce has seen positive growth from the beginning, due to unparalleled events happening in 2020 the growth has soared higher since a year, as people do not opt for shopping in-person to avoid the risks of COVID. Adding to this people who work from home also prefer to shop on an e-commerce website to save time, which opens the door of opportunity for e-commerce websites to adapt many retail technologies that can help them to keep them going in the competition. People in the e-commerce sphere should look for recent emerging technologies and incorporate them to stay competitive in the industry. In e-commerce, inventory must be managed to make sure that products are available easily for customers who shop both online or offline, that can be done by having artificial intelligence-based systems for inventory management, this tech aids in forecasting the demand more precisely also improve the abilities of retailers. During COVID few stores were closed and could not run their offline business, one thing they could adopt is to have an agile marketing strategy for that retailers must look for opportunities how retailers can expand the digital experience for existing and new customers, also introduce new technologies or mobile applications where it helps customer to shop both online and offline.
Since 2020, the world has undergone a lot of changes and a leap in the e-commerce sector. Where most of the business sectors have seen a downfall, the retail sector is trending with the online stores offering home deliveries to the customers. But due to high competition, it is necessary to keep the digital standards high to satisfy the growing requirements of digitized customers. In 2021, the e-commerce sector is growing to serve value to the customers, making e-commerce apps a customer-centric solution. The two most crucial elements of today's retail sector are efficiency and accessibility.
The major challenge:
The biggest challenge faced by the customers while buying products from the online portal is the missing luxury of the trial room and the challenge for the e-commerce portal is to serve a perfect fit to their customers with the right information. The major issue which has been faced by most of the e-commerce portal is to reduce the return cost that is making a bigger addition to the expenses of retailers. The question is "how to get rid of this issue and serve a solution to both customers and the retailers?"
The E-commerce sector is growing at a fast pace and the workforce working every moment for this success is the backbone of the retail industry. With the enhancement of technological incorporation in the retail industry, the safety of the workforce has gained importance. To support worker safety, Locus Robotics has raised a huge capital scaling up the level of warehouse robotics in the series E funding. The funding was backed up by Tiger Global Management and Bond. With the rise of the fund, the valuation of Locus Robotics has reached $1 billion. The company specializes in warehouse fulfillment robotics and with every step, it is working to improve the technological use in the retail industry with rigorous research and development process.
Locus Robotics is continuously working with the various big brands like material bank, boots UK, DHL, port logistics group, verst logistics, and more, helping them in doubling their fulfillment productivity. The latest technologies assist the retail industry to enhance the ratio of safety accuracy along with the enhancement of productivity.
Retail is one of the widest sectors in the business industry. All those businesses which don't manufacture or produce anything at their own, rather buy it from the manufacturer and sell it to the relevant market are counted under retail sector. Electronics, apparels, furniture, grocery, crockery, home décor, and so on, retail has expanded a huge market for all business persons. These days what all e-commerce websites are available, each of those are almost a comprehensive reflection of retail sector. Apart from opportunity, this sector also offers a huge competition for the entrepreneurs. It is really tough to stick on to the wish list of your customers all the time, but not impossible. There are multiple ways with which you can maintain your sustainability.
If you are also seeking an effective way with which you can strengthen your foot in the competition then you are on the right page. Here you will get an effective approach that will not only enable you to stick to the market but also to lead your competition.
Customers are the key to your success:
In the present era of technological advancements each sector is growing at a fast pace. Retail is one of those sectors that are transforming its face. Well, change of technology is not a comprehensive change rather these are iterations of old technologies. Few of the latest technologies that have emerged in past few years in the retail sector are drone, robotics, e-commerce anti-fraud tools, and many more. Bit coin and block chains are the major advancements appeared in the recent past years.
Few these are certain advancements in the retail sector which haven't got worldwide acceptance by folks; actually folks are not much familiar with such technological advancements. Robotics was included more and more in software sector but slowly it created its space in the world of retail. Supply chain was one of the biggest issues in the retail sector and it was resolved effectively with the use of robotics.
Customization: In the present era of technology, common is very uncommon, and the credit goes to the technological growth emerged in past few years.
Retail is constantly transforming its face and now with latest four revolutions a great enhancement has been noticed in this industry. With the help of modern technologies, retail has grown so far and has evolved a number of advancements. Digitization and modern technology are two major reasons for the steady growth in this sector. Retail sector comprises of multiple procedures, such as inventory management, purchase, supply chain management, accounts, customer service, and many more.
In past days each of these tasks were done manually and were really time consuming but with the technological advancements each of these tasks are automated and also has given perfect communication channels to enhance customer services and keep the brand connected with targeted audiences and existing customers.
Big Data: When you talk about a business, then details of a customer or targeted audience costs like the currency and are really very crucial for a business to grow and maintain their customer relations.
Dated back to the 1980's and early 1990's, shopping was a really time consuming but hectic task, when every folk used to walk into various shops to find a perfect match of their requirement, but still half of the customers returned unhappy and unsatisfied. But then a sudden change was seen in the shopping method of folks with the emergence of online shopping portal such as Amazon. In the initial days, when online portal was launched, hardly people were familiar about this new advancement of technology and retail sector. The transformation of shopping method from outlet shopping to online shopping took a good sum of years to be adopted by the folks all-round the globe.
Changes made by online shopping platforms in retail sector:
Online shopping portal started with the money transaction for online ticket booking portals. Then it grew as a platform where companies were sharing information about their products and this was the perfect motivation for online shopping portal where people can shop as per their preferences. Facilities served by online shopping portal are:
This highly competitive world totally depends on show off. Audience always wishes to watch something better something creative, and day by day ad's creativity is increasing, making it attention seeking, but does attention is enough to convince the audience to avail your services or buy your products? Not of course. Today's audience is really practical and they don't like to opt new things until it connects with them in any manner. Just an ad is just an informative piece that makes your audience aware about your products or services but a sensible and sensitive story helps each of your targeted customers to connect with your brand emotionally and bring them closer to it.
It is predicted that 80% of any company's revenue can be generated only by the 20% of its targeted audience and the challenge that retail sector faces today is to convince that 20% audience to turn into user. A powerful story is potent enough to convince them and keep them connected with the brand.