Voice Commerce: The Rise of Virtual Assistants and Voice-Activated Shopping
Voice commerce, driven by virtual assistants and voice-activated shopping, is gaining prominence as a convenient and intuitive way for consumers to interact with retailers and make purchases. Here's how voice commerce is shaping the retail industry:
Virtual Assistants: Virtual assistants, such as Amazon's Alexa, Google Assistant, and Apple's Siri, leverage natural language processing (NLP) and voice recognition technologies to enable voice-based interactions with consumers. These assistants can answer questions, provide recommendations, and even execute voice commands for shopping.
Voice-Activated Shopping: Voice-activated shopping allows consumers to use their voice to search for products, add items to their shopping carts, and complete purchases. By simply speaking their requests or commands, customers can quickly and conveniently shop for products without the need for manual browsing or typing on a device.
Personalized Recommendations: Virtual assistants can leverage customer data and purchase history to provide personalized product recommendations. By understanding customer preferences, shopping patterns, and contextual information, virtual assistants can offer tailored suggestions and help customers discover relevant products.
Seamless Integration: Voice commerce can seamlessly integrate with various devices, including smart speakers, smartphones, and other internet-connected devices. This enables consumers to access voice-based shopping capabilities from multiple touchpoints, making it more accessible and convenient for them to shop anytime and anywhere.
Voice Payments: Voice commerce extends to payment processing, allowing users to make secure transactions using their voice. Voice-activated payment systems enable customers to complete purchases by providing voice commands or authentication through virtual assistants. This streamlines the checkout process and reduces friction in the payment journey.
Voice-Enabled Customer Service: Virtual assistants can enhance customer service by providing voice-enabled support. Customers can ask questions about order status, shipping updates, or return policies, and receive real-time assistance. Voice-enabled customer service reduces the need for customers to wait on hold or navigate through complex phone menus, improving the overall customer experience.
Voice Shopping Skills and Apps: Retailers can develop voice shopping skills or apps that integrate with virtual assistants. These skills or apps allow customers to engage with specific brands, access exclusive offers, and receive personalized shopping experiences through voice interactions.
Accessibility and Inclusivity: Voice commerce offers enhanced accessibility for individuals with visual impairments or physical disabilities. Voice-activated shopping provides a more inclusive shopping experience by eliminating the need for visual interfaces and enabling individuals to navigate and make purchases using their voice.
It's important for retailers to optimize their product listings and content for voice search to ensure accurate and relevant search results. This involves using conversational language, optimizing keywords for voice queries, and structuring product information to align with how customers ask questions using voice commands.
As voice commerce continues to evolve, retailers need to prioritize data privacy and security, as well as ensure seamless integration across different platforms and devices. By embracing voice commerce, retailers can provide a more personalized, convenient, and intuitive shopping experience that aligns with the changing preferences and behaviors of consumers.
AI-Powered Retail: Revolutionizing the Shopping Experience
AI-powered retail is indeed revolutionizing the shopping experience in various ways, enhancing both online and offline shopping for consumers. Here are some key aspects in which AI is making a significant impact:
Personalized Shopping Experience: AI algorithms analyze customer data, such as purchase history, preferences, and browsing behavior, to provide personalized recommendations. This leads to a more tailored shopping experience, increasing the likelihood of customer satisfaction and repeat business.
Virtual Assistants and Chatbots: Virtual assistants and chatbots powered by AI are increasingly being used in retail. They assist customers with product inquiries, help navigate through online stores, and provide real-time support. These tools improve customer engagement and streamline the buying process.
Dynamic Pricing: AI enables retailers to implement dynamic pricing strategies based on various factors, including demand, competitor pricing, and market trends. This allows for more flexible and responsive pricing, optimizing revenue and maximizing competitiveness.
Inventory Management: AI algorithms help optimize inventory levels by predicting demand patterns, reducing the risk of overstock or stockouts. This ensures that retailers can meet customer demands efficiently, minimizing losses associated with excess inventory.
Augmented Reality (AR) and Virtual Reality (VR): AR and VR technologies, often powered by AI, enable customers to visualize products in a more immersive way. For example, customers can "try on" clothes virtually or see how furniture looks in their homes before making a purchase. This enhances the online shopping experience and reduces the likelihood of returns.
Fraud Prevention: AI algorithms are used to detect and prevent fraudulent activities, such as unauthorized transactions or account breaches. This is crucial for maintaining the security and trust of customers in online retail environments.
Supply Chain Optimization: AI plays a vital role in optimizing supply chain processes. Predictive analytics and machine learning algorithms help in forecasting demand, improving logistics, and reducing inefficiencies in the supply chain, ultimately leading to cost savings and improved delivery times.
Voice Commerce: Voice-activated virtual assistants, like Amazon's Alexa or Google Assistant, are becoming integrated into the shopping experience. Customers can make purchases, track orders, and get product recommendations using voice commands, providing a hands-free and convenient shopping option.
Social Commerce: AI is used in social media platforms to analyze user behavior and preferences, facilitating more targeted advertising and product recommendations. This integration of AI with social commerce enhances the shopping experience for users on these platforms.
Predictive Analytics for Trend Forecasting: Retailers leverage AI-driven predictive analytics to identify and capitalize on emerging trends. By analyzing vast amounts of data, AI can help retailers stay ahead of the curve and stock products that are likely to be in demand.
In summary, AI-powered retail is transforming the shopping landscape by creating more personalized, efficient, and engaging experiences for consumers while providing retailers with tools to optimize operations and stay competitive in a rapidly evolving market.
Robotics and Automation in Retail: Optimizing Inventory Management and Fulfillment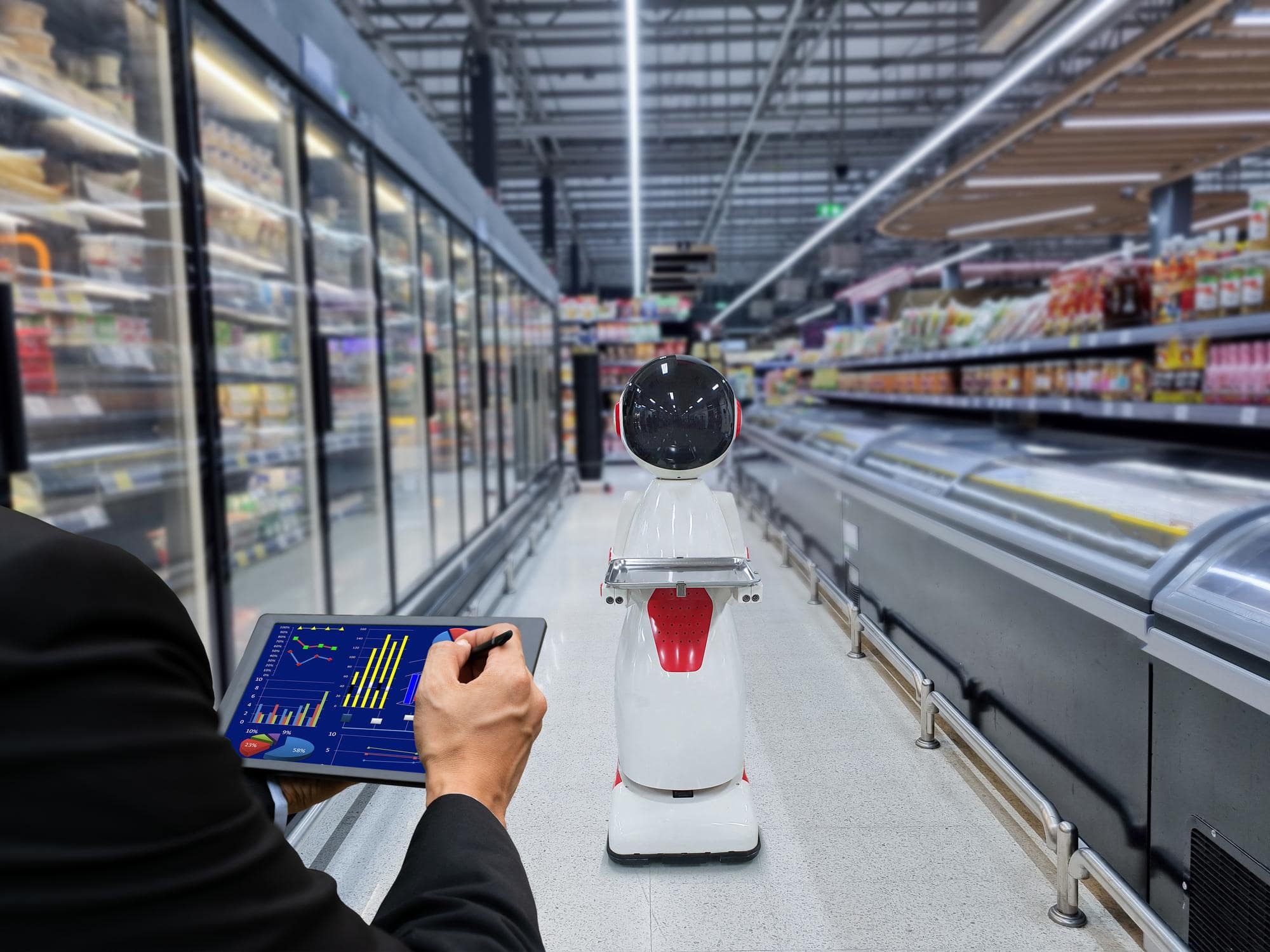 Robotics and automation technologies are transforming the retail industry by optimizing inventory management and fulfillment processes. Here's how robotics and automation enhance retail operations:
Inventory Management: Robots can automate inventory tracking and management tasks. They can autonomously scan shelves to monitor stock levels, identify out-of-stock items, and generate replenishment orders. This streamlines the inventory management process, reduces manual labor, and ensures accurate and timely inventory updates. Robots can also help with inventory auditing and cycle counting, improving inventory accuracy and reducing discrepancies.
Warehouse Automation: Automated systems, such as conveyor belts, automated guided vehicles (AGVs), and robotic arms, are used to streamline warehouse operations. These technologies automate tasks such as product picking, sorting, packing, and labeling. By reducing manual handling and increasing efficiency, warehouse automation improves order fulfillment speed and accuracy.
Robotic Order Fulfillment: Robots can automate order picking and packing processes in distribution centers. Autonomous mobile robots (AMRs) can navigate through warehouses, retrieve products from designated locations, and deliver them to packing stations. This reduces human labor, increases order processing speed, and minimizes errors. Robots can also optimize packing processes by selecting the right box size and packaging materials, reducing waste and shipping costs.
Click-and-Collect Automation: Automation technologies enable efficient click-and-collect services. Customers can place orders online and collect them from designated pickup points or lockers. Automated systems manage the order retrieval process, ensuring that items are ready for pickup when customers arrive. This reduces wait times and provides a convenient and seamless customer experience.
Robotic Customer Service: Robots can be deployed in retail stores to assist customers. They can provide information about products, answer frequently asked questions, and guide customers to specific store sections. Robots equipped with natural language processing capabilities can communicate with customers and provide personalized recommendations based on their preferences. This enhances the customer experience and improves engagement in physical retail spaces.
Last-Mile Delivery Automation: Robotics and autonomous vehicles are being used for last-mile delivery. Drones and delivery robots can transport packages from fulfillment centers to customers' doorsteps. These automated delivery systems offer faster and more flexible delivery options, especially in urban areas with congested traffic. By optimizing the last-mile delivery process, retailers can improve efficiency, reduce costs, and enhance customer satisfaction.
Self-Checkout and Cashierless Stores: Automated checkout systems, including self-checkout kiosks and cashierless stores, enable customers to scan and pay for their items without the need for cashier assistance. These systems utilize computer vision, sensor technologies, and AI algorithms to track and process purchases. Self-checkout and cashierless stores reduce checkout lines, improve transaction speed, and enhance the overall shopping experience.
While robotics and automation offer numerous benefits, their implementation requires careful planning and consideration. Retailers need to ensure that technologies integrate seamlessly with existing systems, address potential cybersecurity risks, and provide necessary training to employees to work alongside robots and automation systems.
Overall, robotics and automation technologies in retail optimize inventory management, streamline fulfillment processes, and enhance the customer experience. By leveraging these technologies, retailers can improve operational efficiency, reduce costs, and meet the evolving expectations of today's consumers.
Augmented Reality in Retail: Virtual Try-On and Enhanced In-Store Experiences
Augmented Reality (AR) is transforming the retail industry by offering immersive and interactive experiences for customers. AR technology overlays digital content onto the real world, enhancing the shopping process and providing unique benefits to both customers and retailers. Here's how AR is being used in retail, particularly in the areas of virtual try-on and enhanced in-store experiences:
Virtual Try-On: AR enables customers to virtually try on products before making a purchase. This is particularly valuable in industries such as fashion, cosmetics, and eyewear, where customers want to see how a product looks on them. AR-powered virtual try-on solutions use facial or body recognition technology to superimpose digital representations of products onto the customer's image in real-time. Customers can see themselves wearing different outfits, trying on various shades of makeup, or testing out different glasses frames, all without physically trying on the products. This enhances the online shopping experience, increases customer confidence in their purchase decisions, and reduces product returns.
Product Visualization: AR allows customers to visualize products in their physical environment. For example, furniture retailers can use AR to enable customers to see how a piece of furniture would look in their home by overlaying a virtual image of the furniture onto the real-world view through a smartphone or tablet. This helps customers make more informed purchasing decisions and eliminates the guesswork of whether a product will fit or match their existing decor. Similarly, AR can be used to showcase how appliances, electronics, or home improvement products will look and function in a customer's space.
Interactive In-Store Experiences: AR can enhance the in-store shopping experience by providing interactive and engaging elements. Retailers can deploy AR solutions in physical stores through dedicated AR displays, smart mirrors, or mobile apps. For example, customers can scan product labels or displays with their smartphones to access additional product information, reviews, or virtual demonstrations. AR can also be used to provide personalized recommendations, promotions, or virtual guides that lead customers through the store, showcasing relevant products and offers based on their preferences or previous purchases.
Gamification and Brand Engagement: AR can add an element of gamification to the retail experience, creating interactive and memorable interactions with brands. Retailers can use AR-powered games or challenges to engage customers and incentivize their participation. For instance, customers may be encouraged to explore the store, scan specific products, or complete certain tasks within an AR-based game. This not only entertains customers but also increases their time spent in-store and promotes brand loyalty.
Virtual Shopping Assistants: AR can act as a virtual shopping assistant, providing customers with personalized recommendations and guidance. Using customer data, AR can offer product suggestions, show complementary items, or display reviews and ratings. By tailoring the shopping experience to individual preferences and needs, retailers can enhance customer satisfaction and drive sales.
Online-to-Offline Integration: AR can bridge the gap between online and offline retail experiences. Customers can use AR-powered mobile apps or web platforms to virtually explore products, check availability in nearby stores, and reserve or purchase items for in-store pickup. This seamless integration allows customers to transition smoothly between online browsing and in-store shopping, creating a cohesive and convenient shopping journey.
Data Analytics and Insights: AR in retail generates valuable data and insights. Retailers can analyze customer interactions, preferences, and behaviors within AR experiences to gain a deeper understanding of customer preferences and optimize their marketing and merchandising strategies. This data can inform inventory management, personalized marketing campaigns, and the development of new products and services.
AR is revolutionizing the retail industry by providing engaging, interactive, and personalized experiences for customers. It enables virtual try-on, improves in-store interactions, enhances product visualization, and blurs the line between online and offline shopping. By leveraging AR technology, retailers can create memorable and immersive experiences that differentiate their brand, increase customer satisfaction, and drive sales.