Revolutionizing Managed Cryptocurrency Funds Alex Wang, Co-founder & CEO, Ember Fund
Ember Fund: Revolutionizing Managed Cryptocurrency Funds
Ember is the first mobile app that allows users to easily buy into a managed cryptocurrency fund, without holding users' assets. The company believes in fundamentally transforming those investment products people have access to on a global scale and uses cryptocurrencies to achieve the same. At the helm of affairs of Ember Fund is Alex Wang, Co-Founder & CEO. Excerpts from an interview with him:
Story Behind Ember Fund
Ember Fund is the first mobile app that allows anyone in the world to invest like a crypto hedge fund, with just a few hundred dollars. According to Alex, the company partners with the best minds in crypto (hedge funds, quants, etc.) to bring sophisticated institutional grade trading strategies to the masses. It also earns the distinction of being fully non-custodial as the company does not store sensitive data including private keys. It leverages machine learning to build an amazing customer and personalized product experience.
The company's ethical values make it a remarkable organization. "I think our organization is very much driven by empathy and understanding. Not only between team members but also with our users." Alex observed how important it was for the company to be empathetic towards its users, since they are bridging the gap between something very complicated (crypto) and retail users. "I've seen many companies fail because they aren't able to drive the product forward with the users in mind. At the end of the day if they (users) have questions, it's your job to empathize build an amazing and frictionless experience."
Challenges Galore
Optically, Alex felt that the barriers to scale (regulatory, perception, etc.) completely dissipate this year with all the recent positive news. "We have hedge fund managers (Paul Tudor Jones), large public companies (Square, Microstrategy) and most recently PayPal all come into the space and place bets. One of the biggest challenges continues to be building truly useful product that the end consumer understands and finds beneficial." Alex added that there was still a massive divide between those that understand crypto and those who don't, and few companies were doing a good job of bridging that gap. Alex profoundly believed in building things that are truly beneficial and have those benefits easily understood by the average person. "Especially those in the US that generally have better banking services than 90% of the world. Put it simply, can I earn 20% on my cryptocurrency savings account vs 0.15% in my bank with a comparable risk profile? Only then, will we be able to get to the next level of mass adoption. We're getting close," he added.
Memorable Moments of Success
"I remember when we received an investment of over $200,000 from one user. We knew we were on to something. True to form as a 'startup', at the time we were still working out of a small apartment and although we were tired, hungry and stressed. It was so gratifying to know that we had built something of value.
Blockchain to the Rescue
Alex opined that the most direct way in blockchain would be enabling internet native money to be the norm instead of paper money. "We already have Venmo and Bank wires but there is a ton of friction to use these products (speed, cost, invasive personal information). We need sound money native to the internet and less paper money which is dirty and being inflated away by sovereign entities."
A Piece of Advice
"The cliché is that startups are a rollercoaster ride. With blockchain, it's a rocket ship with broken engines. Things move fast, competitors spring up and fade away in months. Markets 10x and pull back 90% in weeks. Be prepared for that and build your strategy around that vs traditional tech markets that move at a fraction of the speed."
"Wanted to call out the leadership team as they are truly the superheroes behind the scenes. Guillaume (CTO), Harrison (Growth), Mario (CIO) and Tony (Engineering)- thank you all. You guys rock," signed off Alex.
Effective, Affordable, and Accessible Arman Sarhaddar, CEO & Founder, Vault Security Systems AG
Vault Security Systems: Effective, Affordable, and Accessible
"Once you have a vision, build a strategy around it to execute the vision." A serial entrepreneur across markets, Arman Sarhaddar is a dreamer by nature who believes in carefully building the strategic foundation that shapes his dreams. Born and raised in Vienna, Austria, Sarhaddar became an active investment banker in 2000. He worked for big investment firms in various markets and managed companies with up to 50 brokers in the U.S.
The Blockchain Journey
Having over 20 years of wealth management experience, Sarhaddar has always been fascinated about the distributed ledger technology which brings true authenticity, integrity, and security in to play. "At the beginning, Bitcoin was a remarkable technology, but it was not until the developments in the recent years that the true potential of distributed technologies crystalized themselves," he notes. Moreover, all those new areas of applications reflected with his personal story. "My personal belongings were stolen from a secured area. At that moment, I knew what should be done." With careful study and preparation, he founded Vault Security Systems. Vault provides an effective, affordable, and accessible distributed ledger or blockchain solution, helping both businesses and consumers protect their most valuable assets.
Today, there are many blockchain protocols which try to capture the supply chain market. However, having a protocol to build upon is only one side of the coin. Companies still need all kind of technology to actually make it work. That is where Vault Security Systems is truly a pioneer.
Preventing Counterfeit in Supply Chains
If a company wants to ensure that their products are, for example, climate-friendly, using blockchain is the affordable way to do so. Reducing counterfeit can also be achieved by using blockchain in combination with other technologies. With around a trillion dollar damage in counterfeit every year, this money can return to the positive side of a company's balance sheet.
"Our business solution, ivault, is designed to prevent counterfeit in supply chains. This can be achieved for parts, as well as for products which are being sold to customers," says Sarhaddar. They use a customized solution for businesses to benefit from the security and traceability enabled through blockchain technology and can also decide for themselves how much transparency they want to give to their customers. One of the advantages of this approach is that Vault solutions can be used to show the customers directly that their products are authentic. "Consequently, this enables completely new customer engagement models and new ways of communicating with customers."
Apart from their business solutions, the company is also developing a mobile app. The app lets people digitize their valuables and in case they lose something, they can count on the ivault community to get their beloved item back. "Distributed ledger technology plays a role in the development of the app, although we decided to use it for the backend, so that users can rely on security and privacy, but are not actively shown all the technology," he adds.
Tackling Challenges  
Implementing distributed ledger into a corporate system can be a burden for employees. The implementation process is not so much about the technology and the advantages are dwarfed by the change in the structure of a system and with it—the workflow. "More often, the process could bring more advantages to everyone involved, if the corporate system is being enhanced with distributed ledger technology instead of replaced," points out Sarhaddar.
Moreover, blockchain is often still regarded as a hype and many companies do not grasp yet the advantages. "In Switzerland and the European Union, we faced a challenge in explaining the differences between cryptocurrencies and distributed ledger technology. We tackled it by showing our use-cases for IoT and by implementing our solution into a product which is already on the market." Vault's solution can not only be completely automated, people working with the system do not even see that they are working with distributed ledger technology. And that for Sarhaddar, is a dream come true.
Plazus Technologies: Blockchain in Everyday Life Galya Westler, CEO, Plazus Technologies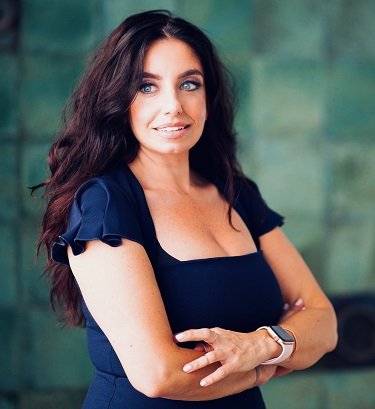 Plazus Technologies: Blockchain in Everyday Life
Oftentimes leaders do not recognize the power in them until they pursue it persistently. From a shy dancer first on stage to a bold TED speaker later in life, Galya Westler discovered the potential in her with relentless perseverance despite the odds she faced.
Originally graduating as a Software Engineer, Galya quickly climbed the corporate ladder but soon realized that she wanted the independence and freedom to develop her own company as an entrepreneur. She decided to quit the corporate world and devote her entire focus to cutting-edge technology projects. "I took what I learned from my corporate experience; onboarded clients and identified projects that were not only interesting to me but where I felt that I could really make a difference in this world," says Galya. "Slowly, I built my team and took on projects, initially, in mobile app development, DIY B2B tools, and more recently, in Blockchain enterprise solutions."
Today, being the CEO of Plazus Technologies and GO Health Technologies Inc., Galya's success factor lies in stepping outside of her comfort zone, facing issues head-on, and using any and all challenges and as learning tools to build on her expertise and knowledge.
The Need of the Hour
"Providing high-end technology solutions is about combining the best possible team with complementary skill sets," points out Galya. Having been a technical leader for many years, she believes it is extremely hard to find the right talent with the required skill set and experience to solve the complex enterprise challenges involved with business logic, in payments, supply chain, HR, and compliance. There is a need for highly skilled developers with enterprise-grade solutions experience, first-hand Blockchain development, and experienced in SSI solutions developers to solve many of the challenges using identity on Blockchain.
This is where Plazus Technologies takes a unique approach to these highly complex concepts, turning them into clean and easy-to-use solutions, providing leading tools to increase security and streamline processes utilizing Blockchain and AI technologies focused on health and privacy, cross border payments, compliance, fraud detection, and HR processes.
Transforming Lives
A Blockchain enthusiast, Galya, has over the years been observing, researching, and learning the Blockchain market from multiple perspectives to reveal its benefits in everyday life. "Every day is a success, because we get to work in an area that we feel passionate about and positively impact people's lives by developing software that protects their rights and helps enterprises with their business."
2020 has been a year where more enterprises than ever are implementing Blockchain solutions for their businesses to improve transparency, efficiency, and to streamline their operations, from supply chain and compliance to fake news and identities during election times. Usage of identity on Blockchain also benefits in health data protection using Self Sovereign Identity (SSI).
"Meanwhile, some of the challenges we face are the lack of knowledge decision makers have on the benefits of Blockchain and the knowledge they could gain if they ran a POC or an MVP in their organization. To address these issues, we work with enterprises to carry out Gap Analysis workshops with them and discover the inefficiencies in their business flow, security gaps, and clients' and users' data protection issues. We then generate ways for them to automate and streamline their business and services to positively affect their bottom line. We take them from concept to MVP in just a few months of development," notes Galya.
User Identity Protection
One of the biggest issues today is the lack of authenticity when it comes to user identity, which requires manual verification thus collecting sensitive data. Doing so, opens corporations up to liability in the mishandling of people's digital assets (identity, data, money,) which ends up costing them time and money when disputes occur.
Abiding by their philosophy to give users the ability to own and control data and holding companies and authorities accountable for handling people's digital assets, Plazus Technologies focuses on SSI and other Blockchain-based solutions for enterprises. Self-sovereign digital identity is an identity that's created and managed by the user. It has all of the credentials a user needs to interact in the digital and physical world, without relying on a centralized organization or authority.
Project GO and REACH org in Collaboration with the Canadian Government
With great passion, creativity, and agility, Galya always has a unique perspective to offer. When the COVID-19 pandemic started, the team participated in one of the biggest global hackathons and came up with the idea of building an app. The app verifies and holds a person's anonymous data on self-testing (applied to COVID-19 tests, HIV self-tests) and stores and encrypts the results on their device acting like a "private health wallet". The users then decide if they want to push the data, anonymously yet verified, to an authorized party to: either pass a border (prove they are not sick,) or see a care professional, or participate in a study.
"We called it 'Project GO' to get the economy going by identifying who is sick and who is not yet keeping privacy of the users to avoid discrimination when one gets his/her health status, they should decide if/when they want to share it," says Galya. GO collaborates with REACH organization for connecting HIV undiagnosed to care in an anonymous manner and as a way to stop the spread of HIV in Canada.
According to Patrick Boscher, VP Strategy, Plazus Technologies, "With Project GO, our approach has been to understand and use the legal framework to identify best-in-class solutions and related technologies, in particular for three major areas: GDPR, cross-border and cross-jurisdiction solutions, and increased fraudulent activities on fake identities. Moreover, "we've gained a lot of knowledge from talking to so many professionals around the globe during these hackathons. It's been an intense period. Frequent iterations and focus made us able to process huge amounts of feedback into something meaningful. Also it was interesting to see how different teams tackle similar problems but from different angles," notes Anton Bludov, UI UX specialist, Plazus Technologies.
Connection with WHO
Having partnered with many big players, Galya considers it a grand moment when Plazus Technologies connected with WHO. The organization wanted to update their guidelines on post market surveillance for medical devices (eg., Covid-19 test efficacy) to protect people's data using Blockchain and SSI.
"Even though it is cumbersome to collaborate with WHO directly given their complex structure; their guidance to world leaders, enterprises and corporations to consider using Blockchain to connect patients (for example) with health manufactures, pharmaceuticals, and governments automatically and safely using a SSI is huge progress," explains Galya. "I just hope that the momentum grows and companies, not just in health but other industries, will start building POCs to include this exciting new technology."
The Shared Trust Ecosystem
With Galya's upcoming keynote on the topic "Believing that Blockchain is for all," Galya thinks, today, the users ought to educate themselves on how their data is being used and manipulated by central parties. "As corporates and governments, it will be up to us to develop systems that are based on integrity and trust using Blockchain technology, not just for the economic benefit of it but for the social benefit."
The future of Blockchain, therefore, will see a greater awakening to create a shared trust ecosystem that will benefit everyone. "There's a long way to go, but it is up to us to set the standard and demand data transparency in what central bodies do and take back what is rightfully ours—our digital assets," she concludes.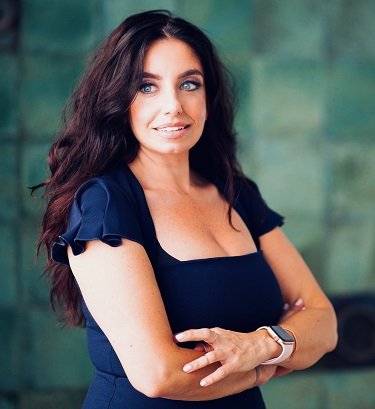 Revolutionizing Blockchain Technologies for a New Global Ecosystem Diego Gutierrez Zaldivar, CEO & RSK Labs
RSK Labs: Revolutionizing Blockchain Technologies for a New Global Ecosystem
RSK Labs develops the blockchain technologies needed for a new global financial ecosystem. The organization has developed RSK Smart Contract Network, RSK Infrastructure Framework (RIF) and Taringa!'s platforms. The RSK Network is one of the more secure smart contract platforms in the world, designed to leverage Bitcoin's unparalleled power. RSK Infrastructure Framework (RIF) is a suite of open and decentralized infrastructure protocols that enable faster, easier and scalable development of distributed applications (dApps) within a unified environment. Taringa! is Latin America's largest Spanish speaking social network with 30 million users and 1,000 active online communities. Excerpts from an interview with Diego Gutiérrez Zaldívar, CEO & Co-founder of RSK Labs:
Idea Behind Founding of RSK Labs
RSK Lab platforms help people to create digital identities, build reputations, establish and enforce agreements, including engaging in commercial transactions without intermediaries. "Now everyone has the chance to participate in a new economy for our new Internet age. That's why we call it the Internet of Value. RSK Lab's mission is to build a blockchain-based financial ecosystem that can serve any human being regardless of their economic situation and has the potential of empowering billions currently excluded from our society" observed Diego.
RSK Ecosystem Fund and RSK Innovation Studio
RSK, the first smart contract platform secured by the Bitcoin network, is transforming the way businesses are conceived, designed, and built. Its complementary platform, RSK Infrastructure Framework Open Standard (RIF OS), takes these technologies to scale, simplifying the use of decentralized infrastructure for any traditional or Blockchain developer, organization, or innovator. The RSK Innovation Studio is focused on balancing innovation with usability. Created as a joint venture between Monday Capital and RSK, it acts as a skunkworks at the intersection of scaling businesses and developing tools for the Bitcoin ecosystem.
RSK Blockchain Sets the Bar High
Since its inception, RSK Blockchain was designed as a second layer to Bitcoin and over the years, it garnered the support from more than 50% of the Bitcoin miners. This has turned it into the most secure Smart Contracts Blockchain, noted Diego. The RSK Infrastructure suite of protocols (RIF) offers all the P2P protocols (Payments, Data Storage, Identity, Secure Communications and Gateways) needed to create scalable and user-friendly financial solutions. All these services are integrated around a sharing economy engine, RIF Marketplace, to create a truly decentralized service economy.
Challenges Galore
The three main challenges for blockchain technologies to reach mass adoption are: Scalability, Interoperability and Usability, added Diego.
Scalability: The Blockchain industry is aware of the existence of a trade-off between security / decentralization, functionality and scalability. Though bitcoin rules the market, it sacrifices transaction and functionality to maximize security.
Interoperability: Another key element is to create good interoperability between crypto economies, like the RSK bridges, Bitcoin and Ethereum are doing. This enables interaction between protocols and assets on the three networks, creating a more anti-fragile ecosystem.
Usability: On the usability front, the industry is witnessing some standardization (i.e. wallet connect) and naming services (i.e. RIF Identity) in the way users are interacting with decentralized apps from their wallets. These provide a seamless experience like that of Fintech mobile solutions and security levels.
Most Memorable Moment
"I certainly have fond memories of the moment when we presented the RSK Mainnet to the world at Consensus 2018 and also the first time somebody used the RSK Network to buy something in a slum in Buenos Aires or to send money back to their families from Buenos Aires to Caracas. We build technology to improve people's life so every time we witness a new meaningful use case of our technology that leaves a memorable trail in us."
Blockchain to the Rescue
Noting that the organization's role, in this crisis, is to provide technologies to amplify initiatives emerging from the current chaos, Diego noted, "We are using RSK blockchain and RSK Infrastructure Framework (RIF)  technologies to amplify the positive effects of self-organized initiatives that are emerging from the current chaos. Our tech can enable self-coordination among decentralized groups and protect privacy."
Future of Bitcoin
Bitcoin could reach a tipping point for mass adoption and the foundations for the financial system of the future in next ten years, predicted Diego. These trends will open new markets to citizens, but perhaps most importantly, usher in a new, decentralized, peer-to-peer economy. "I envision within a decade to have an economy built from the ground up that can stand apart from government-driven fiscal policy – a true peer-to-peer system, driven by the people – and based on Bitcoin as the foundational layer, the store of value layer, on which the rest of the crypto economies will build upon."