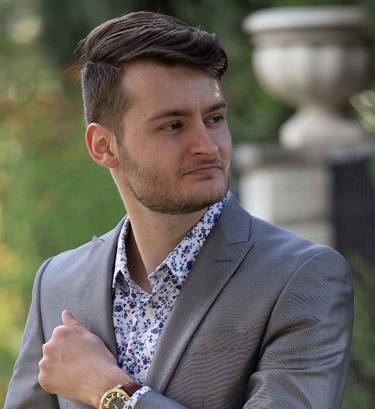 GLAZA: Digitalizing automotive sector  Denis Kulikov, CEO, GLAZA
GLAZA: Digitalizing automotive sector
Denis Kulikov is a leader with experience in Project Management – Computer vision, software development and applied Artificial Intelligence (AI). He is the CEO of Glaza, a firm that develops eye-tracking human-machine interfaces for automotive and consumer displays. In an interview, he speaks on an array of topics. Excerpts:
Conception of GLAZA
Noting that two trends have been doing rounds off late, Denis notes that vehicles are becoming autonomous and entertainment displays are getting bigger and more powerful. "In the near future we will see drivers becoming passengers and given that they won't need to drive cars themselves, they will be able to spend more time interacting with their displays."  He adds that Glaza's vision is to ensure that in-vehicle displays of the future will be as important in everybody's lives as smartphones and laptops. Drivers and passengers will be able to play video games, watch movies, browse the internet, download apps, and scroll through their photos and documents. "Good interaction is the key to good user experience and that is why Glaza was born. Our mission is to allow drivers and passengers to interact with their displays in a completely new way."
Digitalizing automotive sector
One single most important challenge that incorporates both safety and convenience is the autonomous vehicle itself, observes Denis. "We keep seeing videos coming from automakers and startups displaying their driverless cars however mass production keeps getting pushed back for the right reason. Startups hope to see their vehicles on the road with full autonomous ability right away, but automakers are making a better decision – unveil semi-autonomous features in their vehicles one by one, get needed data and improve upcoming fully autonomous vehicles packages."
AI's role in GLAZA's eye tracking system
Eyesight is a natural 'cursor' and the GLAZA software harnesses this, getting rid of the need to use the driver's fingers, and instead allowing them to interact with the car's infotainment system hands free. This makes it faster and safer to navigate the display without the driver lifting hands off the wheel. Driver can look at a certain radio station, blink and car's infotainment system will switch to that station. Just like that the driver can virtually "tap" on any icon on the display screen.
Leadership traits
An innovator, Denis believes that the constant innovation is driving all of us forward whether it's your personal life or a professional endeavor. "As a product person with more than 8 years of experience working with numerous entrepreneurs and startups all over the world spanning different industries and overseeing product lifecycles from their very beginning to the end with years, I enjoy defining the purpose and establishing the vision for the product just as much as tracking budgets, roadmaps, and teams." Whether it is just an idea, demo or a ready to ship product, this passionate entrepreneur always strives to enhance features and user experiences while generating meaningful revenue to investors.
Noting that push back from established automakers is always a concern, he suggests that the automotive entrepreneurs remain resilient". "Too many startups try to tackle everything all at once but knowing how tiresome the automotive industry is, it is important to make small steps forwards. At Glaza we always try to initiate a Proof of Concept first followed by a pilot project."
The Success Mantras
Never underestimate the importance of showing your product in person. In our digital age it is very easy to just email somebody or send them a link to your product, adds Denis. "But as a startup founder you always must be prepared and ready to show your product. If it takes a flight to another continent to demo what you have been working on, then go ahead and book that ticket. You are being in that room face to face is what creates great connections with potential customers and will lead you to success."