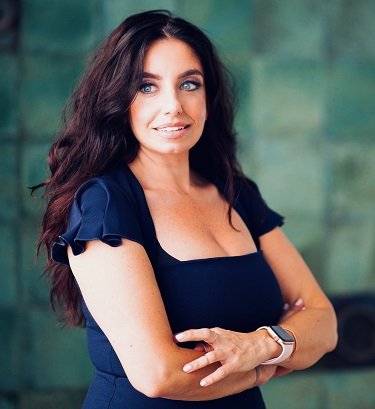 Plazus Technologies: Blockchain in Everyday Life  Galya Westler, CEO, Plazus Technologies

Plazus Technologies: Blockchain in Everyday Life
Oftentimes leaders do not recognize the power in them until they pursue it persistently. From a shy dancer first on stage to a bold TED speaker later in life, Galya Westler discovered the potential in her with relentless perseverance despite the odds she faced.
Originally graduating as a Software Engineer, Galya quickly climbed the corporate ladder but soon realized that she wanted the independence and freedom to develop her own company as an entrepreneur. She decided to quit the corporate world and devote her entire focus to cutting-edge technology projects. "I took what I learned from my corporate experience; onboarded clients and identified projects that were not only interesting to me but where I felt that I could really make a difference in this world," says Galya. "Slowly, I built my team and took on projects, initially, in mobile app development, DIY B2B tools, and more recently, in Blockchain enterprise solutions."
Today, being the CEO of Plazus Technologies and GO Health Technologies Inc., Galya's success factor lies in stepping outside of her comfort zone, facing issues head-on, and using any and all challenges and as learning tools to build on her expertise and knowledge.
The Need of the Hour
"Providing high-end technology solutions is about combining the best possible team with complementary skill sets," points out Galya. Having been a technical leader for many years, she believes it is extremely hard to find the right talent with the required skill set and experience to solve the complex enterprise challenges involved with business logic, in payments, supply chain, HR, and compliance. There is a need for highly skilled developers with enterprise-grade solutions experience, first-hand Blockchain development, and experienced in SSI solutions developers to solve many of the challenges using identity on Blockchain.
This is where Plazus Technologies takes a unique approach to these highly complex concepts, turning them into clean and easy-to-use solutions, providing leading tools to increase security and streamline processes utilizing Blockchain and AI technologies focused on health and privacy, cross border payments, compliance, fraud detection, and HR processes.
Transforming Lives
A Blockchain enthusiast, Galya, has over the years been observing, researching, and learning the Blockchain market from multiple perspectives to reveal its benefits in everyday life. "Every day is a success, because we get to work in an area that we feel passionate about and positively impact people's lives by developing software that protects their rights and helps enterprises with their business."
2020 has been a year where more enterprises than ever are implementing Blockchain solutions for their businesses to improve transparency, efficiency, and to streamline their operations, from supply chain and compliance to fake news and identities during election times. Usage of identity on Blockchain also benefits in health data protection using Self Sovereign Identity (SSI).
"Meanwhile, some of the challenges we face are the lack of knowledge decision makers have on the benefits of Blockchain and the knowledge they could gain if they ran a POC or an MVP in their organization. To address these issues, we work with enterprises to carry out Gap Analysis workshops with them and discover the inefficiencies in their business flow, security gaps, and clients' and users' data protection issues. We then generate ways for them to automate and streamline their business and services to positively affect their bottom line. We take them from concept to MVP in just a few months of development," notes Galya.
User Identity Protection
One of the biggest issues today is the lack of authenticity when it comes to user identity, which requires manual verification thus collecting sensitive data. Doing so, opens corporations up to liability in the mishandling of people's digital assets (identity, data, money,) which ends up costing them time and money when disputes occur.
Abiding by their philosophy to give users the ability to own and control data and holding companies and authorities accountable for handling people's digital assets, Plazus Technologies focuses on SSI and other Blockchain-based solutions for enterprises. Self-sovereign digital identity is an identity that's created and managed by the user. It has all of the credentials a user needs to interact in the digital and physical world, without relying on a centralized organization or authority.
Project GO and REACH org in Collaboration with the Canadian Government
With great passion, creativity, and agility, Galya always has a unique perspective to offer. When the COVID-19 pandemic started, the team participated in one of the biggest global hackathons and came up with the idea of building an app. The app verifies and holds a person's anonymous data on self-testing (applied to COVID-19 tests, HIV self-tests) and stores and encrypts the results on their device acting like a "private health wallet". The users then decide if they want to push the data, anonymously yet verified, to an authorized party to: either pass a border (prove they are not sick,) or see a care professional, or participate in a study.
"We called it 'Project GO' to get the economy going by identifying who is sick and who is not yet keeping privacy of the users to avoid discrimination when one gets his/her health status, they should decide if/when they want to share it," says Galya. GO collaborates with REACH organization for connecting HIV undiagnosed to care in an anonymous manner and as a way to stop the spread of HIV in Canada.
According to Patrick Boscher, VP Strategy, Plazus Technologies, "With Project GO, our approach has been to understand and use the legal framework to identify best-in-class solutions and related technologies, in particular for three major areas: GDPR, cross-border and cross-jurisdiction solutions, and increased fraudulent activities on fake identities. Moreover, "we've gained a lot of knowledge from talking to so many professionals around the globe during these hackathons. It's been an intense period. Frequent iterations and focus made us able to process huge amounts of feedback into something meaningful. Also it was interesting to see how different teams tackle similar problems but from different angles," notes Anton Bludov, UI UX specialist, Plazus Technologies.
Connection with WHO
Having partnered with many big players, Galya considers it a grand moment when Plazus Technologies connected with WHO. The organization wanted to update their guidelines on post market surveillance for medical devices (eg., Covid-19 test efficacy) to protect people's data using Blockchain and SSI.
"Even though it is cumbersome to collaborate with WHO directly given their complex structure; their guidance to world leaders, enterprises and corporations to consider using Blockchain to connect patients (for example) with health manufactures, pharmaceuticals, and governments automatically and safely using a SSI is huge progress," explains Galya. "I just hope that the momentum grows and companies, not just in health but other industries, will start building POCs to include this exciting new technology."
The Shared Trust Ecosystem
With Galya's upcoming keynote on the topic "Believing that Blockchain is for all," Galya thinks, today, the users ought to educate themselves on how their data is being used and manipulated by central parties. "As corporates and governments, it will be up to us to develop systems that are based on integrity and trust using Blockchain technology, not just for the economic benefit of it but for the social benefit."
The future of Blockchain, therefore, will see a greater awakening to create a shared trust ecosystem that will benefit everyone. "There's a long way to go, but it is up to us to set the standard and demand data transparency in what central bodies do and take back what is rightfully ours—our digital assets," she concludes.