Top 20 Innovators In Edtech 2019
It is an era of active learning. Unlike the conventional method, active learning is what enhances engagement, personalization, and effective learning for all. However, with personalized learning, modern educators are now injecting innovative technologies to enhance quality of education, and inspire, engage, and motive students. Technologies like Artificial Intelligence, analytics, block chain, IoT, VR, etc. are on route to shaping the future of education. Evidently, higher education is also undergoing a modern renovation as more online courses, virtual study groups, and digital learning management systems are incorporated into instructional design. Students have different opportunities to learn through various e-learning tools that offer more opportunities for remote, self-paced practical learning. Students are moving seamlessly from a traditional to a global virtual classroom in all the levels. Thus, new age EdTech platforms have become more than a necessity now a days. In this new edition of Technology Innovators, we are presenting to you the Top 20 Innovators in EdTech 2019 to help you gain understanding and insight about the innovative EdTech solutions which play an integral role in driving active learning, while improving the student and/or learning experience. The companies were chosen and rated by our research team through a rigorous selection method, based on the set parameters. We hope this information will help you get opportunities for augmentation and automation in your education system, allowing educators and students to benefit from new technologies.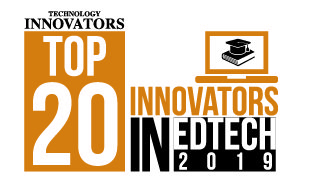 Technology is transforming education, changing how, when, and where students learn and empower them at every stage of their journey. With the ultimate aim to personalize the learning process, the technology empowers students by giving them ownership of the complete learning process. Since the students are offered technology and access to resources beyond classroom walls, students have developed a lifelong love of learning. Technology can help educators create blended learning environments ad leverage digital tools for formative assessments, bringing new models for learning and teaching to classrooms.
How Technology is breaking barriers in education?
Many schools have started embracing the use of technology to enhance instruction and to support learning. Teachers have always been using computers as a great source for promoting their instructional goals. For instance, it is used for building student capacity for research, to drive reality in student inquiry, make students present information in appealing forms, and help students access education within and beyond the school.
Technology is revolutionizing the complete world in a better way. It has transformed education also, by empowering it by giving them the ownership of how they learn and making education relevant to their digital lives. Technology empowers educators to efficiently personalize learning with access to data, content, and cloud.
How Technology can be utilized to improve learning?
Education has always strived to personalize learning for students. Now with the help of technology, you can access real-time student data, content apps, and a lot more. For the technology to work effectively, it should be incorporated in the classroom to gain the maximum benefits out of it. At every educational institute, teachers must be given the responsibility of facilitating the technology in different ways. Let's have a look at some of the technologies which can be utilized to improve learning:
Informational and instructional technology has felt like two sides of a busy street.  The traffic flow of students and teachers whizzing by and pulling up to whichever side provided the needed support and resources. If students and teachers needed instructional technology tools and strategies, they pulled up to the instructional team, and if they needed assistance with peripherals, devices or connectivity, they pulled up to the informational team. However, times have changed, and both sides of the street are now working together like a pedestrian-only walkway. Tech terminology like networks, firewalls, access point, bandwidth, servers, and phone systems now include terms such as student data privacy, accessibility tools, digital equity, cybersecurity, 1:1 initiative, and BYOD. Our students are growing up in a world where learning doesn't just happen within the brick and mortar walls of schools. Resources such as hardcover textbooks, scantron sheets, poster boards, index cards, and worksheets are being replaced organically with content management systems, collaborative documents, videos, podcasts, and educational software.  Teachers and students are personalizing learning experiences thru blogs, virtual field trips, multimedia presentations, robotics, and artificial intelligence.
Higher Ed is a highly collaborative work environment.  Governance of universities is shared between the administration and the faculty, and even beyond that, all voices have a voice in governing the institution.  This has real consequences for CIOs and other technical professionals working in Higher Ed.  How does transformation happen in this environment?  The only way that CIOs can effect change in this environment is to know the mission.   In corporations, it's important that IT know the *business* and partner with colleagues on the business side.  A university is mission-driven, so that's where Higher Ed CIOs must focus.  Obviously, the mission focuses on teaching and learning, but universities, particularly public universities, also serve the public good.  Additionally, universities also often have a mission around research. Engaging in the mission of the university means working with a broad set of stakeholders, not just faculty, staff and administration, but students.  Working with students can present unique challenges for engagement.