With more than 20 years of experience in executive leadership roles, Lynnette Dillen has carved a niche for herself in the med tech industry. She has been at the helm of affairs at a slew of companies ranging from start-ups to mid-size to Fortune 500. A hands-on, results-driven leader, Lynnette joined Layla Wellness, a platform to create a stress-free method for ovulation prediction and cycle tracking for women. She speaks on array of topics. Excerpts from an interview:
Pandemic's Effect on Medtech Industry
Says Lynnette that COVID-19 has spurred the movement of the healthcare industry towards med tech innovation. "We were quickly placed in a position that created a need for telehealth and other innovative solutions that were out of the normal doctor office visit scenario. Additionally, it has spurred interest in seeking ways to become more informed and take control of your own health and wellness journey."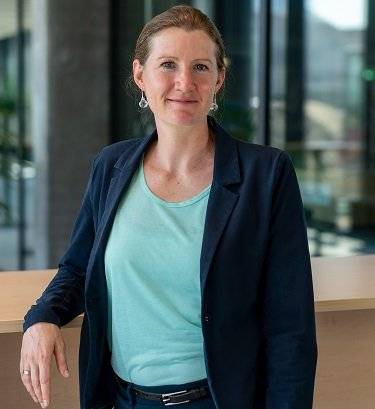 Ronja Müller-Bruhn co-founded STIMIT, a MedTech startup founded to establish a breakthrough in critical care by empowering patients to breathe. The entrepreneur says that STIMIT's vision is a breakthrough in critical care: From mechanical ventilation to breathing, STIMIT Therapies will empower patients to breathe. Ronja believes in building an impactful business. She speaks on an array of topics in an interview. Excerpts from the interview:
Conception of STIMIT – The Journey
"The core idea was born by observing a strong clinical need. STIMIT's co-founder Oliver Müller, a professional caregiver in intensive care, experienced the life-threatening complications induced by excessively applied mechanical ventilation," sais Ronja. She adds that patients can lose their ability to breathe within days when they must undergo conventional mechanical ventilation processes. The possible consequences range from long recovery processes to mechanical ventilator dependencies to death.
Raz Bar-On, CEO, Nitinotes, a med firm that develops breakthrough, minimally invasive devices for the multi-billion-dollar obesity market have created a niche for himself in the industry. He is one of the seasoned business executives with 20 + years of experience in guiding medical devices – from conception to production. Specializing in delivery systems, implants, stents, diagnostics, and special materials, Raz Bar-On has contributed his unique blend of technical and business insight to numerous MedTech innovations worldwide. In an interview he speaks on an array of topics. Excerpts:
Conception of Nitinnotes
Founded in 2014, Nitinotes Ltd. is developing breakthrough devices for the multi-billion-dollar obesity market. The concept is to convert laparoscopic sleeve gastrectomy to an operator-friendly endoscopic procedure that reduces the stomach volume internally.
With a background in machine learning, medical research, neural modelling, and electronic engineering, Dr Dean Freestone is a highly accomplished individual. As the CEO and co-founder of Seer – creators of leading epilepsy diagnostic and monitoring technology – Dr Freestone is a passionate technology enthusiast with a deep belief in its power to solve critical healthcare delivery issues at scale. Seer has been awarded millions of dollars in research grants and funding and is today Australia's leading epilepsy diagnostic service. With humble beginnings from a small office in St. Vincent's Hospital in Melbourne, Australia, Dr Freestone co-founded Seer alongside Professor Mark Cook and Ms George Kenley in 2017. Now poised to expand internationally, Dr Freestone spoke to us about Seer, its technology, and their ambitions to make healthcare and diagnostics more accessible:
The conception of Seer
Seer's origins link back to Dr Freestone's initial PhD and research goals, which focused on understanding epilepsy,the discovery of new treatment methods, and seizure risk forecasting.
Aidan Foley believes in advancing the capabilities of AI-enabled robotics and the evolution of digital technologies in MedTech. He has created a niche for himself in the industry. As the CEO of True Digital Surgery, the 3D digital surgery visualization platform that helps in enhancing the surgical experience and advancing patient results, he is at the helm of affairs at his firm.
He speaks on an array of topics. Excerpts from an interview:
The Conception of True Digital Surgery
True Digital Surgery's rich history started with TrueVision Systems, the developer of the first 3D digital microscope. It's work in ophthalmology was so successful, that it resulted in its acquisition by a prominent international medical firm. "It's work covering the other sectors resulted in a 'spinout' company which became True Digital Surgery. True Digital Surgery was formed in early 2019 and continues the development legacy of TrueVision Systems, designing cutting-edge technology for the microsurgical field" states Aidan.
COVID-19 has accelerated the implementation of telehealth as well as remote patient monitoring around the world. This has given health systems the potential to digitally overhaul their patient care approach. The clinical community's readiness to assist a change of IT to implement new healthcare models is lacking in health systems.
Lack of readiness throughout the clinical community for assisting an IT transformation to successfully implement new healthcare service models is a problem for health systems. Despite the clear gains of handling large populations via smart objects, the doctor community's unbelief in data quality, particularly self-monitored as well as patient-reported information, would be a hurdle in the remote monitoring sector.
Given the requirement for remote health monitoring, the health sector should look into standalone platforms to update care delivery. Also, they should make strategic use of the appropriate technology and work forward toward enterprise transformation.
A study conducted over the medical sector depicts that a dynamic transformation is about to witness. Healthcare technologies are going to revolutionize the medical sector, such as artificial intelligence, big data, machine learning, cloud technologies, and many more. These technologies are streamlining various processes, such as finance, clinical operations, the workplace, and more. The prediction says that healthcare technologies will be greatly influencing the next decade with mesmerizing changes taking the level of medical sectors very high and setting new bars.
Integration of existing technologies with a cloud: Cloud integration with existing technologies is becoming a major source of medical sector transformation. In the recent era, several technologies are dominating the medical sector and now experts have integrated cloud technologies to enhance the operations of existing ones. Cloud technologies are helping professionals to segregate their functions and maintain a data backup for a lifetime duration. The use of cloud integration allows professionals to store data, and to mine it whenever required.
The global rollout of vaccines provides promise, but we must equally recognize the enormous hurdles of distributing and administering vaccinations at scale. The logistical difficulties are well chronicled, but cyber security dangers are also a serious concern that must be addressed.
Risks to patients and the organization
These times healthcare industry is particularly concerned about two issues. The first one is the prevalence of unsecured devices as well as legacy technology (like workstations, network infrastructure) in most healthcare institutions. The second concern is the rising risk profile related to network-connected medical devices, sometimes known as the Internet of Medical Things (IoMT) devices. These factors, when considered collectively, pose considerable clinical as well as organizational hazards.
Cyber-attacks with a specific target- There is more to this issue than meets the eye. When considering the complete supply chain, one must consider transportation businesses, manufacturers, distributors, and R&D centers. The truth is whether these are all appealing targets for opportunistic or more subtle damaging cyber-attacks. Attackers are becoming more aware of medical urgency as a technique of obtaining the desired consequences, like ransom payments. Vaccination programs are an excellent chance to avail benefits of this. Every device must be evaluated in such a clinical setting since its risk level may alter as a result, and knowing that new exploitable IoMT flaws are identified regularly. What needs to make sure is that planning for the logistical issues of mass vaccines, one should not forget about cyber security. And cannot afford to delay vaccination by keeping anyone at risk or lose valuable vials because the supply chain can only be as strong as the weakest link.
As networks become more complex and volatile, a solid security bedrock becomes increasingly critical. Healthcare industries are still in charge of security, which includes analyzing the regulations and standards of the supply chain.
The COVID-19 immunization program could become a game-changer for healthcare businesses if the correct technology applications are used. COVID-19 vaccination campaigns, on the other hand, are being prepared in partnership with public healthcare professionals to prioritize distribution by age groups, locate vulnerable population groups, regulate the demand-supply gap, trace vaccinated groups, and much more.
Administering large-scale immunization programs in every country is a huge undertaking that technology can help with. Governments all across the world have been quietly ramping up their IT capabilities to aid in vaccination delivery procedures The COVID-19 immunization program could become a game-changer for healthcare business if the correct technology applications are used. Vaccination drives only can benefit from health IT. It is critical to identify all workflows as well as stakeholders of the vaccination system or application being utilized to properly digitize the vaccination process.
While many physicians have been cautious about artificial intelligence in clinical settings in the past, in today's fast-changing healthcare sector, many are considering how AI may enhance the quality of care and patient experience.
Patient's engagement and their care
With the use of AI algorithms, the AI-enabled doctor may delegate ordinary and tedious duties like providing educational materials, obtaining prescription refills, as well as replying to patient concerns in today's time of virtual care merging using in-person care. In larger areas, a physician can improve the efficiency of his clinic or department by using AI-powered technologies such as symptom checkers to screen patients Other uses of AI that serve to enhance the patient experience include the usage of AI-powered chatbots to handle common inquiries and book appointments.