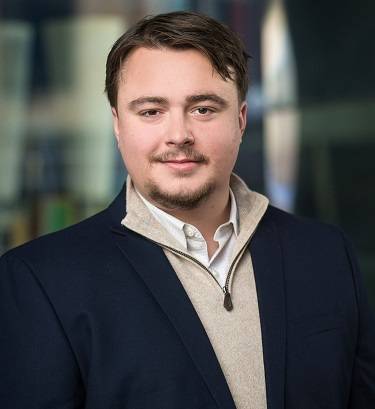 EXtrance: Re-defining Commercial Real Estate Investements  William Lively, CEO, EXtrance
EXtrance: Re-defining Commercial Real Estate Investements
A fintech enthusiast, blockchain expert, real estate & private equity supporter and a philanthropist, William Lively dons many hats. As an investment specialist, William has developed a platform that can simplify investments thus, helping people understand the nuances of the real estate industry. He founded the EXtrance, a new blockchain-compatible platform that changes the game for real estate investors. He speaks on an array of topics in an interview. Excerpts:
Conception of EXtrance
Says William that he realized that commercial real estate investor management was a lot less attractive than it should be since it was dodged by a slew of problems faced in the industry. "There's a need in the market for greater transparency and less risk. CRE limited partnerships serve as great investment opportunities, especially when we consider rising taxes, but these investments lack liquidity, making it a less approachable for some. On top of this, investor management is costly and time-consuming, revealing a need for a more streamlined and tech-enabled back and middle office." The private investor ecosystem allows EXtrance users to privately solicit investments from others, thereby increasing the number of investment prospects. The full-service investor management system also allows investors to lighten their load, by outsourcing some of the day-to-day investment tasks.
EXtrance – Blockchain Integration Capabilities
In part, EXtrance utilizes blockchain technology for risk mitigation and increased security. It gives the platform's users a high level of assurance and avoids the pitfalls of human error. Data storage and record keeping on the blockchain ensures that audit trails remain infallible and tamper-proof. Along with EXtrance's broker-dealer status, the idea of its investor ecosystem is built on ERC-20 smart contract enforcement as it allows for large transactions to be made simply and securely, all on the EXtrance platform. "The idea is to promote a more secure and liquid secondary market" explains William.
The Landscape
Lack of transparency within the space, makes investing in limited partnerships an isolating experience, observes this technology enthusiast. "Investors typically receive quarterly statements by mail and often have very little idea as to what's going on with their investments. EXtrance provides a channel for back-and-forth communication between investors and managing partners and allows them to track key asset performance indicators in real time. Equipped with better information, investors are empowered to make smarter decisions."
EXtrance's investor ecosystem is like a marketplace of users that gives limited partners access to opportunities to invest in other limited partnerships and seek liquidity by selling one's position to another user. EXtrance puts more investment opportunities at the fingertips of limited partners on the platform.
The Blockchain Journey
"My career started at DCI Capital Advisors, which was the first US blockchain-based investment firm of its kind and at a time when blockchain was still in its infancy. There, I fell in love with the technology and discovered that it had applications going far beyond cryptocurrencies." William was also the co-founder of SyndEX Labs, where he worked to provide large family offices with divestment services utilizing blockchain, which led to the vision for EXtrance. "At the same time, I've learned that organizations should be careful not to employ the technology when it doesn't add value or make a lot of sense" he warns.
Leadership Traits
"For one thing, I know where my strengths and weaknesses lie, and I use this knowledge to fill in the gaps by building a great team made up of the right people. I tend to think in terms of the overall vision. My strength lies within the way I think outside the box to challenge the status quo and create something that improves upon current ways of doing things, which is the case with EXtrance."
A passionate, even obsessive professional, William says that some level of failure is an inherent part of doing business over time. "I've learned to accept that when starting a new venture. Truthfully, the potential benefits of leading and innovating outweigh the potential pitfalls and failures associated with entrepreneurship."
He urges startups to avoid trying to fit a square peg into a round hole, so to speak, by overusing the technology when it doesn't make sense. "Employing blockchain technology can be expensive for a startup, so allocating funds without considering the cost-to-benefit in terms of value added could be detrimental to a young company in its earliest stages of growth."
The Success Mantra
"I believe a huge part of finding success is finding the right people and building lasting, meaningful relationships. Effective communication is key, especially in startups. If communication between team members breaks down, then things become stagnant, and stagnation is the enemy of innovation. Openness, honesty, and transparency should always be at the forefront of team building if we want to succeed long term."
Forging Ahead
The long-term vision for EXtrance is to be the premier investor management platform on the market. To us, this means modernizing investment to make investing in alternative assets more empowering and rewarding for everyone. Aside from commercial real estate, EXtrance has the potential to improve the way we invest in private equity, venture capital, hedge funds, and more, signs off William.