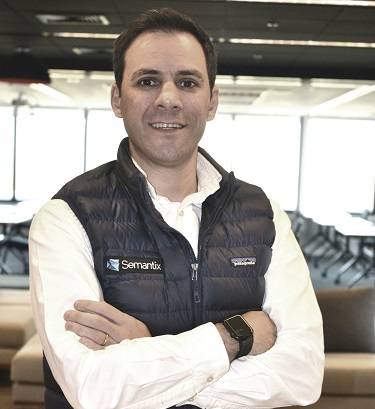 Re-Defining AI's Disruptive Innovation  Leonardo Santos, Founder & CEO, Semantix
Re-Defining AI's Disruptive Innovation
A passionate entrepreneur at heart, Leonardo Santos is the CEO of Semantix, a Brazilian company specializing in Big Data, Artificial Intelligence, Data Analysis and Internet of Things. He has led investment rounds, always focusing on entrepreneurship, disruptive innovation, and the construction of intellectual capital. He believes in fostering an evolution, which is the result of a big purpose in terms of growth, vision, strategy, and direction of new business models. Leonardo speaks on an array of topics. Excerpts from an interview:
Conception of Semantix
Noting that in the initial stages of his career, he worked with MNCs and global IT giants and got involved in many projects in Silicon Valley when big data technologies crossed his path, he calls them life changing. "I asked myself why there was no Brazilian company doing the same for its country, creating solutions that empower every person and every organization on the planet to achieve more. I spoke with two people who were both senior IT professionals with expertise in the field, and they shared the same vision, so together, we founded Semantix."
The AI Journey
"It is undeniable that Artificial Intelligence is a wide-ranging tool that enables businesses to re-think how we integrate information, analyze data, and apply the resulting insights to improve decision making—and already, it is transforming every walk of life. During the pandemic, it became even more popular."
Leonardo says that AI impacts applications positively in finance, security, health care, manufacturing, transportation, telcos, and addressing real-life issues improving business operations and people's lives. "We hope that the growing adoption across the industries makes the technology more accessible to smaller businesses, and not only large enterprises would benefit from it." He also expresses his hope that the subject receives its due attention from the media too, and they demonstrate how AI is already altering the world and raising important questions for society, the economy, and governance.
Semantix Data Platform – SDP, Benefits
Semantix Data Platform – SDP was developed as a one-stop-shop model. It presents an intuitive user experience in automation, integration, engineering, data visualization, and data science. Since multi-cloud tools to simplify the data journey can provide growth to companies, adding value to structure, enrich, analyze, and identify trends and opportunities from data in real-time, SDP is differentiated as the cutting-edge technology. "There are hundreds of pre-built database connectors and various APIs that provide scalability and flexibility to companies. It can accelerate any business's data-driven strategy adoption process by up to 70%. Big players in many sectors are already using our solution, adding value, and delivering tangible results."
AI- Challenges Galore
Leonardo attributes the risks attributed to AI as rise in unemployment, social problems related to algorithm scoring, and unexpected losses to businesses. "When designing an algorithm, it is vital to keep checking its performance from time to time and look for any tendencies. Also, I think companies and the government should invest in hands-on educational projects to improve people's analytical skills. At Semantix Academy, any Portuguese speaker can study online for free a variety of big data technologies. The big data field has grown and will keep growing exponentially."
Leadership Traits
"I'm a people person, also I'm not afraid of making mistakes, and I courage my team to do the same." He adds that great leaders see their team as a pillar that sustains the clients and the company results. People are a precious asset being core to the business. Also is vital transparency and clarity when we communicate with them. It makes a safer and healthier workplace.
A dynamic, visionary, and detail-oriented person, Leonardo aspires to develop data-centric products that accelerate the digital transformation and boost the companies' performances.
Words of Advice
"When developing a product or engaging in any project, it is essential to ask yourself why and how your company does right, making it unique." A successful leader thinks about what sets them apart from your competition, showing everyone why and how their solutions will empower a company or the society. "Having a purpose, a cause to exist will produce a mindset that helps AI startups to overcome any challenges."
The Success Mantra
"From a professional journey, mantras would say just be yourself, do your best, be prepared, make mistakes fast, and work with something that you believe is essential to add value to others' lives. Our purpose is to impact billions of people with data positively, and it inspires me to have the strength to restart again if needed."
Semantix – Going Ahead
"Apart from the Semantix Data Platform in our organization, there are many other data products that boost the retail, health, financial, telecommunication, and 4.0 industry" observes Leonardo. "Our products are transforming the routine of companies with process optimization and are increasing profitability. I want to invite all the readers to access our website -semantix.com.br – to check them out."