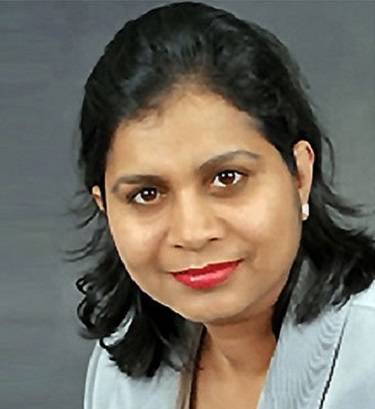 Emagia – AI-powered Digital Order-to-Cash Management (OTC) Platform  Veena Gundavelli, Founder and CEO, Emagia
Emagia - AI-powered Digital Order-to-Cash Management (OTC) Platform
Veena Gundavelli is a Silicon Valley-based tech innovator and entrepreneur in Artificial Intelligence (AI) and FinTech. She is also a social entrepreneur, philanthropist, and passionate technology enthusiast. As the founder and CEO Of Emagia, a leading provider of AI-powered Digital Order-to-Cash Management (OTC) Platform that brings the combined power of Automation, Analytics, and AI to the Accounts Receivables, she is at the helm of affairs at the company. She speaks on an array of topics. Excerpts from an interview with her:
Conception of Emagia
Noting that the order-to-cash cycle in global companies is complex, Veena notes that while the front office has gone digital, B2B finance processes are still very complex and time-consuming. "Emagia brings the trifecta power of AI, analytics, and automation to provide tremendous efficiency in the order-to-cash processes such as credit, invoicing, collections, deductions, and cash application. We are changing the future of finance work with AI-powered especially skilled digital workforce in receivables and treasury.''
Emagia AI-powered Receivables Management Suite
As a leading provider of digital order-to-cash automation solutions, Emagia offers a cloud-based AI-powered fintech platform for receivables and treasury aimed to modernize global finance operations for the digital age. For over a decade, the company has delivered highly innovative and award-winning SaaS-based order-to-cash automation platforms for global finance, F& a shared service, and BPO organizations. Emagia has a proven track record of helping many enterprises and shared services around the world to go digital, power up with AI, and gain the benefits of reducing credit risk, maximizing collections from receivables, reducing cash application costs, and optimizing the working capital cycles.
Emagia's Next-Gen Solutions
AI/ML-based digital order-to-cash platform automates enterprise receivables and payments processes making them digital, touchless, and hyper-efficient. ''Emagia solution offers enterprises an integrated end-to-end solution for managing and driving data-driven operations for order release, credit risk, billing, receivables, collections, deductions, cash application, cash forecasting, electronic invoice presentment, and payments.''
AI in Finance Sector
AI is empowering every enterprise process and adding efficiency. In the finance sector, AI is transforming the sector in a big way, observes Veena. "Finance processing was predominantly done as a back-office function with large number of staff supporting from shared services centers or from outsourced business partners. Today AI is automating all routine processing tasks providing autonomous and intelligent self-driving processes. Transactions are becoming touch less, processes are becoming frictionless, payments are becoming digital. The future of finance is experiencing exponential change."
Leadership Traits
A visionary and innovative mindset is critical to the success for technology companies, according to this technology enthusiast. "I believe in thriving on bold innovation and trailblazing the future with continuous creation of newer generation solutions for our customers. Nurturing innovative thinking and empowering our innovation teams to explore new frontiers in technology and human- centered design for finance process users to create frictionless and autonomous process has been the core to our success."
Understanding the rapidly changing AI technology landscape, predicting the disruptions in finance, setting up the roadmap for the future to deliver the best advantage for the customer, and executing on solution delivery has been key to Emagia's success. "When you adopt innovation mindset, you accept the fact that all new ideas may not flourish. Churn out new ideas fast, give a short initial cycle, fail fast and iterate to bounce back. It is a continuous process you can adopt in your organization. This removes the fear of failure and embraces failure to bounce back and convert it into an opportunity to innovate further."
The Success Mantra
Ethical AI is an important area we should pay attention to, opines Veena. Since AI learns on datasets it is exposed to and makes recommendations based on this information, this data scientist recommends all AI startups to put ethics in their core fabric and practice responsible Innovation. ''We owe to our society and the wellbeing of our next generation.''
Women as Leaders
"Finding purpose in life is the key to happiness. As a woman entrepreneur, I strongly support diversity, inclusion and reducing gender gap. I actively encourage women to take on leadership roles and support flexible work programs for women with young children to help on work life balance.'' Veena stresses on the on social responsibility aspect and says that she believes in giving back to our underserved communities and in guiding our younger generation to do responsible digital innovation focused on social impact. "At Emagia we are actively supporting TALScouts, a global social innovation program for youth'' she signs off.