Unleashing the Power of Augmented Reality: CIOs' Strategies for Integrating AR in Business Operations and Customer Experiences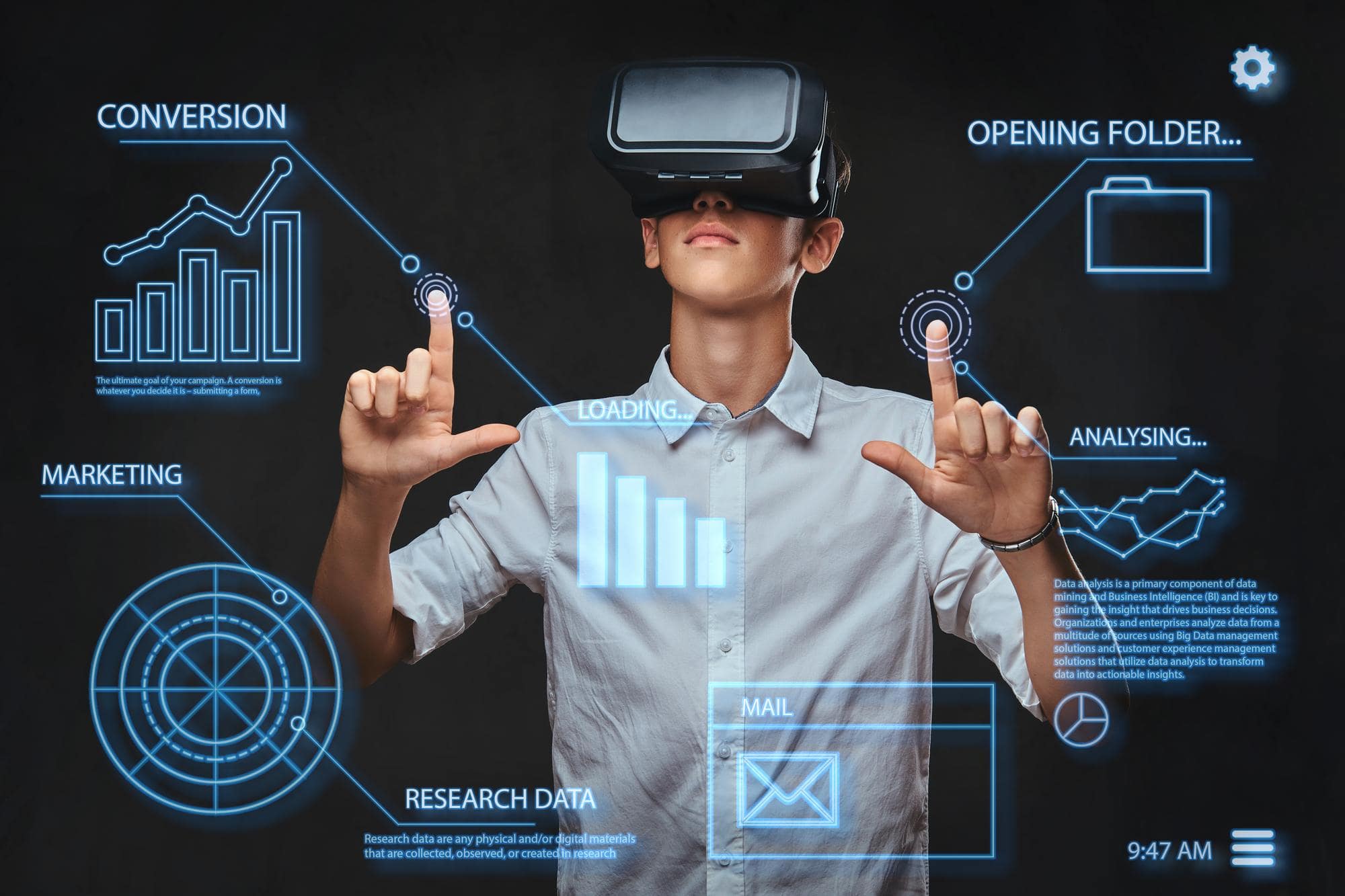 Augmented Reality (AR) has the potential to revolutionize business operations and enhance customer experiences by overlaying digital information onto the real world. CIOs play a crucial role in strategizing and integrating AR into various aspects of an organization. Here are key strategies for CIOs to consider when integrating AR:
Understand AR technology and its capabilities: CIOs should have a solid understanding of AR technology, its capabilities, and its potential applications in their industry. They should stay informed about the latest advancements, AR platforms, and development tools. This understanding helps in identifying suitable use cases and assessing the feasibility of AR implementation.
Identify relevant use cases: Collaborate with business stakeholders to identify relevant use cases where AR can bring value. Explore areas such as product visualization, remote assistance, employee training, maintenance and repair, field operations, and customer engagement. Prioritize use cases based on their potential impact, ROI, and alignment with business objectives.
Collaborate with cross-functional teams: Successful AR implementation requires collaboration with cross-functional teams, including marketing, operations, customer service, and design. Work closely with these teams to understand their specific requirements and objectives. Involve them in the design and development process to ensure that AR solutions meet their needs and align with business strategies.
Conduct pilot projects and proofs of concept: Start with small-scale pilot projects and proofs of concept to validate the feasibility and potential benefits of AR. Select a specific use case or process where AR can be implemented and evaluate its effectiveness. Gather feedback from users and stakeholders to refine the solution and address any challenges before scaling up.
Evaluate AR development platforms and tools: Evaluate different AR development platforms and tools to identify the most suitable ones for your organization. Consider factors such as ease of use, compatibility with existing systems, support for multiple devices, and integration capabilities. Choose platforms that provide flexibility, scalability, and robust AR content creation and deployment features.
Ensure a seamless user experience: User experience is critical for the success of AR applications. CIOs should focus on creating intuitive and user-friendly AR interfaces that provide relevant and contextual information. Consider factors such as ease of navigation, visual clarity, responsiveness, and integration with other user interfaces. Conduct usability testing to identify and address any usability issues.
Address infrastructure and hardware requirements: AR applications often require specific hardware, such as smartphones, tablets, smart glasses, or headsets. CIOs need to assess the infrastructure requirements for deploying AR solutions. Consider factors like device compatibility, connectivity, network bandwidth, and storage capacity. Collaborate with IT teams to ensure the necessary infrastructure is in place to support AR implementation.
Address data integration and security: AR applications rely on accessing and integrating real-time data from various sources. CIOs should assess data integration requirements, ensuring that data from different systems can be accessed and displayed seamlessly within the AR environment. Implement robust data security measures to protect sensitive information accessed through AR applications and comply with data privacy regulations.
Invest in training and change management: AR introduces new ways of working and interacting with technology. CIOs should invest in training programs to equip employees with the skills needed to use AR effectively. Conduct change management initiatives to prepare employees for the adoption of AR and address any resistance or concerns. Promote awareness and communicate the benefits of AR to ensure widespread adoption.
Evaluate analytics and performance metrics: Implement analytics capabilities to measure the impact of AR applications on business operations and customer experiences. Define performance metrics and Key Performance Indicators (KPIs) to track the effectiveness of AR solutions. Analyze data on user engagement, productivity improvements, customer satisfaction, and other relevant metrics. Use insights from analytics to optimize and refine AR implementations over time.
Emerging Technologies in Education: CIOs' Role in Transforming Learning and Enhancing Student Experiences
CIOs play a crucial role in leveraging emerging technologies to transform learning and enhance student experiences in education. Here are some key areas where CIOs can focus their efforts:
Develop a technology-enabled learning environment: CIOs can work with educators to create a technology-enabled learning environment that supports personalized and interactive learning experiences. This may involve implementing learning management systems (LMS), virtual classrooms, and collaboration tools to facilitate online learning, blended learning, and flipped classroom models.
Implement immersive technologies: Explore the integration of immersive technologies such as virtual reality (VR), augmented reality (AR), and mixed reality (MR) in education. These technologies can provide students with immersive experiences, virtual field trips, simulations, and interactive content, enhancing engagement and understanding of complex concepts.
Foster data-driven insights: Implement data analytics and learning analytics tools to gather insights on student performance, engagement, and learning progress. CIOs can help educators leverage these insights to personalize learning pathways, identify areas for improvement, and provide timely interventions to support student success.
Enable mobile learning: With the proliferation of mobile devices, CIOs can facilitate mobile learning by implementing mobile apps, responsive websites, and mobile-friendly learning platforms. This allows students to access educational resources, collaborate with peers, and engage in learning activities anytime, anywhere.
Embrace artificial intelligence (AI) in education: CIOs can explore the integration of AI technologies in education to improve student experiences. AI-powered chatbots can provide personalized support and guidance to students, while machine learning algorithms can analyze student data to identify patterns, recommend learning resources, and personalize feedback.
Promote digital literacy and digital citizenship: CIOs should champion digital literacy initiatives to equip students with the necessary skills to navigate and critically evaluate digital content. Additionally, they should promote responsible and ethical technology use by educating students about digital citizenship, privacy, and online safety.
Enhance collaboration and communication: Implement collaboration tools and platforms that facilitate communication and collaboration among students, teachers, and parents. These tools can enable real-time collaboration, project-based learning, and effective communication channels, fostering a collaborative learning environment.
Ensure cybersecurity and data privacy: With the increased use of technology in education, CIOs need to prioritize cybersecurity and data privacy. Implement robust security measures to protect student data, secure online platforms, and provide training to students and educators on safe digital practices.
Facilitate professional development: Offer professional development opportunities for educators to enhance their technology skills and pedagogical knowledge. Collaborate with teachers to identify their training needs and provide resources, workshops, and mentoring programs to support their integration of technology in teaching practices.
Stay informed about emerging technologies: CIOs should stay updated on emerging technologies and trends in education. They can actively participate in professional networks, attend conferences, and engage with industry experts to gain insights into innovative practices and emerging technologies that can enhance learning experiences.
By focusing on these areas, CIOs can drive the transformation of learning and create an engaging and student-centric educational environment. Their collaboration with educators, students, and other stakeholders is crucial for successfully integrating emerging technologies and improving educational outcomes.
Democratizing Artificial Intelligence: CIOs' Efforts in Making AI Accessible to All Departments
Democratizing artificial intelligence (AI) is a key initiative for CIOs to make AI accessible to all departments within an organization. Here are some strategies for CIOs to consider in their efforts:
Create a centralized AI infrastructure: Establish a centralized AI infrastructure that can be leveraged by all departments. This includes deploying AI platforms, tools, and frameworks that enable self-service access to AI capabilities. The infrastructure should be scalable, secure, and easy to use, allowing departments to experiment and deploy AI solutions without significant technical barriers.

Foster a culture of collaboration: Encourage collaboration and knowledge sharing across departments. Facilitate cross-functional teams where data scientists, domain experts, and business users can work together to identify AI use cases, develop models, and deploy AI solutions. Create forums, such as communities of practice or innovation labs, where individuals can share their AI experiences and learn from each other.

Provide training and education: Offer training programs and educational resources to familiarize employees across departments with AI concepts, tools, and best practices. Provide training on AI ethics, responsible AI use, and data privacy to ensure employees understand the implications and potential risks of AI. Invest in upskilling programs to develop AI skills within the organization.

Simplify AI adoption: Simplify the process of adopting AI by providing pre-built AI models, templates, and workflows that can be easily customized and applied to specific departmental needs. Develop user-friendly interfaces and tools that hide the complexity of AI algorithms, allowing business users to interact with AI systems without requiring extensive technical knowledge.

Encourage data-driven decision-making: Promote a data-driven culture where departments rely on data and AI insights to make informed decisions. Educate departments on the value of data, data quality, and data governance. Encourage data sharing and collaboration across departments, breaking down data silos and enabling the use of diverse data sources for AI applications.

Develop AI champions in each department: Identify individuals within each department who can serve as AI champions. These individuals should have a deep understanding of their department's needs and processes, as well as the ability to advocate for AI adoption and drive AI initiatives within their respective departments. Empower them with the necessary resources and support to champion AI projects.

Monitor and measure AI adoption: Establish metrics and key performance indicators (KPIs) to monitor the adoption and impact of AI across departments. Measure the usage of AI tools, the number of AI projects implemented, and the business outcomes achieved. Regularly communicate the success stories and benefits of AI to demonstrate the value and encourage further adoption.

Address ethical considerations: Ensure that AI solutions are developed and deployed in an ethical and responsible manner. Establish AI ethics guidelines and governance frameworks to guide departments in the ethical use of AI. Incorporate fairness, transparency, and accountability principles into AI systems to mitigate biases and promote trust among users.

Collaborate with external partners: Engage with external partners, such as AI vendors, industry experts, and research organizations, to stay updated on the latest AI trends and innovations. Collaborate on pilot projects, research initiatives, and knowledge sharing to leverage external expertise and broaden the organization's AI capabilities.

Continuously learn and evolve: AI is a rapidly evolving field, so it's important to continuously learn and adapt. Stay updated on emerging AI technologies, methodologies, and best practices. Foster a culture of experimentation, where departments can explore new AI techniques and approaches to drive innovation and improvement.
By implementing these strategies, CIOs can promote the democratization of AI within their organizations, empowering all departments to leverage AI technologies and drive business value. This not only enables better decision-making but also fosters innovation and competitiveness in the ever-evolving digital landscape.
Next-Generation Data Centers: CIOs' Strategies for Modernizing Data Center Infrastructure
Modernizing data center infrastructure is a crucial initiative for CIOs to keep pace with the evolving IT landscape. Here are key strategies for CIOs to consider when modernizing data center infrastructure:
Assess current infrastructure: Begin by conducting a comprehensive assessment of your current data center infrastructure. Evaluate the age, capacity, performance, and energy efficiency of your servers, storage systems, networking equipment, and cooling systems. Identify areas that require immediate attention and prioritize modernization efforts accordingly.
Embrace virtualization and software-defined infrastructure: Virtualization technologies, such as server virtualization and software-defined networking, play a pivotal role in modernizing data centers. Embrace virtualization to maximize resource utilization, improve scalability, and increase agility. Explore software-defined infrastructure solutions that provide centralized management and automation capabilities.
Adopt hyperconverged infrastructure (HCI): HCI combines computing, storage, and networking in a single, integrated system. It simplifies data center management, reduces hardware footprint, and enhances scalability and flexibility. Evaluate HCI solutions that align with your organization's needs and consider migrating to a hyperconverged architecture.
Emphasize scalability and flexibility: Modern data centers should be designed to accommodate changing business needs and technological advancements. Prioritize scalability and flexibility by adopting modular architectures, scalable storage systems, and cloud-based services. Leverage hybrid cloud or multi-cloud strategies to achieve flexibility and optimize resource allocation.
Optimize energy efficiency: Energy efficiency is a critical consideration in modern data centers. Implement energy-efficient technologies such as power-efficient servers, efficient cooling systems, and intelligent power management. Leverage advanced monitoring and analytics tools to optimize energy consumption and identify areas for improvement.
Embrace edge computing: The rise of edge computing brings data processing closer to the source, reducing latency and enhancing real-time decision-making. Consider deploying edge computing infrastructure to support latency-sensitive applications and reduce data transfer costs. Develop a strategy to seamlessly integrate edge computing with your centralized data center infrastructure.
Enhance security and compliance: Data center modernization should address security and compliance requirements. Implement robust security measures, including firewalls, intrusion detection systems, encryption, and access controls. Ensure compliance with relevant regulations such as GDPR, HIPAA, or PCI-DSS. Regularly update security policies and perform audits to mitigate risks.
Leverage automation and orchestration: Automation and orchestration play a vital role in modern data centers. Implement automation tools and frameworks to streamline provisioning, deployment, and configuration management processes. Leverage orchestration platforms to automate workflows and optimize resource utilization. This enables faster deployments, improves consistency, and reduces manual errors.
Emphasize data backup and disaster recovery: Ensure that your modernized data center infrastructure includes robust data backup and disaster recovery capabilities. Implement backup and recovery solutions that meet your recovery time objectives (RTOs) and recovery point objectives (RPOs). Consider cloud-based disaster recovery solutions for added resilience and scalability.
Invest in monitoring and analytics: Implement comprehensive monitoring and analytics tools to gain insights into your data center's performance, capacity, and utilization. Leverage real-time monitoring, predictive analytics, and machine learning to identify bottlenecks, predict failures, and optimize resource allocation. Use these insights to make informed decisions and drive continuous improvements.
Build a skilled IT team: Modernizing data center infrastructure requires a skilled IT team with expertise in emerging technologies and data center management. Invest in training and upskilling programs to equip your team with the necessary knowledge and skills. Consider partnering with managed service providers or cloud service providers to complement your in-house capabilities.