Digital Twins: Simulating and Optimizing Building Performance
Digital Twins are virtual replicas of physical buildings or infrastructure that integrate real-time data and simulations to simulate and optimize building performance. By combining sensor data, IoT (Internet of Things) devices, and advanced modeling techniques, Digital Twins enable real-time monitoring, analysis, and optimization of building operations. Here's how Digital Twins enhance the simulation and optimization of building performance:
Real-Time Monitoring: Digital Twins collect and analyze data from various sensors embedded in the physical building, including temperature, humidity, occupancy, energy consumption, and equipment status. This real-time monitoring provides insights into building performance and identifies anomalies or inefficiencies that require attention.

Performance Analysis: By simulating the behavior of the physical building in a virtual environment, Digital Twins enable detailed performance analysis. Various aspects, such as energy usage, thermal comfort, air quality, and occupant behavior, can be evaluated and compared against predefined performance metrics and industry standards. This analysis helps identify areas for improvement and optimization.

Predictive Maintenance: Digital Twins facilitate predictive maintenance by continuously monitoring equipment and systems within the building. By analyzing sensor data and historical performance patterns, Digital Twins can predict potential equipment failures or maintenance needs. This proactive approach reduces unplanned downtime, improves equipment lifespan, and enhances overall maintenance efficiency.

Energy Efficiency and Optimization: Digital Twins enable energy optimization by simulating different scenarios and assessing the impact of energy-saving measures. By integrating real-time energy consumption data and weather conditions, Digital Twins can analyze energy usage patterns, identify energy wastage, and suggest optimization strategies. This helps reduce energy costs, minimize environmental impact, and improve sustainability.

Occupant Comfort and Productivity: Digital Twins help optimize occupant comfort and productivity by simulating indoor environmental conditions. By considering factors such as temperature, humidity, lighting, and air quality, Digital Twins can evaluate and optimize the indoor environment to create comfortable and productive spaces for occupants. This improves occupant satisfaction, well-being, and productivity.

Scenario Simulation and Decision Support: Digital Twins enable scenario simulation by virtually modeling changes or improvements before implementation. Different building designs, equipment configurations, or operational strategies can be simulated and analyzed to evaluate their impact on performance and identify the most effective solutions. This supports informed decision-making and minimizes risks associated with design or operational changes.

Lifecycle Management: Digital Twins provide a platform for comprehensive lifecycle management of buildings. From design and construction to operation and maintenance, Digital Twins capture and integrate data and simulations throughout the building's lifecycle. This holistic approach enables continuous improvement, informed decision-making, and optimization at each stage of the building's life.

Integration with Building Management Systems: Digital Twins can integrate with existing Building Management Systems (BMS) and other smart building technologies. This integration allows for real-time data exchange and coordination between the Digital Twin and the physical building. By connecting to BMS, Digital Twins can control and optimize building systems, enabling automated responses based on real-time performance data.
In summary, Digital Twins simulate and optimize building performance by integrating real-time data, simulations, and advanced modeling techniques. They enable real-time monitoring, performance analysis, predictive maintenance, energy optimization, occupant comfort optimization, scenario simulation, and informed decision-making. Digital Twins support the continuous improvement of building performance, enhance sustainability, and drive efficient building operations throughout their lifecycle.
Green Building Technologies: Energy-efficient and Eco-friendly Solutions
Green building technologies encompass a range of energy-efficient and eco-friendly solutions that promote sustainability, reduce environmental impact, and enhance occupant comfort. These technologies and practices are gaining momentum in the construction industry as a response to the need for more sustainable buildings. Here are some key green building technologies:
Energy-efficient HVAC Systems: Heating, ventilation, and air conditioning (HVAC) systems account for a significant portion of a building's energy consumption. Energy-efficient HVAC technologies, such as variable refrigerant flow (VRF) systems, geothermal heat pumps, and demand-controlled ventilation, optimize energy usage by adjusting heating and cooling based on occupancy and ambient conditions. These systems can significantly reduce energy consumption while maintaining a comfortable indoor environment.

Building Automation Systems: Building automation systems (BAS) integrate various technologies to monitor and control building systems, including lighting, HVAC, and security. BAS optimize energy usage by automating tasks such as scheduling lighting and HVAC operations based on occupancy, optimizing energy demand, and providing real-time data on energy consumption. These systems enable centralized control, monitoring, and optimization of building operations, leading to energy savings and improved efficiency.

Renewable Energy Systems: Incorporating renewable energy systems is a key aspect of green buildings. Solar photovoltaic (PV) systems, wind turbines, and geothermal systems allow buildings to generate clean, renewable energy on-site. These systems reduce reliance on fossil fuels, lower greenhouse gas emissions, and contribute to long-term energy cost savings. Advances in solar PV technology have made it more accessible and cost-effective for integration into building design.

Energy-efficient Lighting: Energy-efficient lighting solutions, such as light-emitting diodes (LEDs) and sensor-based lighting controls, are widely used in green buildings. LEDs consume less energy and have a longer lifespan compared to traditional incandescent bulbs. Sensor-based controls, including occupancy sensors and daylight sensors, adjust lighting levels based on occupancy and natural light availability, reducing energy waste and optimizing lighting efficiency.

Water-saving Technologies: Green buildings incorporate water-saving technologies to reduce water consumption and promote efficient water use. Low-flow fixtures, such as low-flow toilets, faucets, and showerheads, significantly reduce water usage without compromising performance. Greywater systems and rainwater harvesting systems capture and treat water for non-potable uses like irrigation or toilet flushing, reducing the demand for freshwater sources.

Sustainable Materials: Green buildings prioritize the use of sustainable materials that have a lower environmental impact. This includes materials with high recycled content, such as recycled steel or reclaimed wood, as well as materials with low embodied energy and carbon footprint. Additionally, using locally sourced materials reduces transportation-related emissions. Sustainable materials promote resource conservation, waste reduction, and healthier indoor air quality.

Green Roof and Wall Systems: Green roof and wall systems involve the installation of vegetation on building rooftops or walls, providing multiple benefits. They improve energy efficiency by reducing heat transfer, absorb rainwater, mitigate urban heat island effect, and enhance biodiversity. Green roof and wall systems contribute to improved air quality, noise reduction, and aesthetics while providing insulation and reducing energy consumption for heating and cooling.

Smart Grid Integration: Smart grid integration allows buildings to interact with the electrical grid, optimizing energy usage and participating in demand response programs. Buildings equipped with smart meters, energy management systems, and grid-responsive controls can shift energy consumption during off-peak periods or reduce energy usage in response to grid signals. This integration improves overall grid stability, reduces strain on the electrical infrastructure, and enhances energy efficiency.
Green building technologies play a crucial role in reducing energy consumption, carbon emissions, and environmental impact in the construction industry. These technologies not only promote sustainability but also offer economic benefits through energy cost savings, improved occupant comfort, and enhanced market value. As technology advances and awareness of sustainability grows, green building technologies will continue to evolve, becoming more accessible and mainstream in the construction industry.
Internet of Things (IoT) Sensors in Construction: Real-time Monitoring and Predictive Maintenance
The use of Internet of Things (IoT) sensors in construction is revolutionizing the industry by enabling real-time monitoring and predictive maintenance of construction sites and equipment. IoT sensors are embedded in various objects and equipment on the construction site, collecting and transmitting data to a centralized system. Here's how IoT sensors enhance real-time monitoring and predictive maintenance in construction:
Equipment Monitoring: IoT sensors can monitor the health and performance of construction equipment in real-time. By collecting data on factors such as temperature, vibration, usage hours, and fuel levels, sensors provide insights into equipment conditions and identify potential issues or maintenance needs. Real-time equipment monitoring helps optimize equipment utilization, minimize downtime, and reduce costly repairs.

Structural Health Monitoring: IoT sensors can monitor the structural health of buildings and infrastructure during construction. Sensors embedded in structures can measure parameters such as strain, temperature, and humidity, detecting any abnormalities or structural weaknesses. Real-time structural health monitoring allows for early identification of potential issues, enabling proactive maintenance and ensuring the safety and integrity of the construction project.

Environmental Monitoring: IoT sensors can monitor environmental conditions on construction sites, such as air quality, noise levels, and dust particles. This data helps ensure compliance with environmental regulations and promotes worker safety. Real-time environmental monitoring enables prompt response to any deviations or hazardous conditions, minimizing risks and improving overall site safety.

Material Tracking and Inventory Management: IoT sensors can track the movement and location of construction materials and equipment on the site. By using RFID (Radio-Frequency Identification) or GPS (Global Positioning System) technology, sensors provide real-time visibility of materials, reducing the risk of theft, loss, or misplacement. Additionally, sensors can monitor inventory levels, automatically triggering alerts or reordering when supplies run low, ensuring uninterrupted construction progress.

Energy Management: IoT sensors can monitor energy consumption in construction sites and buildings. By measuring electricity usage, HVAC (Heating, Ventilation, and Air Conditioning) performance, and lighting efficiency, sensors identify energy-saving opportunities and detect anomalies. Real-time energy monitoring helps optimize energy usage, reduce costs, and improve sustainability in construction operations.

Predictive Maintenance: IoT sensors enable predictive maintenance by analyzing real-time data and identifying patterns or anomalies that indicate potential equipment failures. By using machine learning algorithms and predictive analytics, sensors can forecast maintenance needs, allowing for proactive interventions before equipment breakdowns occur. Predictive maintenance reduces unplanned downtime, increases equipment lifespan, and improves overall construction site productivity.

Safety Monitoring and Alerts: IoT sensors can monitor worker safety by detecting and alerting for hazardous conditions in real-time. For example, sensors can detect elevated levels of toxic gases, high temperatures, or the presence of unauthorized personnel in restricted areas. Real-time safety monitoring ensures immediate response to mitigate risks and protect worker well-being.

Data Analytics and Insights: The data collected by IoT sensors can be analyzed and processed to generate actionable insights. By leveraging data analytics techniques, construction stakeholders can gain valuable insights into equipment performance, resource utilization, productivity trends, and environmental conditions. These insights help optimize construction processes, make data-driven decisions, and continuously improve construction site operations.
In summary, IoT sensors in construction enable real-time monitoring and predictive maintenance, enhancing equipment performance, worker safety, and construction site efficiency. IoT sensors provide valuable data on equipment conditions, structural health, environmental factors, material tracking, energy usage, and safety hazards. Leveraging this data through advanced analytics enables proactive maintenance, improves resource utilization, and drives overall productivity and safety in construction projects.
Construction Robotics: Applications in Demolition, Excavation, and Assembly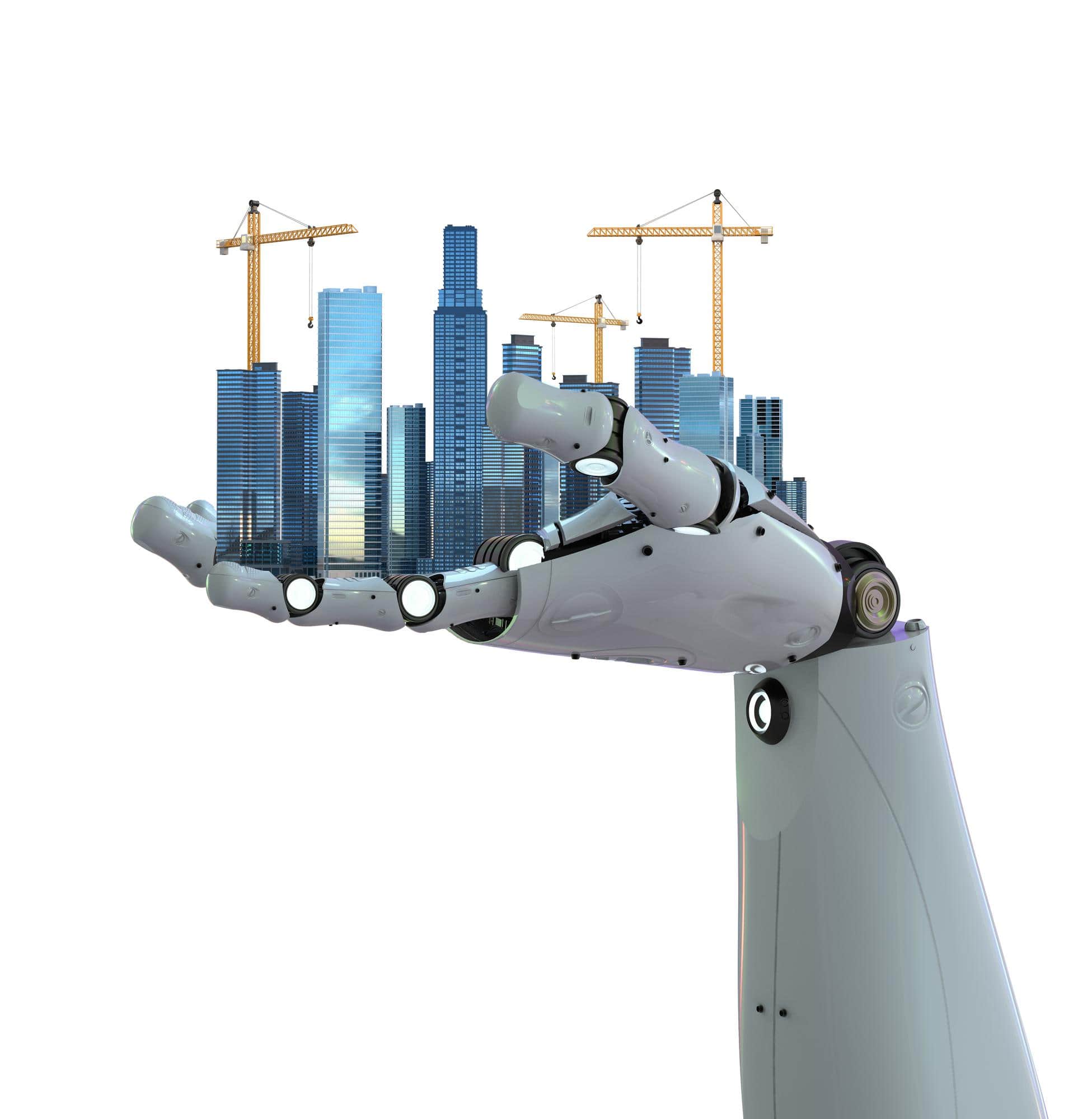 Construction robotics are revolutionizing the construction industry by automating and streamlining various tasks involved in demolition, excavation, and assembly processes. Here are some key applications of construction robotics in these areas:
Demolition: Demolition robots are designed to safely and efficiently dismantle structures. These robots are equipped with specialized tools, such as hydraulic breakers or crushers, that can effectively break down concrete, remove debris, and separate materials for recycling. Demolition robots offer increased precision, reduced risk to human workers, and faster demolition processes compared to traditional methods.

Excavation: Robotic excavators are capable of performing excavation tasks with high precision and efficiency. These robots are equipped with advanced sensors, machine learning algorithms, and autonomous navigation capabilities. They can accurately dig trenches, remove soil or debris, and prepare the ground for construction. Robotic excavators can work continuously without the need for breaks, resulting in increased productivity and reduced labor costs.

Assembly and Prefabrication: Robots are increasingly being used in construction for assembly and prefabrication tasks. These robots can handle repetitive tasks, such as bricklaying, plastering, and welding, with high precision and consistency. Robotic systems can work collaboratively with human workers in assembly processes, augmenting their capabilities and improving overall productivity. Prefabrication facilities are also utilizing robots to automate the fabrication of building components, leading to faster production and improved quality control.

3D Printing: Construction robots are being employed for 3D printing of building structures. Large-scale 3D printers can create complex architectural forms by depositing layers of concrete or other construction materials. This technology allows for the rapid construction of walls, columns, and other building elements with high precision and reduced material waste. 3D printing with construction robots offers design flexibility, cost savings, and the potential for sustainable construction practices.

Robotic Welding and Steel Fabrication: Robots are utilized in construction for welding and steel fabrication processes. Robotic welding systems can perform precise and repetitive welds, ensuring high-quality joints and reducing the risk of human errors. They can work continuously and quickly, improving the speed and efficiency of construction projects. Robotic systems can also handle heavy steel components, reducing the physical strain on human workers and improving safety.

Autonomous Vehicles and Drones: Autonomous vehicles and drones play a role in construction by assisting in various tasks. Autonomous vehicles, such as self-driving trucks or drones, can transport materials and equipment on construction sites, improving logistics and reducing the need for human intervention. Drones equipped with cameras and sensors can perform site inspections, survey land, and provide aerial mapping data, aiding in project planning and monitoring.
The adoption of construction robotics offers numerous advantages, including increased productivity, improved precision, enhanced safety, and reduced labor costs. However, integrating robotics into construction processes requires careful planning, training, and consideration of factors such as site conditions, regulatory compliance, and cost-benefit analysis. As technology continues to advance, construction robotics will likely play an increasingly significant role in transforming the construction industry and shaping the future of construction practices.