Our Market Penetration And Overall Market Share Will Increase
Massimo Rebolini, Commercial Director-Dow Consumer Solutions, Dow Chemical International-Europe, Middle East, Africa and India
Silicone is among the most versatile materials gaining momentum across industries and geographies. With this in mind, Dow Consumer Solutions, a business unit of Dow Chemical International (Dow India), recently rebranded its silicone-based portfolio 'DOWSIL'. The DOWSIL portfolio has been delivering solutions and technologies in markets including high-performance building and construction, among others. 'Integrating all our silicone offerings under one umbrella brand brings together our expertise in this high-value segment,'says Massimo Rebolini, Commercial Director-Dow Consumer Solutions, Dow Chemical International-Europe, Middle East, Africa and India. 'This integration further strengthens our commitment towards our value chain to seamlessly offer customer-focused solutions,'he adds, as he shares the strategy behind the rebranding and more in conversation withSERAPHINA D'SOUZA.
What prompted the rebranding and how will it help?
Dow Corning has been a 73-year-old extremely successful JV between Corning and Dow and one of the major silicone corporations globally. Around December 2015, Dow announced the acquisition of the remaining parts of Dow Corning to become its sole owner. So, in June 2016, we decided to develop our new brand DOWSIL; we launched the new structure in October 2017, first in Europe. Launching this now in India is exciting for us.
Dow Corning Silicon  – from where the name DOWSIL is derived – opens a huge future opportunity, because Dow Corning was a $6 billion company, and our $50 billion+ corporation joined it. And so, we can further invest to build our hybrid technology based on silicone and polypropylene to offer in-depth chemical solutions to customers across diverse markets.
How is the market for specialty chemicals growing in India? And what is the company's current market share in this segment?
In India, we have a significant market share in silicone-based products for high-performance buildings. Today, architects are actually ensuring that raw materials are specified even in the largest products, and a large amount of our materials are expected in these. So, we have a strong brand presence. DOWSIL will cater to almost all the materials in the infrastructure and construction segments, like Dow Corning did. We have two distinguished markets for silicone: One related to
high-performance buildings and the other to the general construction business.
We have a strong presence in high-performance buildings. 
Any skyscraper in India you see, irrespective of whether we supply to them or not, is attached with silicone. Among our many materials for this segment are the Dowsil 983, 982, 791, 991 , largely used and known by all key players, including architects, consultants, fatade engineers and applicators. We have a number of materials used in construction chemicals related to hydrophobic applications, which are mainly cement applications.
These chemicals are mainly used for the construction of bridges, metro, buildings and shopping centres. We are also targeting retail businesses as silicone is required everywhere – for the cement applied in bathrooms, weather-proofing applications, etc.
Speaking of innovation, what emphasis does the company lay on R&D?
To give you an example, this year itself we are launching 50 new products and sampling 30 hybrid materials for the first time.
We invest about 5 per cent on R&D annually, and R&D is active on several projects.
One I would like to mention is hot melt technology, which is a transparent solution and can be applied to various surfaces.
This is exactly what architects want: An invisible technology solution, which was a bit of a challenge in the past when it comes to performance. But thanks to the organics part of Dow, we have further adjusted the formulations, and have a perfect material today.
It is the No. 1 material that Dow has managed to develop in terms of R&D for the construction business.
Specific to India, we recently launched the Dow India Technology Centre to develop customer solutions for the local market. Especially with Dow Synergies,
we can be a part of local innovations; for example, polyurethane and silicone together may be one of the next big things for many projects.
What advanced technology and sustainability benefits do your products offer?
We are striving to develop new molecular solutions that have better impact on sustainability. Among the materials made in Europe one of the main DOWSIL plant can count on 50 per cent of electricity, self-created internally by wind mills or solar panels or by core generators. New R&D is also allowing us to use fewer materials for the same applications, which means less energy in manufacturing. For glass façade buildings, we supply materials with a long range of performance testing on application on site; each of these means that you do not need to redo a lot of things again and again, which impacts sustainability. Markets such as lighting, where again silicone contributes a lot, especially to LED lighting, show a positive impact.
All these qualities help position silicone as one of the key materials to drive sustainability.
At Dow India, we have been doing a number of sustainability projects in the country, not as part of CSR but as part of our business. All our sites in India are responsible care-certified with zero discharge and adhere to global safety and environmental guidelines.
How has the company performed in the past and what are your growth prospects for this year?
Fifty per cent of the market share in a growing market is good growth, and we are aiming to consolidate this share in the next three years with our innovation pipeline becoming more important and with technology coming on broad. We plan to have an R&D division focusing on inorganic and organics separately, as well as both together. If I have, say, five to ten launches every two years now, I have an opportunity for 60 launches in the next three years, which means I am going to have momentum and grow in innovation. So, I strongly believe our market penetration will increase and so will our overall market share.
At Dow Consumer Solutions, we have been growing globally close to 10 per cent in high-performance buildings at 1.5-2x GDP growth in almost every country we operate in, including India. We are making more than a billion dollars in India; we have 100 employees, 2,000 material products and 3,000 classifications. A lot of sales for these chemistries require technical expertise. It is about how you partner with a customer and design a product to meet their requirements and provide services along
with that. Construction is one of those markets where we provide services that give façade designers, builders and other stakeholders in the business peace of mind.
One fundamental challenge we are facing in India is that the market is tight; thus, we are going to be more selective in our supply. So, I see a great 2018!
More fire doors exposed as inadequate
A mass programme of replacing fire doors in public housing is set to begin after the discovery of a widespread industry failure to meet standards
Five suppliers have now been identified as failing to meet the requisite fire performance standard, despite the manufacturers' claims.
The Ministry of Housing, Communities & Local Government (MHCLG) began investigating the fire door industry after it was found that a glazed, composite fire door in Grenfell Tower manufactured by Manse Masterdor failed a 30 minute fire resistance test after approximately 15 minutes.
Issues were subsequently identified with doors produced by Masterdor Limited (the successor business to Manse Masterdor).
Investigations have continued and in the last few days doors from three more manufacturers have failed fire resistance testing when tested on both sides.
The products which have failed government tests to date were glazed and unglazed doors supplied by Manse Masterdor and Masterdor Limited and glazed composite doors supplied by Specialist Building Products Limited, trading as Permadoor; Solar Windows Limited; and Birtley Group Limited, trading as Bowater by Birtley. All doors that are known to have failed to meet the necessary standards have been withdrawn from the market and the department has informed local trading standards of its findings. Each manufacturer has co-operated fully with the government's investigations, which are continuing.
MHCLG is writing to all building control bodies highlighting the need to check that existing building regulations guidance on new fire door installations is followed. The guidance sets out the tests to be performed – including testing doors on both sides –to meet building regulations requirements.
Housing secretary James Brokenshire has called a meeting of major fire door suppliers to work out a plan of action.
National Trading Standards will oversee local investigations which are taking place. MHCLG will also work with third party certification bodies to develop minimum standards of assurance to provide building owners with more confidence in the fire doors they purchase.
The government's Independent Expert Panel and the National Fire Chiefs Council have advised that the additional risk to public safety is low, as even when not meeting full resistance standards fire doors will provide some protection from the spread of fire and are part of layered fire protection systems within buildings.
James Brokenshire said: "While the department's investigations are on-going, I now have enough evidence to suggest that there is a broader issue across the fire door market. That is why I am calling on suppliers to meet this week and provide reassurance that they are gripping this issue properly.
"I want to see a clear plan of action to rectify existing problems and ensure such failures are not repeated in the future. Whilst our Expert Panel assures me the risk remains low I want to assure the public that the government is doing everything it can to ensure construction products are of the highest safety standards and accurately tested and marketed."
Cost doubts put Ipswich bridges in jeopardy
The leader of Suffolk County Council has commissioned engineers from Jacobs to review the construction costs of its planned Upper Orwell Crossings in Ipswich.
Based on earlier work done by Kier and WSP, among others, Suffolk county councillors had been advised that the bridges project, which is still in its planning stages, would cost £97m in total.
But a recent internal review of costs has forecast that the total amount needed to complete the project could increase significantly. The project has therefore been put on hold pending a review by Jacobs, which is expected to report in September 2018.
The original plan was that around three quarters of the £97m required would come from central government and the rest from Suffolk taxpayers. Unless additional funding from government can be secured, the additional money would have to come either from Suffolk businesses or council taxpayers.
Suffolk County Council leader Matthew Hicks said: "Since becoming leader, I have asked my senior team to review the major infrastructure projects Suffolk County Council is working on. The Upper Orwell Crossings is one of the biggest and most complex.
"It's clear to me that whilst the significant project is being managed well, there is currently some uncertainty around the costs. If we're going to proceed and build these bridges, that uncertainty needs to be addressed right now.
"We're going to pause work temporarily, pending the outcome of this review. Then, based on sound and independent advice and considering everything we know about the project, Suffolk County Council will make a decision on the future of the Upper Orwell Crossings."
The Upper Orwell Crossings project includes construction of two new bridges and refurbishment of a third.
Crossing A is a new road crossing to the south of the Wet Dock Island to connect the east and west banks. Crossing B is a new road crossing to connect the west bank to the Wet Dock Island. Crossing C is an existing swing bridge over the Prince Philip Lock, which would be refurbished for cyclists and pedestrians only.
The previous timetable envisaged contract award in January 2019, construction starting in 2020.
Auditor gives Queensferry Crossing clean bill of health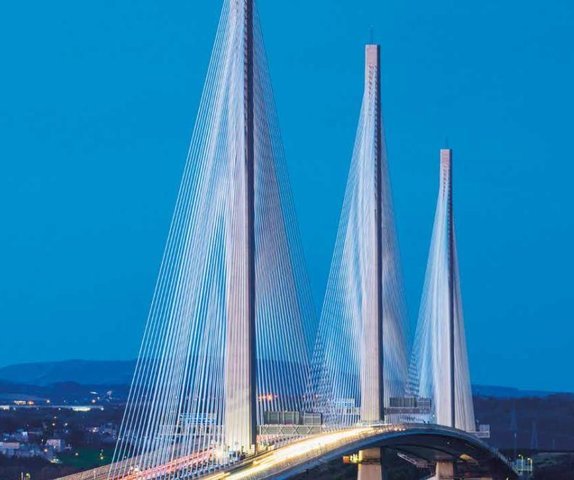 Transport Scotland's management of the Forth Replacement Crossing project delivered value for money but a clearer plan is needed to measure its wider benefits, says Audit Scotland.
The official audit of the project found that construction of the £1.34bn Queensferry Crossing was managed effectively.
The bridge was built by Forth Crossing Bridge Constructors (FCBC), a consortium of Hochtief, Dragados, American Bridge and Morrison Construction (Galliford Try). It opened to traffic on 7th September 2017.
Overall the project took around 10 years to complete. The Queensferry  Crossing is the tallest bridge in the UK and the longest three-tower cable-stayed bridge in the world. It is intended to have a useful life of at least 120 years.
The audit report praises Transport Scotland's budgeting, governance, quality assurance and risk management – as well as the competitive tendering which helped deliver the project under budget. The final cost of the project was £1.34bn was in the range of 8% to 16% less than the £1.45bn to £1.6bn estimated at the start of construction
A key factor behind the project's success was that the delivery team had the right mix of skills and experience, the report says. They demonstrated strong, consistent leadership, and communicated well with contractors and stakeholders.
The client identified a need for the bridge, and demonstrated that the preferred design, a cable-stayed bridge, had advantages over other options.
It is too early for some of the project's wider benefits to be proven, such as improving public transport across the Forth, cutting journey times and boosting economic growth. But Audit Scotland says more detail is needed on how success will be measured.
Auditor General Caroline Gardner said: "There is much the public sector can learn from the way Transport Scotland managed the project and it's important that the good practice is shared more widely.
"The management of the project delivered value for money and achieved its overall aim of maintaining a reliable road link between Fife and the Lothians.
"Transport Scotland now needs to produce a clearer plan about how it will measure the success of the project's wider benefits, including its contribution to economic growth and improved public transport links."
The full report can be found at www.audit-scotland.gov.uk