"After 19 years of not knowing anything, and then just from spitting in a tube, I have a pile of information all about me." "I am so grateful for the opportunity to finally have confirmation of my history." "I have never had anyone look like me…It's just great to find out who I am." Well, as thrilling and amazing as these testimonies sound, understanding and decoding DNAs is the most exciting scientific discovery of all time. People have spent decades together trying to track down their lost genetic ancestry or loved ones for many years.
A 67-year-old female was treated at the Nova Scotia Health Authority for mycosis fungoides of the forehead, eyelid, and nose with mycosis fungoides involving the upper face. As a part of her treatment plan, the application of bolus for Modulated Electron Radiation Therapy (MERT) was necessary to deliver the prescribed dose to the skin surface to treat her disease with two separate electron fields. This is where Adaptiiv's 3D printing software solution proved phenomenal in creating a highly conformal bolus for MERT for the superior field, allowing modulation of the electron fluence to spare distal structures (Figures 1 and 2).
Medical errors are as fatal as terminal diseases. Often numerous patients die due to the recurring medical errors in the healthcare systems. The modern healthcare sector is continuously challenged with this festering issue as they strive to deliver safe and higher quality care. "From approximately 7.5 billion human genomes, each one of them responds differently to drugs. As a result, incorrect medications are prescribed, leading to inefficient treatment and medicine side effects," points out Dr. Josef Scheiber, Managing Director and Founder of BioVariance GmbH. This is especially true in the case of complex diseases, where patients experience difficulty to understand and follow the complicated medical instructions suggested by the physicians, thereby causing severe health issues. The need of the hour is to have a holistic approach to handle and manage large volumes of data and gain actionable insight out of it to remedy medical errors, improve patient health, and minimize medical cost.
Despite the upheaval that AI has created in the healthcare space, the lack of well-annotated data has been the biggest challenge in the development of disease detection AI engines. It slows the process and is very expensive. Moreover, annotation and labeling demand a heavy workload from medical doctors in the development stage of medical AI engines. Applying his extensive experience in objective recognition for medical image-based diagnosis using AI deep learning, Jacob Lee found the perfect solution to reduce the burden from this data annotation and labeling process. "Generating a revolutionary unsupervised learning idea and implementing an advanced annotation system, our deep learning packaged platform, m: Studio gets rid of the cumbersome labeling process," says Lee, Founder and CEO of CAIDE Systems.
Digitization has crawled into every phase of healthcare. As consumers of healthcare are gaining more medical knowledge, the demand for better service and outcomes is increasing like never before; and the only means to meet this need is through technology. "The best way to deliver healthcare to all at high quality is to be preventative and reach the consumers early before they need it," notes Tanveer Patel, Co-Founder and CEO of ConcertCare. Believing in the same principle, Tanveer founded ConcertCare with an aim to alleviate the pain of healthcare providers and efficiently improve their clinical and operational outcomes. Recognized as one of the nation's Top 100 Influential Thinkers, Tanveer brings two decades of successful business ventures partnering healthcare and information technology. Injecting her experience and expertise into ConcertCare's solutions, "Our goal is to simply restore the link between quality patient care, access to care, efficiency of care and provider profitability."
During his service at the Brigham and Women's Hospital in Boston, Dr. Christopher Ianelli noticed a software solution that orchestrated the distribution of leftover specimens to researchers developed within the clinical laboratory of the hospital. Acknowledging that these "clinical remnant" specimens held tremendous value for medical research, he quickly realized the power of this solution to reduce waste and accelerate research by connecting bench researchers to a steady supply of remnant clinical samples. This outstanding discovery made Dr. Ianelli shift his career to technology-based solutions, from the clinical side of medicine, and launch iSepcimen—a human biospecimen marketplace technology company. Procuring high-quality and richly annotated human biospecimens that represent an exact specimen match has always been a massive challenge for scientists who manage pressing timelines for R&D plans as well as regulatory and ethical constraints.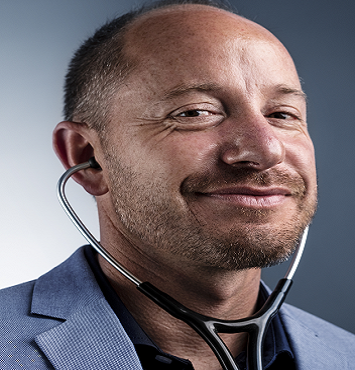 Cardiovascular disease or CVD is a global problem. Though typically viewed as a "rich-world disease", it has now migrated to many developing countries. The rising prevalence of CVD, today, calls for cost-effective and intelligent patient-centric healthcare technology that empowers care teams and has a real impact on patients. This where Stone Three comes in. Harnessing the power of machine learning, the company enables and enhances virtual consults with computer assisted diagnostic solutions to help primary healthcare providers better diagnose and manage CVD. "We utilize machine learning to unlock the value of the health data related to cardiovascular health and derive insights that enable us to diagnose and prioritize patients who need urgent care. Our core technology focuses on medical visualization and precision telemedicine, built on our experience with medical device and data interoperability," says Dirk Wagener, General Manager of Stone Three Healthcare.
The value of AI has been accelerating the healthcare space at an increasing rate. In fact, AI-powered medical diagnostics is today driving the critical changes across the care continuum. However, AI technologies are not believed to replace doctors despite its transformative power. "We view AI only as a new medical device that allows doctors to 'better see' each case," says Gabriela Fuentes, COO, Transmural Biotech or TMB. "For instance, doctors with different degrees of training reach different conclusions on a clinical diagnosis. Instead, if they have access to data-driven AI image processing technology to support their decision, objective results can be attained regardless of their training." Upholding the same principle, TMB develops innovative clinical solutions and services using disruptive technologies based on AI. The company is formed by a group of experienced AI scientists and business developers with strong support from reputable clinical advisors,
When Electronic Medical Records (EMRs) were introduced in the early 1970s the vision was clear: digitizing patient records would make healthcare more efficient, and better for the patient and provider. Fast forward to today—we've come a long way towards the goal of a better system, but we aren't quite there. We've identified the industry's pain points, and laid the groundwork for solutions. Widespread adoption of the three healthcare tech ideas below will be crucial to building a healthcare system that is better for patients and the clinicians alike. In 2018, the Centers for Medicare and Medicaid (CMS) renamed "Meaningful Use" to "Promoting Interoperability", which is a good indicator that we are inching closer to greater efficiency in healthcare. Essentially, interoperability means the ability for health information systems and software apps to communicate, exchange data and use the data they've shared.
Apps, and their use for the promotion of health and wellbeing, are the subject of increasing interest and enquiry; particularly in light of the NHS' Long Term Plan, and ever-increasing pressures on scarce NHS resources. But finding and downloading effective, engaging, and most importantly, safe health-apps, is a significant challenge. While many have suggested that health-apps could be a 'silver-bullet', aimed at quashing the woes that stem from decreasing funding and increasing demand for incumbent NHS services, it is important to tread with caution. Unlike pharmaceuticals, over the counter remedies, talking therapies, physiotherapy or surgery, health-apps can not only be sought, but readily obtained in absence of gatekeeping and safeguarding.
In a properly functioning brain, both hemispheres communicate equally and at lightning speed, millions of times per minute. In a poorly functioning brain, the left and right sides of the brain only impart partial information, causing frequent miscommunication. This is called Functional Disconnection and is the root of many types of learning, behavioral and social problems found in children. The Brain Balance program puts the left and right brains back in sync using sensory motor exercises, academic skill building, and nutrition guidelines.  The assessment consists of sensory, motor, and academic testing of more than 900 functions. The outcome of this assessment is a highly customized report providing parents with a complete understanding of their child's behavioral, social, and academic skill levels.
Women with overly large breasts can face a number of difficulties on a physiological and psychological level, such as being unable to find clothes that fit properly, permanent indentations left behind by their bras from carrying the immense weight of their bosoms, or suffering from chronic pain in regions like their back, neck, and shoulders that can affect their day-to-day living. In these cases, breast tightening and liposuction procedures like Breast-Tite—a form of radiofrequency-assisted (RFA) liposuction designed to perform what is known as a scar-less breast lift—can improve your daily life. If you haven't heard of this innovative procedure before, you may want to take notes, as it provides a fantastic alternative to traditional breast lift and breast reduction surgeries! Learn more about breast tightening and liposuction down below!
The healthcare industry tackles the opioid crisis: Opioid overdoses are now the leading cause of death for US adults younger than 50. This is a phenomenon too big to solve by only one player – there is a role for everyone across the healthcare landscape, from prescribers, to payers, to the pharmaceutical industry, in order to reverse this trend.
Social determinants come to the forefront: The US spends more on healthcare per capita per year than any other nation, but lags in outcomes. To improve health while saving money, the industry needs to expand the borders of healthcare. This means thinking beyond the four walls of the hospital and looking holistically at the full profile of a patient, beyond their specific health issue.
When we ask employees about their financial security, they tell us their number one stressor is not saving enough for retirement. After that, they worry about the economy and after that, their personal health. But when we ask them what defines a good lifestyle once they stop working and what is the most important factor affecting financial security in retirement, they place health at the top of both lists. Meanwhile, as another survey has found, retirees are feeling less confident that they will be able to afford medical care and long-term care. It's hard to know how much savings will be needed to cover healthcare expenses in retirement. The conventional approach of estimating a lifetime total cost for healthcare expenses in retirement and targeting savings to cover that amount clearly does not work for everyone, as most people have difficulty saving for retirement at all.
Motor neuron diseases are neurodegenerative. They are caused when the motor neurons do not function properly in the brain. These are the nerve cells responsible for controlling the muscles that facilitate the body movement. They carry the signals from the brain to the different muscles of the body. When they fail, the patients find extreme problems in simple body movements like speaking, walking, turning, and standing. These medical conditions lead to MND which is a progressive neurological degenerative disease affecting the motor neurons in the body. Many types of research are conducted to find a proper treatment for this incurable disease. The stem cell therapy is seen as a potential cure for motor neuron disease treatment in India.  The Role of Stem Cells in Treatment of MND: No medication has proved effective to control the progression of this serious disease in the long-term.