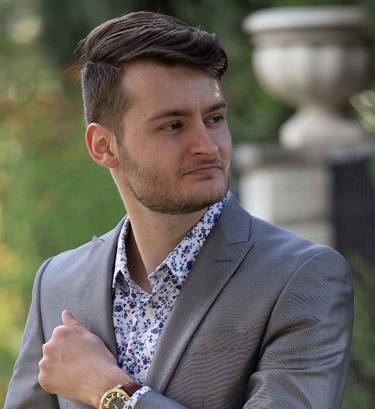 Denis Kulikov is a leader with experience in Project Management – Computer vision, software development and applied Artificial Intelligence (AI). He is the CEO of Glaza, a firm that develops eye-tracking human-machine interfaces for automotive and consumer displays. In an interview, he speaks on an array of topics. Excerpts:
Conception of GLAZA
Noting that two trends have been doing rounds off late, Denis notes that vehicles are becoming autonomous and entertainment displays are getting bigger and more powerful. "In the near future we will see drivers becoming passengers and given that they won't need to drive cars themselves, they will be able to spend more time interacting with their displays."  He adds that Glaza's vision is to ensure that in-vehicle displays of the future will be as important in everybody's lives as smartphones and laptops. Drivers and passengers will be able to play video games, watch movies, browse the internet, download apps, and scroll through their photos and documents.
Edouard Vaujour is a passionate entrepreneur. He is the CEO of Knave, a French company that enables the implementation of all-term rental services (short, medium, long) on mobility assets in distribution networks, companies and municipalities. The system couples stock financing, carried by Knave, with tools for using this stock – mobile rental applications, usage insurance, customer hotline, etc. – developed and operated by Knave.
Conception of KNAVE
Edouard says that many external factors are pushing the automotive market into a rapid transition to electric vehicles, which threatens its current dealerships' model: margins are essentially made up of workshop revenues. Electric vehicles require very little maintenance, so the networks anticipate a reduction in this revenue share of 30% to 60%.
"The physical traffic of the networks is decreasing sharply due to the increase in new car prices, increasing the break-even point linked to the operation of empty showrooms.
Charles Johnson is a passionate automotive Leader. He is the CEO of OptiCat and JNPSoft. Charles and his teams continue to develop software programs, data and data services which assist suppliers and receivers in the creation, secure validation, delivery and receiving of high-quality catalog data destined for 'selling positions' in the market. OptiCat and JNPSoft are Auto Care Association standards compliant, focusing on ACES™ and PIES™ across the USA and Canada. He speaks on an array of topics in an interview.  Excerpts:
Conception of the OptiCat business
The idea for OptiCat was germinated by the needs of suppliers to achieve several important objectives, or mandates, related to their catalog data. Charles shares that several drivers led to the conception of the business including providing data delivery systems that improve the speed of secure supplier data delivery to customers from up to nine months to "near real time". Improved quality of data and simplified communication with data receivers on data issues was yet another reason.
Michael is a passionate entrepreneur and the CEO of SCIO Automation, an international automation platform that believes in its mission to support companies on their journey towards Industry 4.0. As a system integrator and innovator, SCIO automates production and logistics processes. A visionary, a creative genius, Michael speaks on an array of topics. Excerpts:
Conception of SCIO
The increasing demand of our customers in all industry sectors for comprehensive Smart Factory solutions, from end-to-end, was one of the main reasons to found SCIO, observes Michael. "Our customers have realized that it is not possible in the long term to implement only individual solutions. To remain competitive in the future, they need to integrate all their machines, products and processes into a single, higher-level digital system. They have needed a partner who can provide them with comprehensive end-to-end automation support for production and logistics processes."
A passionate entrepreneur, Gavin Kesten has been in the forefront of the automobile industry. He is the CEO and founder of ShipYourCarNow, a light asset provider offering a full suite of vehicle shipping services and logistics to all types of businesses, moving all types of equipment. In an interview, he speaks on an array of topics.
Excerpts:
Conception of Ship Your Car Now
The conception of Ship Your Car Now was developed from the need for transparency in the retail auto shipping industry. "Previously, I had used an auto shipping service and had an unpleasant experience. There was no transparency throughout the process. The broker I spoke to charged a fee to my credit card, which was supposed to be the total amount for the shipping. However, when the driver showed up, he demanded cash." Notes Gavin that this unpleasant experience, coupled with his love for cars, inspired him to create ShipYourCarNow, with a business model that emphasizes full transparency to the clients.
The automotive industry is currently going through a paradigm shift. As advancing technological innovations and digitization continue to emerge, the customer experience is being elevated. In a world where more people are choosing superior experiences over the obligations of vehicle ownership, a progressive change led by digital intervention is the need of the hour. To this end, the Vehicle-as-a-subscription model (or VaaS) addresses this need by allowing customers to use vehicles on a subscription basis or as short or long-term rentals. Naturally the subscription model has become the face of the car rental industry in recent times but not without major gaps; specifically, cross-branding high-end manufacture supply, user enablement and advanced technology integration. Enter Subskryb, a vehicle share technology that reshapes automobile ownership with a subscription-based approach that leverages existing assets while providing leads to similar products on the market. According to CEO and Co-founder Kendell Johnson, Subskryb is, "the Google for Vehicle-as-a-Service. We facilitate asset-sharing and user enablement for everyone including "Subskrybers", vehicle investors, vehicle clubs and manufacturers".
Any significant technological innovation in the automobile industry may be linked back to automobiles technology research. Automatic windows, adaptive cruise control, electronic ignition, and more are all covered under this umbrella! Few technologies have been explained below.
Data Analytics & Big Data: Advanced data analytics influences many decisions all through the lifecycle of an automobile in the era of big data. Vehicle data enables informs fleet management, predictive maintenance also alerts concerned authorities in the event of an accident. Furthermore, customer automotive information is used to boost sales, improve supply chains, and improve product design for modern automobiles.
Procon Analytics : Is a company that specializes in data analytics. Procon Analytics, a firm established in the United States, uses big data to provide an automotive loan solution.
Automotive technicians are in high demand. The automotive, as well as maintenance industries, are likely to develop in the next years. Adding technical expertise to the typical nuts & bolts of a job is enticing for a lot of reasons, in addition to being in demand now, tomorrow, as well as for the foreseeable future. So following are few technologies that meet the demand of the automotive industry.
Electrification
The depletion of fossil energy supplies and the environmental damage caused by its use necessitates the promotion of electric vehicles (EVs). EVs must overcome difficulties such as high prices, weak battery, fleet electrification, insufficient charging infrastructure, and powering renewable energy-based charging networks in order to achieve increased adoption.
Automobile technicians examine, diagnose, and repair mechanical, electronic systems, and electrical as well as components of automobiles. They may specialize in a particular manufacturer's automobiles, but depending on the circumstances as well as the scope of services provided by the company, they may also work on vehicles from other manufacturers. Here are some technology incorporated in automobiles.
Connectivity
Vehicles now have a tamper-proof digital identifier that distinguishes them out from the entire network. This makes it simple to track vehicle data for a variety of applications, including insurance, the safety of drivers, predictive servicing, and also fleet management. Vehicle data sharing benefits not only the particular customer but the complete mobility ecosystem.
Information-oriented technologies play a key role shortly in the automobile industry, according to a comprehensive analysis of industry trends to expect forward to in 2021. At a never-before-seen rate, the sector is incorporating new technology into its processes. In addition to long-established technologies like artificial intelligence (AI) as well as big data and analytics, emerging technologies like the blockchain and the internet of things (IoT) have several uses in the automotive industry.
Autonomous vehicles, often known as self-driving vehicles, focus on reducing the role of human drivers thus appear to be on the verge of revolutionizing ordinary transportation. AV fleets aim to improve and expand the scope of last-mile shipments, public transit safety, and reducing downtime. By minimizing accidents prompted by driver exhaustion or negligence, for instance. Advanced recognition technology like AI-enhanced image recognition, is used by AVs to detect obstructions along the road.
Intvo is a start-up based in the United States that produces pedestrian behaviour forecasting technology.
Electronic technology in cars is becoming as crucial as what is under the hood these days. From security and safety to communication and connectivity these strategies are essential. And as automobiles get more advanced, it has a direct impact on how users engage with the vehicle. When buying a new automobile, here is a list of the top automotive technologies should look for. Some help to find a parking spot, while others help for staying connected to the outside world. The best tech features make driving easier while avoiding driver distraction.
Advanced Driver Assist Systems: Several automobile manufacturers employ technology that really can react swiftly to risks, minimize drowsy driving, and make traffic flow more smoothly. It can even park the vehicle for you. These systems are frequently sold as part of a package. Significant characteristics, such as:
The adaptive cruise control maintains a constant speed while slowing or speeding up to maintain a safe gap from the vehicle in the front of your vehicle.
June 17, 2019 – XenomatiX, a true solid state lidar technology provider is awarded the 2019 CLEPA Innovation Award in the category of Connectivity and Automation for SMEs.
CLEPA, the European Association of Automotive Suppliers recognizes outstanding contribution and excellence in the automotive supply industry in the fields of Environment, Safety, Cooperation, and Connectivity & Automation.
"We are proud to win this award and be recognised for our innovation. We see the CLEPA Award as a confirmation of our unique, innovative and outstanding lidar technology, as we work towards our goal of becoming a disruptive Tier II lifting ADAS and AD to the next level", said Filip Geuens, XenomatiX's CEO
Tesla, one of the biggest and the most renowned name in the technology sector with great innovations transforming the world was latest in talks due to innovation of automated drive cars. This technology gives an option to the driver to set the destination and route, car set the driving skills and techniques based on the routes and also sense driving skills, speed of other cars on the way, and other aspects of roads to make the driving best and safest. For innovate and execute this technology, Tesla used HW3.0 chips which is termed to be the best technology for designing automated cars.
From past few days, Tesla is aging a big topic to talk about among the owners of latest automated drive Tesla cars. In various social media platforms, Tesla car owners were spotted saying their car is designed using HW2.5 chips which is less advanced than HW3.0 chip, and hence makes automated drives risky too.
This is a result of the most dangerous infection spread all over the world in recent days "Corona virus". Tesla's biggest chip manufacturing plant is in Shanghai where approx. 3000 folks are report death due to the virus and this has affected the supply of HW3.0 chip.